Mitchell Center Stories
Want to learn more about Mitchell Center projects and people? We regularly publish stories about the work of Mitchell Center members and research teams.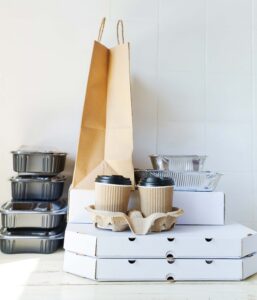 The thrift store in your local church's basement might be doing more for the community than saving families from spending $40 for jeans. Not only can systems of reuse, like thrift stores, reduce waste, they strengthen bonds between neighbors and make communities more resilient to hardship.
"Anytime we see any sort of big economic or cultural shock, a lot of times traditional supply chains are broken," Dr. Cindy Isenhour said. "But when you have more localized and resilient systems for procurement, they can help you weather those storms."
Isenhour studies the way that people think about and deal with material waste. With funding from the Mitchell Center, she and Jared Wildwistle, a UMaine Masters graduate, have been studying the feasibility of a different kind of reuse system in Maine: reusable take-out packaging.
---
March 2023
Gabby Hillyer has been a member of the University of Maine community going on seven years, and for approximately five of those years she has been telling and re-telling a story about a stolen bucket. Hillyer is a Ph.D. student in the Ecology and Environmental Sciences program at UMaine. She also participates in the National Research Traineeship Program in Conservation Science and serves as the project coordinator for the Maine Shellfish Learning Network (MSLN), a novel partnership that connects harvesters and others from up and down Maine's coast to better address the multifaceted issues facing their shellfisheries. Both the MSLN and her graduate research on the coast of Maine emerged from her involvement with an organized effort to strengthen coastal economies at the Mitchell Center. Hillyer has a robust list of accomplishments on her resume, but the bucket drifters always seem to float to the top.
---
January 2023
Katie Tims, Class of 2021, and Dominique DiSpirito, Class of 2022, are recent University of Maine graduates who found promising footholds in the fields of sustainability and materials management in Maine, in part because of their undergraduate research experiences. As interns, both students worked on the Mitchell Center's Food Waste Management project. The project grew from work started in 2019 by the interdisciplinary Materials Management team to find solutions to Maine's solid waste problems. In research done by the team, food waste was ranked by stakeholders as a major area of concern. The food waste team collaborates with partners to research and pilot solutions to reduce food waste, keep organics out of landfills, and address food insecurity in Maine.
---
January 2023
In a talk on November 28, Roger Milliken discussed the conflict between western culture and the sustainability of life on Earth from his unique ethical perspective as a Maine forest manager and environmentalist. Milliken has always had a vested interest in Maine's forests, partly because its past, present, and future is intertwined with the story of his own heritage. One of Milliken's core arguments is that the destruction of the natural world and degradation of humans' quality of life is a result of a western culture rooted in "individualism, separation, and dominion." Milliken did not pull this claim out of thin air or tabloids, but from his own family's history.
---
November 2022
Conjure an image of the prototypical intern: you might imagine a bored 19-year-old fetching coffee and making photocopies, or you might imagine that student struggling to do the work of a full-time professional for free. In these scenarios, interns are either tossed in head-first or beached. Last summer, however, students in the Mitchell Center's pilot internship program were taught to swim. They were challenged to work with faculty, stakeholders, and each other to tackle real issues facing communities in their backyard, all with the necessary funding, research training and mentorship to promote their success.
---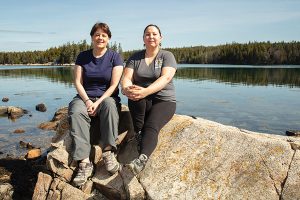 September 2022
Maine's coast is dotted with over 2,000 shell heaps, sites where Wabanaki ancestors would gather to harvest and eat shellfish, producing deposits of shells ranging in size from small piles to 30-foot-deep mounds. These collections of exceptionally well-preserved materials can help scientists reconstruct a record of past lifeways and environments. For hundreds of years, scientists and industries have extracted a wealth of materials and history from some shell heaps without consultation or collaboration with those whose ancestors created them. As sea level rise accelerates, these losses are compounded by increasing erosion. Dr. Bonnie Newsom is one of the scholars urgently seeking to reconnect Wabanaki people to shell heaps before they disappear forever.
---
August 2022
Survey the picturesque Damariscotta River and, among the many moorings and oyster farms, you might spot youthful figures hunched over the mudflat, waders on, clam rakes in hand. These are not shellfish harvesters, but local students gathering data to support the sustainable management of an ecosystem and industry.
This summer, Sarah Risley, a UMaine graduate student based at the Darling Marine Center, is leading a team of university and high school students to study the shellfish populations of the upper Damariscotta estuary. They are also recording the local knowledge of harvesters who know the ecosystem the best.
---
July 2022
If all the researchers in a given discipline compiled their peer-reviewed research, what would it amount to? Would it better address the world's greatest problems, or would it falter?
This is the query Dr. Linda Silka raised this past June, as she stood in front of several hundred members of the Society for the Psychological Study of Social Issues (SPSSI) at their summer conference in San Juan, Puerto Rico. Silka, a Senior Fellow with the Mitchell Center, serves as the President of SPSSI, an organization of 3000+ social and behavioral scientists focused on engaging with the world's critical social and policy issues from a psychological perspective.
---
April 2022
Shellfishing is deeply embedded in the foodways, cultures and traditions of communities all along the coast. This livelihood also contributes significant value to the marine economies and sustenance fishing cultures of coastal areas. Although shellfishing is crucial for many coastal communities, it faces some daunting challenges including water quality problems, increasing pressure from predators like green crabs, shoreline access, and more. How can a new collaborative website help to sustain it?
---
March 2022
How can we move beyond the notion that there are "others" among "us" and "find a common place that we can all call home"? This is one of the questions that Judy East will explore in her keynote address at the 2022 Maine Sustainability & Water Conference on Thursday, March 31.
---
February 2022
PFAS, also known as "forever chemicals" due to their persistence in the environment, are at the center of a growing environmental and public health crisis in Maine, with devastating effects that are being felt across the state. These chemicals have been linked to health problems and have now been detected in well water, farm soils, farm products including milk, wildlife, and people's bodies in Maine. The Maine Dept. of Environmental Protection reached out to Laura Rickard for help training agency staff in communicating about PFAS risks as part of their overall response to this crisis.
---
January 2022
Jessica Jansujwicz has charted a path from ecology to sustainability science that eventually led her to the Mitchell Center and a career focused on community-engaged research, teaching and mentoring undergraduate and graduate students, and a leadership role with Maine Sea Grant.
---
November 2021
As part of the ongoing work of Food Rescue MAINE, a team of undergraduate students is working this fall to engage and educate people to help reduce food waste. Along the way they are learning and developing skills, stepping into leadership roles, and connecting with professional networks. And their work provides real benefits for Maine communities.
---
October 2021
A research team led by Adam Daigneault explored the benefits and costs of scaling up conservation in the Sebago Lake watershed to protect a pristine drinking water source and provide other ecosystem services.
---
July 2021
From ocean acidification to climate adaptation, Parker Gassett works with Maine communities to build resilience in the face of change.
---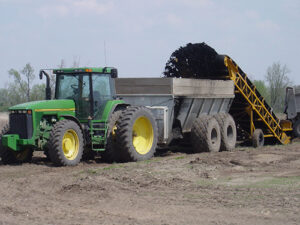 June 2021
In response to concerns raised by many different stakeholders, an interdisciplinary team of researchers is gathering and documenting knowledge of where PFAS are in Maine and how they move through soil, water, wildlife and food.
---
May 2021
A team of eight undergraduate students, led by Mitchell Center Faculty Fellow Susanne Lee, are working together to pilot solutions that can reduce both food waste and food insecurity in Maine.
---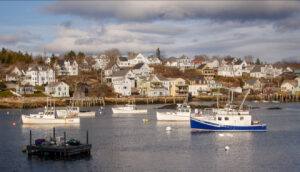 April 2021
Joshua Stoll's passion for community fisheries led him to co-found the Local Catch Network, and to his current project investigating resilience in the Maine lobster fishery.
---
March 2021
Sharon Klein's research and teaching center on the technical, economic, environmental, and social tradeoffs inherent in sustainable energy decision-making, including solar and other forms of renewable energy. Her current focus is on "community solar," and how people, organizations, and communities can weigh their options and find the solutions that work best.
---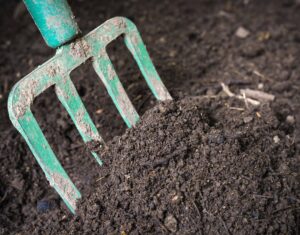 February 2021
We're making progress in moving toward a more circular food system, which has many economic, environmental, and social benefits. Recent research looks at potential risks in food waste recovery so it can be done safely and sustainably.
---
January 2021
Mitchell Center Sustainability Awards have been presented annually since 2013. The awards are designed to recognize and celebrate the accomplishments of researchers, students, and external partners who have helped advance the values and principles at the heart of the Mitchell Center's stakeholder-engaged, solutions-focused, interdisciplinary projects and partnerships.
---
January 2021
Mitchell Center Senior Fellow Linda Silka and colleagues from UMaine Machias worked with graduate students and faculty on incorporating Community-Based Learning (CBL) in their courses and curricula.
---
December 2020
UMaine graduate students often undertake research, whether their field is economics, ecology or anthropology. Rather than just participating in research, however, a team of graduate students is leading an innovative new climate-planning project, funded by a Mitchell Center seed grant.
---
September 2020
Papermaking has been important not just for the economy of the Katahdin region in northern Maine, but for its social and cultural identity. The industry's decline has been devastating. Adam Daigneault led a collaborative project to help the region assess its resilience and chart a path forward.
---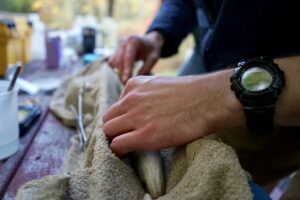 August 2020
UMaine graduate student Matthew Mensinger has studied the hazards American eels face from hydroelectric dams and in search of solutions that help eels survive while preserving power generation.
---
July 2020
Shellfishing is important to the economies, cultures and traditions of communities all along the Maine coast. At Shellfish Focus Day, part of the annual Maine Fishermen's Forum, shellfish harvesters, scientists, municipal leaders, educators, and representatives from state agencies come together to connect and learn how to help shellfishing communities thrive. Bridie McGreavy, Gabrielle Hillyer, and colleagues share their research and education efforts as part of the Mitchell Center's Strengthening Coastal Economies project.
---
June 2020
Atlantic salmon are in trouble. Can effective collaboration help restore this iconic species? UMaine graduate student Melissa Flye researches how people and agencies work together and communicate in salmon restoration efforts.
---
June 2020
While softshell clams remain a priority focus due to their economic, ecological, and cultural value, in 2019 the Strengthening Coastal Economies project broadened its focus to include sea scallops, mussels, and oysters, all of which are high-value fisheries in Maine.
---
April 2020
On November 18, 2019, the Maine Food Production Leadership Council held its first work session, led by faculty and students involved in the Mitchell Center project, Food Waste Management: Empowering Maine Businesses Toward Sustainability. Since that meeting, the students involved with the project have researched potential solutions for reducing food waste and food insecurity in Maine. Their next step is to present these potential solutions to the Council and garner feedback on how they might work in Maine.