Resourceful Research: Three water resource projects get underway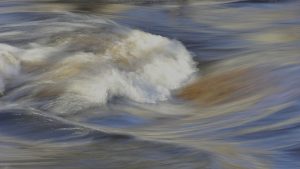 By Sarah Delmonte
On September 1, 2023, three new research projects launched under the Maine Water Resources Research Institute (WRRI) 104b (state-level) program. The WRRI 104b program, funded through the U.S. Geological Survey, provides annual grants for faculty members of 4-year educational institutions in Maine in collaboration with partner organizations. These grants are designed to support projects centered around finding sustainable solutions to better manage Maine's water resources. The Mitchell Center for Sustainability Solutions leads the Maine WRRI program and handles funding for all projects. This year, three faculty members from the University of Maine were awarded research grants based on a competitive, peer-review process.
The first project focuses on innovative strategies for irrigation in agricultural settings. Led by Rachel Schattman, an assistant professor of sustainable agriculture, the research team aims to help farmers adapt to increasing drought conditions as climate change creates more extreme weather. Joe Ayotte and his colleagues at the USGS New England Water Science Center are collaborating with Schattman on the project. The team will conduct tests on novel shallow wells to assess their effectiveness. The water in these shallow wells comes from glacial till aquifers, which were created by the sediment left over on bedrock after glaciation. The team will also analyze the safety and water quality of these wells over the duration of the project to see if they are capable of fulfilling the needs of the farmers using them. Depending on the results of the study, these wells have the potential to provide water for Northeastern and upper Midwestern farmers during long periods of drought.
The second project prioritizes the monitoring of mountain ponds to evaluate potential effects of climate change on water quality. Jasmine Saros, a professor of paleolimnology and lake ecology, and her team of researchers and stakeholders, selected nine ponds in Maine's mountains which serve as sources of water and recreational fishing opportunities for Maine residents. The conservation status of the nine ponds in the study are varied, with some ponds and surrounding areas having complete protection while others are outside of conserved locations. Saros' intention is to study the shift in thermal structure—or temperature change based on depth—over the past 100 years, and ice formation over the past decade. Her team will use a high resolution temperature and precipitation dataset and a weather station to assess data accuracy. They will also develop opportunities for local citizens to participate in the project. The results of this study will be used to improve conservation of mountain pond areas across Maine.
The third project aims to test the effectiveness of biochar on blueberry growth and maintenance. Biochar is a black carbon residue that results from the burning of organic material such as plant matter in low-oxygen environments. It could potentially be used in the soil both as a fertilizer and to retain moisture. Ling Li, an assistant professor of sustainable bioenergy systems, will lead a field experiment using biochar on drought-affected wild blueberry plants. Other team members include UMaine researchers and students from multiple disciplines, biochar producers, and wild blueberry farmers with different size farms. As climate change causes increases in the frequency of drought conditions that reduce soil moisture, biochar could help increase water availability for blueberry plants. Biochar also has the potential to prevent agricultural chemicals such as pesticides and herbicides from contaminating groundwater by reducing their downward movement. Li and her research team plan to study the life cycle of a biochar-to-soil system and determine how effective it is for water storage. They will also assess the economic factors involved in purchasing large supplies of biochar. By looking into biochar through both environmental and economic lenses, the team will obtain a better understanding of whether biochar can prove to be a cost-effective and more sustainable solution for blueberry irrigation.
Because of the multifaceted nature of many water resource challenges, each WRRI project team includes researchers representing a wide range of academic disciplines and fields. "Like the Mitchell Center itself, the Maine WRRI program is committed to supporting teams that draw upon knowledge and research methods from the natural and social sciences, engineering, and other fields," said Mitchell Center Director David Hart, "This ability to examine problems from many different angles is a key step in developing effective solutions."
Sarah Delmonte is a Communications Intern with the Mitchell Center. Sarah is a senior undergraduate student majoring in English with a minor in Journalism.