Visitors
Welcome, Visitors, to the University of Maine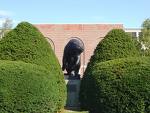 A large number of individuals come to the UMaine campus every day. Our campus is a wonderful resource of information as well as beautiful grounds to explore. As you drive onto our campus you will notice signs (at each entrance) stating that we are a park-by-permit campus. In a continued effort to assist you with your parking experience here, you may acquire a no-charge visitor permit for any day that you are here on campus.
Our goal is to create a positive parking experience for you. Therefore, we offer you several locations to acquire a no-charge parking permit for the day of your visit. Notice on our map that you may park in any Black signed areas or designated visitor space.
---
Visitor permits are available at:
The Parking and Transpiration Services – 5702 DTAV Community Building (138 Rangeley Road), located across from the UCU on Rangeley Road.
The University Police Department – 83 Rangeley Road. There is a parking pass kiosk in the main lobby. (Open 24/7)
The Visitor Center – Buchanan Alumni House – Two Alumni Place (116 College Ave)
---
If you are a regular visitor (with no UMaine affiliation) and do not want to stop each time for a no-charge permit, we also offer you the opportunity to purchase a visitor permit for one year. These permits are valid from September 1 through the following August 31 with a charge of $50 and must be purchased in person at the Parking Office. Another option is our 20/20 parking permits. These permits are sold in packs of 20 one-day parking permits for $20 to be used in Black signed lots. These permits are valid for one day at a time and must be purchased in person at the Parking Office.
These may be convenient for:
Regular visitors who don't want to get a permit each visit,
Those who have regular meetings on campus,
The commuter student who visits campus on rare occasions,
The commuter student who takes classes just one semester, etc.
In order to insure the orderly flow of traffic, maximum utilization of parking facilities and access to buildings for emergency vehicles, it is necessary to establish and enforce rules governing vehicle operation and parking on campus. The policies governing parking at the University of Maine are clearly defined. Please read our Rules and Regulations carefully, as they apply to everyone utilizing roadways and parking lots at the University of Maine. If you are staying overnight please see the Winter Parking Ban website for restrictions that run from November 1st to May 1st each year.
If you have any questions or concerns, please direct them to Parking and Transportation Services at 5702 DTAV Community Building or call us at 207.581.4047 and again, welcome to our campus.