Welcome to The University of Maine and Student Life.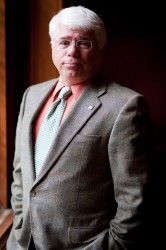 Our staff is dedicated to helping students adjust to college life, get the most out of their college experience, and partner to make our university community a better place for all its members to live, study and work.
We all have a part in determining whether each of us can achieve personal and academic success. Your participation in the remarkably broad range of programs and activities Student Life offers can make a huge difference in the lives of the general student community. UMaine is justifiably proud of the role students play in the life of the institution, and I hope you will become an active part of this Black Bear tradition.
Let me conclude by offering a special welcome to our newest students. All of us in Student Life hope your time at UMaine is filled with challenge, satisfaction, and SUCCESS. We all look forward, as well, to new partnerships with you!
Robert Q. Dana
Vice President for Student Life and Dean of Students
rdana@maine.edu
Calling all Black Bear families! We hope you will join us for Family and Friends Weekend on September 24-26th. Registration can be found at: umaine.edu/studentlife/familyandfriendsweekend
For the fall 2021 semester, any student who is participating in any on-campus experience and is not fully vaccinated against COVID-19 with a vaccine that is either fully approved by the FDA, approved under the FDA emergency use authorization, or approved by the World Health Organization (WHO), will be required to adhere to public safety protocols to include masking, regular asymptomatic testing (may include multiple tests per week), and as applicable, quarantine and isolation consistent with University standards.
Fully vaccinated is defined as two weeks after the second dose in a two-dose COVID-19 vaccine series, such as the Pfizer or Moderna vaccines, or two weeks after a single-dose COVID-19 vaccine, such as Johnson & Johnson's Janssen vaccine.
No later than two weeks from the effective date of this document (August 20, 2021), all students are required to log in and verify their information through the UMS online COVID-19 vaccination verification portal (https://umaineportal.pointnclick.com/ ). Students planning to be fully vaccinated should receive their first vaccination as soon as possible, but no later than two weeks after the effective date of this document (August 20, 2021).
The University of Maine is hosting vaccine clinics from 11 a.m.–3 p.m. Wednesdays, August: 4, 11, 18, 25, and September 1, 8, 15, 22, all in the Coe Room of the Memorial Union. If you haven't been vaccinated, we highly recommend you check out this free opportunity.

Your Future Begins Today!
Covid-19 Disruption of Summer Employment and Internships
Prompts Free Resilience Badge Offer for University of Maine System Students
Follow this link to register for a FREE 21st century skill Resilience Badge!