A Letter from the Department

Dear Residential Students,
Over the course of the last several months, Residence Life staff has worked closely with our campus partners and leadership to plan for the safe return of residential students to campus housing in the Fall. I'd like to start by thanking each and every one of you for your patience during this process, as I'm sure that the uncertainty of the upcoming year has been stressful for everyone. We are prepared (and excited) to enthusiastically have students back on campus at UMaine!
By now, you should have received a letter in the mail detailing your move-in date and time. It is important that you adhere to your scheduled arrival time as we aim to move folks through the testing line as efficiently as possible. If you have not yet received this notification, please let us know so that we can give you this information and you can better prepare for your arrival on campus.
In Residence Life, we are in the business of educating on community, and what it means to be a member of a community. This year, unlike any year we've seen recently, the concept of community is more crucial than ever. It will be the responsibility of each individual to promote and help to protect the safety of the larger group, and by doing so, our continued presence on campus. You can be an active and productive community member by adhering to the following expectations:
Sign the Black Bear Pact: As a Black Bear, you're in a great place, and part of a great community. Signing the pact shows your commitment to taking specific steps to protect yourself, your community, and the college of our hearts always.
Testing and Quarantine: All residential students, regardless of where they are coming from, will be tested for COVID-19 prior to moving into the residence halls. You can either come to campus with proof of a negative COVID-19 diagnostic test that was administered within the 72 hours prior to arrival, or be tested as soon as you get here. The map that was included in your move-in mailing directs you to our on-campus testing site. If you are tested on campus, on arrival, you'll be expected to quarantine in your room for the duration of time that your results are pending.
Face Coverings: Everyone will be required to wear a face covering whenever on campus. In the residence halls, face coverings are required whenever a student is not in their assigned room. We'll provide one washable, reusable face covering to each residential student, and will have on hand thousands of disposable masks to ensure that you always have one available to you.
Guests: Residential students will not be permitted to host guests for any length of time in the residence halls. This includes hosting residential students who are assigned to other buildings on campus. We have a beautiful campus and encourage you to meet and get to know other students outside or in any one of our campus buildings designated open for community use. These include the Memorial Union, Fogler Library, and New Balance Rec Center, among the many academic spaces around campus. Off-campus students and non-students are not permitted in our residence halls for the period of time that the pandemic is active.
Social Distancing and Groups: In the spirit of community building, instructing members to remain apart from one another may seem counterintuitive. In order to promote our community health and safety, and to support our continued presence on campus, maintaining a 6-foot distance from other community members, in concert with avoiding group sizes larger than 50 is imperative. We will provide numerous opportunities for you to congregate in smaller groups and remote activities to keep the spirit of community togetherness strong.
Leaving Campus: In an effort to protect our residential community, travel off campus should be limited. Following quarantine, you are able to leave campus, but we ask that you limit your travel to that which is essential (for groceries, prescriptions, doctors appointments), and that which is local (within the Bangor area). We discourage all travel out of the state of Maine. Students who do choose to travel out of the state are subject to testing and quarantine on return. All this being said, we'll do our very best to make campus a place where you want to stay!
Be Prepared: In the event that you test positive for COVID-19 or are identified as a close contact of someone who has, you will be reassigned to a space in either quarantine or isolation – perhaps with little notice. You should always have a "go-kit" packed and ready to take with you should you be required to move temporarily to another space on campus. This kit should include things that you will need for up to 14 days away from your residence hall room.
If adhering to these safety guidelines is not something you think you can or should have to do, living in the residence halls is potentially not the best option for you. In favor of allowing students and families to make the housing choice with which they are most comfortable, we've suspended our first-year residency requirement and cancellation fee for the 2020–21 academic year. And, in support of the health and safety of our communities, residential students who choose to violate any of the guidelines for safety outlined in the newly updated Guide to Campus Living may jeopardize their ability to continue living in a residence hall. If you haven't already done so, I encourage you to review the Guide to Campus Living in full. We've added a good amount of information and guidance in light of the current pandemic and in an effort to promote your collective health and safety. As a residential student, it is your responsibility to know and understand the behavioral expectations to which you will be held!
Students who follow our guidelines will be free and encouraged to actively participate in the residential experience. When people ask me what campus living will look like in the Fall, I believe it will look very similar to what it's looked like for decades, with the addition of masks, smaller group sizes and more distance between individuals. The fundamental experience of living on campus, away from family, in a new environment, with new friends will be alive and well, regardless.
As questions arise, please reach out. We can be reached by emailing um.reslife@maine.edu, and we are committed to responding quickly so that you get the information you need! Additionally, important information is frequently added to the UMaine Return and Residence Life websites. Know that we are working diligently to welcome students (both new and returning) to our halls and want to ease the stress of this unprecedented transition for everyone involved.  We look forward to seeing you in a few weeks!
Sincerely,
The Department of Residence Life at the University of Maine
 Andra Bowen, Director
 Jessica Chubbuck, Assistant Director
 James Psalidas, Assistant Director
 Shane Smith, Area Coordinator
 Alyssa Bennett, Community Coordinator
 Cam McDonnell, Community Coordinator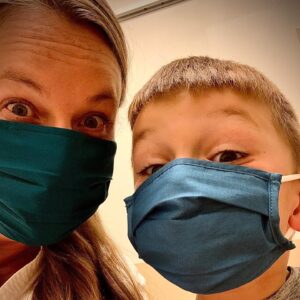 Director of Residence Life Andi Bowen and 5-year old son
The University consistently seeks to take steps to minimize the risk of COVID-19 infections (or any other spread of disease) in accordance with applicable law, regulation, and guidance provided by health authorities. These efforts may include policies and safeguards implemented by the University such as temperature checks, social distancing, use of facial coverings, and isolating and quarantining when required. Despite these efforts, the University cannot categorically guarantee that any person entering University campuses or facilities will not contract COVID-19 or any other communicable disease and any such person must assess and accept the risks of illness or injury for themselves.