The schedule provided is for assigned move-in date only. Students and families should prepare to move into their residence hall on their assigned date between the hours of 8am-12pm. A specific time for move-in will be sent to each individual family by US Mail (a template of which can be found here) along with a Move-In Map, HIPAA Form, and Authorization to Disclose Health Concerns (click here to see how to fill out the HIPPA Form and here for how to fill out the Authorization to Disclose Health Concerns). Students and families who cannot arrive on their assigned date should appeal directly to Residence Life by emailing um.reslife@maine.edu. Appeals will be reviewed and approved on a case by case basis.
A Letter from the Director

Dear students and families,
Over the course of the last several months, Residence Life staff has worked closely with our campus partners and leadership to plan for the safe return of residential students to campus housing in the Fall. I'd like to start by thanking each and every one of you for your patience during this process, as I'm sure that the uncertainty of the upcoming year has been stressful for everyone. We are prepared (and excited) to enthusiastically welcome students to their new home at UMaine!
Many of you have asked, in light of the current pandemic, "What will living on campus look like this Fall?" While it is certain that some aspects of campus living will look different, the core components of the residential experience will largely go unchanged. Students will be encouraged to get to know and be known by new people. Students will be challenged to try new things – whether it's a new dish from dining or membership in a new club or group activity. Students will be confronted with opportunities to exercise critical thought, problem solving, and conflict management. Students will navigate the exciting complexities of living away from home with the full support and guidance of our live-in staff. Programs and activities will happen. Friendships and memories will be made. Students will experience the thrill of independence and new experiences, as they've always done.
In Residence Life, we are in the business of educating on community, and what it means to be a member of a community. This year, unlike any year we've seen recently, the concept of community is more crucial than ever. It will be the responsibility of each individual to promote and help to protect the safety of the larger group, and by doing so, our continued presence on campus. Students can be active and productive community members by adhering to the following expectations:
Face Coverings: Everyone will be required to wear a face covering whenever on campus. In the residence halls, face coverings are required whenever a student is not in their assigned room. We'll provide one washable, reusable face covering to each residential student, and will have on hand thousands of disposable masks to ensure that students always have one available to them.
Guests: Residential students will not be permitted to host guests for any length of time in the residence halls. This includes hosting residential students who are assigned to other buildings on campus. We have a beautiful campus and encourage students to meet and get to know other students outside or in any one of our campus buildings designated open for community use. These include the Memorial Union, Fogler Library, and New Balance Rec Center, among the many academic spaces around campus. Off-campus students and non-students are not permitted in our residence halls for the period of time that the pandemic is active.
Social Distancing and Groups: In the spirit of community building, instructing members to remain apart from one another may seem counterintuitive. In order to promote our community health and safety, and to support our continued presence on campus, maintaining a 6-foot distance from other community members, in concert with avoiding group sizes larger than 50 is imperative. We will provide numerous opportunities for students to congregate in smaller groups and remote activities to keep the spirit of community togetherness strong.
Leaving Campus: Students are free to leave campus as they see fit. However, they are subject to any and all state-imposed restrictions on return, including testing and/or quarantine. We'll do our very best to make campus a place where students want to stay.
If adhering to these safety guidelines is not something you think you can or should have to do, living in the residence halls is potentially not the best option for you. In favor of allowing students and families to make the housing choice with which they are most comfortable, we've suspended our first-year residency requirement and cancellation fee for the 2020–21 academic year. And, in support of the health and safety of our communities, residential students who choose to violate any of the guidelines for safety outlined in the Guide to Campus Living may jeopardize their ability to continue living in a residence hall.
Students who follow our guidelines will be free and encouraged to actively participate in the residential experience. When people ask me what campus living will look like in the Fall, I believe it will look very similar to what it's looked like for decades, with the addition of masks, smaller group sizes and more distance between individuals. The fundamental experience of living on campus, away from family, in a new environment, with new friends will be alive and well, regardless.
As questions arise, please reach out. We will do our best to get you the information you need. Know that we are working diligently to plan for the return of students to our halls and want to ease the stress of this unprecedented transition for everyone involved.  We look forward to seeing you in the Fall!
Sincerely,
Andra Bowen
Director of Residence Life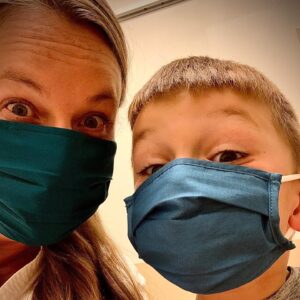 Director of Residence Life Andi Bowen and 5-year old son
The University consistently seeks to take steps to minimize the risk of COVID-19 infections (or any other spread of disease) in accordance with applicable law, regulation, and guidance provided by health authorities. These efforts may include policies and safeguards implemented by the University such as temperature checks, social distancing, use of facial coverings, and isolating and quarantining when required. Despite these efforts, the University cannot categorically guarantee that any person entering University campuses or facilities will not contract COVID-19 or any other communicable disease and any such person must assess and accept the risks of illness or injury for themselves.