Maine Hello!
Maine Hello Information
The Maine Hello is a campus-wide event wherein returning students, faculty and staff members from across the university volunteer to welcome new students and their families as they arrive on campus.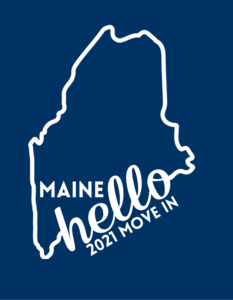 Volunteers assist with greeting families, answering questions, directing traffic, and helping first-year students move into their residence halls room. Every year over 700 members of the campus community participate in the Maine Hello!
Maine Hello will be on August 26, 2022 from 7:30am to 4:00pm!
Volunteer Information
Maine Hello is a time where we move all of the new students into the residence halls, and we can't do it without help! We will need volunteers to direct traffic, talk to students, and help keep the process moving! If you would like to volunteer for this fantastic day, please fill out the following
form
. 
Please be sure to check your University of Maine e-mail throughout the summer, as we will be communicating more details with you there!
The University consistently seeks to take steps to minimize the risk of COVID-19 infections (or any other spread of disease) in accordance with applicable law, regulation, and guidance provided by health authorities. These efforts may include policies and safeguards implemented by the University such as temperature checks, social distancing, use of facial coverings, and isolating and quarantining when required. Despite these efforts, the University cannot categorically guarantee that any person entering University campuses or facilities will not contract COVID-19 or any other communicable disease and any such person must assess and accept the risks of illness or injury for themselves.