Maine Hello!
Maine Hello Information
The Maine Hello is a campus-wide event wherein returning students, faculty and staff members from across the university volunteer to welcome new students and their families as they arrive on campus.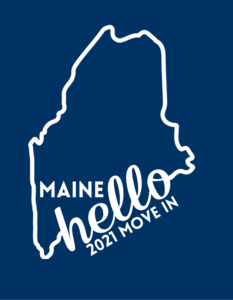 Volunteers assist with greeting families, answering questions, directing traffic, and helping first-year students move into their residence halls room. Every year over 700 members of the campus community participate in the Maine Hello!
Maine Hello will be on August 27, 2021 from 7:00am to 4:00pm!
Volunteer Information
Maine Hello is a time where we move all of the new students into the residence halls, and we can't do it without help! We are still determining the dates of Maine Hello, however, we know we will need volunteers to direct traffic, talk to students, and help keep the process moving! If you would like to volunteer for this fantastic day, please fill out the following
form
. 
Please be sure to check your University of Maine e-mail throughout the summer, as we will be communicating more details with you there!
Maine Hello Maps and Directions 
This is where you will be able to find downloadable maps and directions for Maine Hello. These documents will be uploaded as we have more information!
COVID-19 Questions
We know you have many questions about vaccinations, testing, masking guidelines, and all things COVID related.  We will keep this page up-to-date with new guidance as it comes out! 
Below you will find the wording from an email sent to all students regarding vaccinations.  Stay tuned as we anticipate changes in the coming weeks!
Email to all students:
"The University of Maine System (UMS) continues to strongly encourage all members, students, staff, and faculty to be fully vaccinated when returning to campus. If you haven't already done so, once you are vaccinated, please let us know by providing a copy of your vaccination information on
our secure campus portal (external site)
. This records your vaccination information for validation for this fall. You will need your MaineStreet username and password to log on. Detailed instructions are 
online
. 
Vaccination is not yet required by UMS, but the policy is likely to change when a vaccination receives full approval from the Food and Drug Administration. The University of Maine System continues to review the latest information and will communicate with students, staff and faculty should a requirement be adopted.
We hope you are enjoying the summer and look forward to welcoming you back to campus as we strive to return this fall with as normal of an on-campus academic experience as possible."
The University consistently seeks to take steps to minimize the risk of COVID-19 infections (or any other spread of disease) in accordance with applicable law, regulation, and guidance provided by health authorities. These efforts may include policies and safeguards implemented by the University such as temperature checks, social distancing, use of facial coverings, and isolating and quarantining when required. Despite these efforts, the University cannot categorically guarantee that any person entering University campuses or facilities will not contract COVID-19 or any other communicable disease and any such person must assess and accept the risks of illness or injury for themselves.