The Career Center engages and educates students in their career development process. This mission is a collaborative effort between our staff, students, faculty, employers, and alumni.
CareerLink
You may use CareerLink, our student career management system, to search for jobs and internships, learn about employers and careers, sign up for career events and job fairs, and participate in the on-campus recruiting program.
Have you had an interesting internship or a great work experience to share? Let us know! We want to hear all about it. Testimonials and pictures may be featured on our website and social media.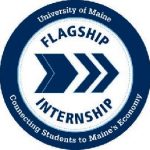 The Maine Flagship Internship Program
is an opportunity to prepare graduates for meaningful careers and civic responsibilities through experiences both inside and outside of the classroom, while also enhancing their educational outcomes.