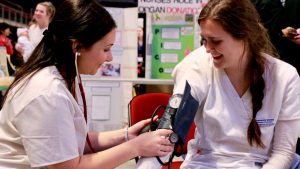 The Health Professions Office, part of the Career Center, maintains information on admission requirements for professional schools.  If you are interested in a career in the health professions, you should visit the Career Center at your earliest convenience to register as a pre-health professional student.
Once registered:
You will have access to information regarding upcoming Health Professions activities, guest speakers and workshops.
A file will be started containing a copy of your academic records and letters of recommendation that you ask faculty members to submit.