The Career Center is offering services online. 
To schedule an appointment with Samantha Wheeler,
Watch
this video
to hear from Samantha about updates from the HP office.
COVID-19 MESSAGING TO UMaine PRE-HEALTH STUDENTS: 
As Spring 2020 courses transition to being taught remotely and UMaine students will have the option to complete courses Pass/Fail, many questions have arisen from pre-health students, advisors, and professors about what this means for completing pre-health prerequisite courses. As of right now, there have been no official announcements from the health profession programs regarding whether P/F grades will be accepted in place of letter grades for prerequisite courses. The Health Professions office is monitoring communications and will share relevant updates as they become available.
If you are wondering about completing courses as P/F, please keep this in mind: as a pre-health student, you are going to face tremendous adversity in a health professions school, residency and medical practice where you will not have the P/F option. You will have to perform in situations where human wellbeing is the outcome, not a grade. You likely will have to conduct your medical duties under stress and not ideal environments. As your health professions career counselor, I encourage all pre-health students to strive to complete your spring 2020 courses for a grade; doing so will minimize/eliminate any potential confusion about whether schools will accept the courses. While it is uncertain how P/F grades will be evaluated, a P/F grade will likely not be factored into your science GPA. Be sure to communicate with your professors to stay up to date about grading and any specific course updates.
In the end, though, some students might face unavoidable obstacles to continued academic success. The Health Professions office is here to support students in navigating the remainder of this semester and beyond. If your personal wellness or grades suffer from any aspect of the remote learning experience, or if you have any remaining questions or concerns, please reach out to Samantha Wheeler for assistance. Best wishes and thoughts are with you all!
For the latest updates, please refer to the University of Maine Informational Website on Coronavirus Updates.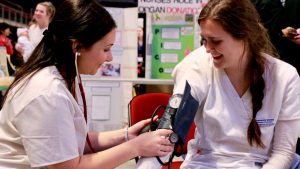 The Health Professions Office, part of the Career Center, maintains information on admission requirements for professional schools.  If you are interested in a career in the health professions, you should visit the Career Center at your earliest convenience to register as a pre-health professional student.
The Health Professions office
directory information:
 Room 300 Memorial Union
 Career Counselor, STEM/Health Professions
Samantha Wheeler
 207.581.2587
To schedule an appointment with Samantha, please call the front desk of the Career Center at 207-581-1359. Samantha's Walk-In hours are Wednesdays from 1:00-4:00 and Fridays from 9:00-12:00.

Once registered:
You will have access to information regarding upcoming Health Professions activities, guest speakers and workshops.
A file will be started containing a copy of your academic records and letters of recommendation that you ask faculty members to submit.