The Application Process
---
Deciding where to apply takes some time and research
Start by reviewing print and online materials. The Health Professions Office maintains resources listing health professions schools.
Members of the Health Professions Committee and the Health Professions can inform you about schools where UMaine graduates have continued their education in the past.

Medical: University of Vermont, Dartmouth, Tufts University, The University of New England College of Osteopathic Medicine, Pennsylvania State, Boston University, Temple, Mount Sinai, University of Rochester Wake Forest University, and Nova Southeastern University College of Osteopathic Medicine and John Hopkins
Dental: Tufts University, Boston University, University of Connecticut and Dalhousie
Veterinary: Tufts, Cornell, the University of Pennsylvania, Atlantic Veterinary College (Prince Edward Island, Canada) and the University of Tennessee
Optometry: New England College of Optometry.
Past experience suggests that most students should apply to eight to ten schools.
---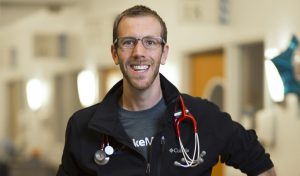 Many schools do not want to receive an application from you directly, but only through an application service.  AACOMAS (American Association of Colleges of Osteopathic Medicine Application Service) is one such association and AMCAS (American Medical College Application Service) is another. These application services provide medical school applicants with the ability to complete one application in order to apply to multiple medical schools that belong to their association.  AMCAS, AACOMAS and the Canadian medical school service applications may be completed online
Other health professions schools have similar application services. For example, dental schools utilize the American Association of Dental Schools Application Service (AADSAS). Make sure to do your research so that your application is completed and submitted on time.
Health Professions File Requirements:
Please note that your Health Professions file should be complete by May 1st of the year you intend to apply to professional programs.
Autobiographical statement explaining your motivation for a health professions career
Transcript from the Office of Student Records
5-7 letters of recommendation for pre-medical students and 3-5 letters for all others. Please request an electronic and hardcopy version be sent directly to the Health Professions Office
Resume
A typed list of schools, with addresses, to which you are applying. Please email this list to the Health Professions Office
A completed Waiver of Right to Review the File.
---
Nearly all health professions schools require you to submit scores on specific national exams as a part of your application.
These scores are reviewed carefully, and are especially important when other considerations (such as grades) suggest an applicant is "borderline" in suitability.
These exams normally should be taken during the spring semester of the junior year if you plan to enter a professional school for the fall semester following graduation.
Exams may be taken more than once, however, it is advisable to prepare thoroughly and do well the first time. You should familiarize yourself with the format of these exams early in your career. Commercial study guides are available to help you prepare for specific tests. In addition to these practice materials there are professional MCAT Preparation Courses.
MCAT (Medical College Admissions Test)
The MCAT is required of all applicants to allopathic and osteopathic medical schools. It is given online on set dates. Registration deadlines are approximately one month before the exam, but you are advised to submit the materials well in advance.
The test covers physical sciences and biological sciences, social sciences and critical analysis and reasoning skills.
Scores range from 118 – 132 in each section.  The total score ranges from 472 – 528.
It is best to take the MCAT in the spring of the junior year.
You should have completed or be near to completing General Biology, Biology of Organisms, General and Organic Chemistry, Physics, Intro Psychology, Intro Sociology, and Biochemistry.
You will be asked which schools you want scores sent to at the time of the exams. If you need to send scores to schools after your initial designation, see the registration materials (keep copies) for additional forms, procedures, and charges.
Consider taking an MCAT review course. Contact the Health Professions Office for more details.
GRE (Graduate Record Exam)
There are two types of GRE Exams, the General Test and the Subject Test.
The General test measures verbal reasoning, quantitative reasoning and analytical writing.
The Subject Tests measure knowledge and understanding in various disciplines.
The GRE is required for admission to some veterinary schools, and for admission to most research-oriented post-baccalaureate programs (leading to M.S. and Ph.D. degrees).
DAT (Dental Admissions Test)
The DAT is computerized and may be taken when you are ready.
It covers: natural sciences (biology, and general & organic chemistry), reading comprehension (natural and basic sciences), quantitative reasoning, and perceptual ability (two and three dimensional problem solving).
The DAT is usually taken in the spring of the junior year.
You should have completed or be near to completing General Biology, General Chemistry, and Organic Chemistry.
OAT (Optometry Admissions Test)
The OAT is computerized and you can schedule it when ready.
Registration deadlines are approximately one month before the exam. You are advised to submit your materials well in advance.
The OAT covers four sections: survey of natural sciences, physics, reading comprehension, and quantitative reasoning.
If you are unsure about your standing after taking one of these exams, consult with the Health Profession Office. It may be to your advantage to retake the exam (which you can do without penalty). Retaking an exam, however, may delay your date of admission.
---
Recommendations And Composite Letters
Health professions schools require recommendations.  Many schools request a composite letter or letter packet, others will request individual letters of recommendation. The Health Professions Committee prepares a composite letter. This committee is composed of faculty members from the various colleges at the University of Maine. It is advisable that you meet members of the health professions committee prior to requesting your composite letter. A list of Health Professions Committee members is available in the Health Professions Office or online.
Your composite letter is a compilation of your individual letters of recommendation. The faculty member authoring your letter is recommending you on behalf of the University of Maine and the Health Professions Committee. In order to write an effective letter, he/she/they will need a complete health professions file including the following information:
5-7 letters of recommendation for medical school, 3-5 letters for all other programs– request that both an email and hard copy of the letters be sent to the Health Professions Office.
A personal statement explaining your motivation for pursuing a health professions career
An updated transcript
A typed list of the schools (with addresses) to which you are applying emailed to the Health Professions Office
A resume or list of additional information including paid and non-paid experience
A completed waive rights to review the file form
Tips:
Letters of recommendation should be from people who know you well, and can assess your qualifications with objectivity and insight.
Ask some faculty members to write letters assessing your abilities and potential for a successful health professions career.
At least two letters should be from members of the science faculty.
Obtain letters from people who know you in a professional manner, for example employers, coaches, summer internship coordinators, and physicians or researchers with whom you have worked.
Your Health Professions Mentor is a particularly important resource. he/she/they will be able to comment on your personal qualities as well as your aptitude and potential for a health profession career.
Avoid letters from your personal physician, family friends, relatives, clergy and politicians; these letters tend to be seen as highly subjective and biased. Admissions committees do not find such letters useful.
Original letters remain on file in the Health Professions Office archives even after the student has graduated. Please contact the office if you desire to reactivate your file after graduation.
Please Note: Recommendors and health professional school admissions committees prefer that you waive your right to read these recommendation letters. This action shows that you have confidence in yourself and in the people you have chosen to write on your behalf; also, school admissions committees tend to regard confidential letters as more candid. It is your choice whether or not you waive your right to view the file. The HPO has copies of waiver forms for you to sign if you so choose. The form is also included as part of the HP Student File Information Forms.
---
Health Professions file must be completed by May 1st of the year you are intending to apply.
Requests for composite letters or letter packets must be received by the Health Professions office by May 1st. We cannot guarantee composite letters or letter packets for requests received after May 1st.
Students who GPA's are under a 3.0 must petition the Health Professions Committee for a composite letter.
---
Most health professions schools require an interview as part of the admissions process. Perhaps the best advice is to be yourself, and to do so confidently but without arrogance. During the interview you may be asked your opinion of important issues affecting the health professions. In order to be well informed, you should regularly read newspapers, news magazines, and professional journals. Of course, you will not be informed on every issue, and it's best to say you are unfamiliar with an issue rather than to try to hide your ignorance.
Other topics that may be explored in an interview include your motivation for a professional career, your personal assessment of your strengths and weaknesses, and your plans for meeting the financial aspects of your professional education. Thus, you should expect to be asked why you want to become a physician (or a veterinarian, or a dentist, etc.), why you have applied to that particular school, what you plan to do if not accepted, what aspects of your personality suit you to your planned profession, and even how you plan to finance your professional education.
Consider scheduling a practice interview. Arrangements may be made with the Career Center located in the Memorial Union.
---
Thank You Notes and Other Professional Courtesies
After you have interviewed at a professional school, it is common courtesy to send a formal thank you note. You may use this opportunity to restate your interest in the program and provide additional information as to why they should consider you to be a strong candidate. For tips on writing thank you letters, visit:
Applicant Responsibilities:
Observe application procedures at each school to which you apply
Applicants should respond promptly to all invitations for interviews
Make sure to notify the schools regarding any address and telephone number changes
Once you make a final decision as to where you will attend, please promptly withdraw any outstanding applications and notify any other schools to which you have been accepted.