Program Overview
Our program emphasizes courses that will put students in an excellent position for admission to the graduate school of their choice. Several course requirements must also be fulfilled in the sciences, and these vary with each student's program. Normally, courses in chemistry, biology, physics, and mathematics are a minimum. Few schools require a science major, but these courses will fulfill the requirements for admission and prepare the student for the admissions exam. For many students, it is convenient to major in a science, which requires many of these same courses.
The University of Maine
The University of Maine is located in Orono, a quiet community of about 10,000 people in east-central Maine. It is relatively safe and free of big-city problems of crime and traffic congestion. Nearby Bangor provides first-class shopping, theaters, restaurants, and other attractions. The scenic Maine coast is just over an hour away with Acadia National Park and other attractions close enough for day trips. Extensive forests and mountains are not far to the north and west, with excellent opportunities for hiking, camping, downhill and cross-country skiing, river rafting, boating, and fishing. Buses run regularly to Boston, and major carriers service the Bangor International Airport.
Research Opportunities
The University of Maine is unique in Maine as the state's public research university, now with R1 Carnegie classification.  As a modern research university, it provides many opportunities for students to participate in laboratory and clinical studies. Well-equipped laboratories are maintained for work in basic medical sciences such as the molecular biology of cancer, osteoporosis, the genetics and physiology of heart disease, veterinary science, biochemistry, and human and animal nutrition. Many undergraduates participate in laboratory studies with faculty members on either formal or informal projects, and some go on to be co-authors on publications with their sponsoring professors. Having research experience adds an important dimension to graduate school applications. Cooperating faculty members and graduate students often make important contributions to graduate school applications in the form of letters of recommendation.
The Faculty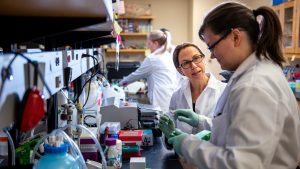 Our faculty members are committed to teaching. They are the backbone of the University of Maine and the Health Professions Program. Our professors are expected not only to be first-rate teachers but to conduct research as well. This requirement applies to the non-science departments as well as the biological sciences, chemistry and physics. The combination of research and teaching ensures that cutting-edge information is used in all classes. Graduate institutions are well aware of the care with which University of Maine faculty prepare students for their programs. Grading standards are consistent with high expectations of students. Admissions committees know they can rely on a University of Maine degree to be "as advertised." Most importantly, our graduates know that their preparation for examinations like the Medical College Admissions Test (MCAT) or the Dental Admission Test (DAT) meet the highest educational criteria.