Employers
---
Internship/Cooperative Education Program
The University has more than 50 academic departments within the five colleges of the University (College of Engineering; Maine Business School; Liberal Arts & Sciences; Natural Sciences/Forestry/Agriculture; and Education & Human Development) that offer academic credit and faculty supervision for students seeking work/learning opportunities with employers. The Career Center is the point of contact for new employers who wish to establish internship positions and/or engineering cooperative education positions for University of Maine students with their companies. Advantages for employers who hire student interns include:
An inexpensive method to get special projects done, using upper-class students trained in a specific discipline.
An opportunity to infuse the workplace with talent and fresh ideas
An opportunity to provide low-cost training and screening, resulting in less cost-per-hire, and a way to hire experienced, full-time employees after graduation who have already demonstrated a "fit" with the company
An opportunity to provide service to the University of Maine by hiring student interns
Student employees earning credit are covered by University liability insurance
The Career Center and Department Faculty Coordinators advertise your positions, provide resume referrals for your consideration, and assist with logistics, troubleshooting, and problem-solving as needed.
---
On-Campus Information Sessions/Visits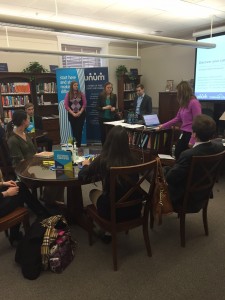 The Career Center can help increase a company's visibility on the University of Maine campus by scheduling information sessions for employers to discuss job opportunities with students. The Career Center can also connect employers with key faculty who can provide in-depth information about the strengths of their particular academic departments and the expertise areas of faculty and students.
---
Post Job Vacancies
You may use CareerLink to post jobs and internships, sign up for career events and job fairs, and participate in the on-campus recruiting program.  CareerLink is powered by NACELink/Symplicity.
---
Salary Resources