Food Waste Management: Empowering Maine Businesses Toward Sustainability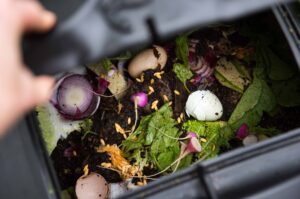 Institution: University of Maine
Sponsor: Senator George J. Mitchell Center for Sustainable Solutions
A Sustainable Approach to Food Waste Management: Achieving the Triple Bottom Line for Food-Based Businesses in Maine and Beyond
In recent years, concerns about food waste have risen in the public consciousness. In fact, according to the latest Harvard Food Law Policy testimony, 40 percent of the food produced is not eaten. Food waste is part of the circular economy, a model that connects people, business and natural systems. At a time when our resource consumption is pushing us towards planetary boundaries, the circular economy reimagines how businesses, products, and services are designed, experienced, and valued. Therefore, a strategic focus on this food waste also addresses the natural, social and financial systems linked to it.
In 2015, the Mitchell Center's Materials Management team brought together a diverse group of waste management stakeholders to collaboratively imagine how the state might make more progress toward its waste reduction and recycling goals. This process revealed a widespread agreement among stakeholders that the single most important issue for ensuring a more sustainable system was reducing food waste and getting organics out of the landfill. Since that engagement process, the Materials Management team has responded with a strong focus on food waste.
This project seeks to fill a clear gap in the team's expertise and to address the extremely important food waste stakeholder group – private food waste generators (e.g. food retailers & distributors). The addition of Susanne Lee from the Maine Business School to the team will complement existing work – a portfolio that includes research at locations all along the circular food waste system. Lee has strong connections to the private food sector (Hannaford, P&G, food service, hospitality, retail).
The team's first step toward this goal is to develop a process model based on engaging a large and representative sample of Maine's food waste-producing businesses, interviewing these stakeholders to identify their needs in this area, researching best practice solutions that address their needs, and using workshops to evaluate whether these specific food waste solutions can meet their needs and deliver the elusive triple bottom line—better for people, planet and profits.
The team plans to assist businesses with implementation and help ensure that the solutions developed are tested for effectiveness. By using this approach, the team can then use this process model to engage more Maine business stakeholders and to find and develop more sustainable solutions, e.g., packaging waste.
Project Update (July 2020)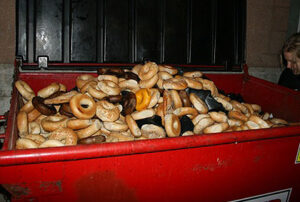 The research team identified six solution areas to eliminate food waste in Maine that rely on triple bottom line (business) benefits versus legislative mandates to achieve. In addition, these six solution areas provide an important pathway to move Maine to a circular food system, a worldwide goal and a part of Maine's 2020-2029 strategic economic development plan. Also, as eliminating food waste has been identified as one of the most important activities to fighting climate change, the team's solution areas have been shared with Maine's Climate Council.
The team engaged a strong and formal stakeholder group, the Maine Food Production Leadership Council, in a large working session to identify the current status, needs, barriers, and opportunities with regard to food waste management. Based on this information, they researched successful business models and best practices in sustainable food waste management and then selected those that met the needs of the Maine-based food production stakeholders. The team is now working to implement pilot projects to trial each of the solution areas with stakeholders.

Six Solution Areas
Encourage the measuring and tracking of food usage to improve food waste management
Improve sector-to-sector communication with a multi-platform "food matching" solution
Join with food producers to promote student/consumer education and action regarding food waste – changing Mainers' beliefs and behaviors around "wasted food"
Build up Maine's donation handling infrastructure including cold-storage capacity, food processing and monitoring technologies, and transportation efficiency
Increase producer awareness of food donation options, protections, and incentives
Expand access to and adoption of landfill alternatives for food waste
With growing technology and increased consumer interest in sustainability, reducing food waste can yield huge financial benefits for businesses and make significant progress in achieving federal and state waste reduction goals. Over the long-term these solutions will help eliminate food waste and deliver a circular food system for Maine, as well as reducing related hunger and food insecurity problems.
Team Leader:
Susanne Lee, Executive-in-Residence, Maine Business School
Team Members:
Student Advisors
Jason Bolton, Food Science and Innovation, University of Maine
Ivan Fernandez, Climate Science, University of Maine
Jesse Minor, Geography & Environmental Planning, University of Maine at Farmington
Mark Pires, Geography and Sustainability, University of Maine Farmington
Student Researchers:
Hannah Crayton, Thomas College (2020- )
Hannah Mathieu, University of Maine (2021- )
Ariana Walker, University of New England (2021- )
Ellie Hunt, University of Maine (2021- )
Ryan Fitzmaurice, University of Maine (2021- )
Wendy Crosier, University of Maine (2021- )
William Dunham, University of Maine (2021- )
Kalina Kinyon, University of Maine (2021- )
Melissa Veitch, University of Maine Farmington (2021- )
Olivia Bucknam, University of Maine Farmington (2021)
Elyse St. Pierre, University of Maine (2021)
Priyanshu Bhatta, University of Maine (2021)
Gabby Sands, University of Maine (2021)
Aiden Saulnier, University of Maine Farmington (2021)
Asher Close, University of Southern Maine (2020-21)
Dominique DiSpirito, University of Maine (2020-21)
Riya Mokashi, New York University (2020-21)
Sam Shively, University of Southern Maine (2020-21)
Simon Murphy, University of Maine Farmington (2020-21)
Zach Gagne, Thomas College (2020-21)
Sara Gundermann, University of Maine (2020)
Emalia Eichelberger, Stanford University (2020)
Stephanie Ayotte, University of Maine (2019-20)
Peter O'Brien, University of Maine(2019-20)
Katie Tims, University of Maine (2019-20)
Resources: