Food Waste Management: Empowering Maine Businesses Toward Sustainability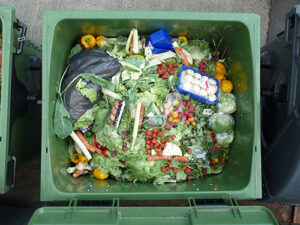 Institution: University of Maine
Sponsor: Senator George J. Mitchell Center for Sustainable Solutions
A Sustainable Approach to Food Waste Management: Achieving the Triple Bottom Line for Food-Based Businesses in Maine and Beyond
In recent years, concerns about food waste have risen in the public consciousness. In fact, according to the latest Harvard Food Law Policy testimony, 40 percent of the food produced is not eaten. Food waste is part of the circular economy, a model that connects people, business and natural systems. At a time when our resource consumption is pushing us towards planetary boundaries, the circular economy reimagines how businesses, products, and services are designed, experienced, and valued. Therefore, a strategic focus on this food waste also addresses the natural, social and financial systems linked to it.
In 2015, the Mitchell Center's Materials Management team brought together a diverse group of waste management stakeholders to collaboratively imagine how the state might make more progress toward its waste reduction and recycling goals. This process revealed a widespread agreement among stakeholders that the single most important issue for ensuring a more sustainable system was reducing food waste and getting organics out of the landfill. Since that engagement process, the Materials Management team has responded with a strong focus on food waste.
This project seeks to fill a clear gap in the team's expertise and to address the extremely important food waste stakeholder group – private food waste generators (e.g. food retailers & distributors). The addition of Susanne Lee from the Maine Business School to the team will complement existing work – a portfolio that includes research at locations all along the circular food waste system. Lee has strong connections to the private food sector (Hannaford, P&G, food service, hospitality, retail).
The team's first step toward this goal is to develop a process model based on engaging a large and representative sample of Maine's food waste-producing businesses, interviewing these stakeholders to identify their needs in this area, researching best practice solutions that address their needs, and using workshops to evaluate whether these specific food waste solutions can meet their needs and deliver the elusive triple bottom line—better for people, planet and profits.
The team plans to assist businesses with implementation and help ensure that the solutions developed are tested for effectiveness. By using this approach, the team can then use this process model to engage more Maine business stakeholders and to find and develop more sustainable solutions, e.g., packaging waste.
Team Leader:
Susanne Lee, Executive-in-Residence, Maine Business School
Team Members:
Brieanne Berry, Ph.D. Candidate – Anthropology & Environmental Policy
Travis Blackmer, Lecturer – School of Economics
Cindy Isenhour, Assistant Professor – Department of Anthropology
Jean MacRae, Associate Professor – Department of Civil and Environmental Engineering
Balu Nayak, Assistant Professor – Food Science and Human Nutrition
Debbie Saber, Assistant Professor – School of Nursing
Linda Silka, Senior Fellow – Senator George J. Mitchell Center for Sustainability Solutions
Tony Sutton, PhD Student – Communications and Journalism
Updates: