Peter O'Brien: Seeking Solutions to Maine's Food Waste Challenges
This third-year economics major is helping businesses find sustainable food waste solutions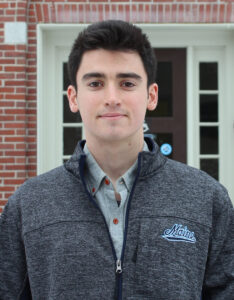 Why were you interested in Food Waste and/or Sustainable Solutions?
I first became interested in food loss while spending my summers working as a cook in several Maine restaurants. After seeing the amount of food that ended up in the dumpster – put there by employees and customers alike – I realized that our existing attitudes and approaches to food waste management are not sustainable.
How did you get involved in the Mitchell Center Food Waste grant project?
Courses I have taken toward my economics degree and my sustainable food systems minor have opened my eyes to the threats facing agricultural production and the global food supply at large. Feeding the world over the next century will require large-scale cooperation, and there's no better way to spur this change than by starting at the local level. It is time to take a hard look at our food system in order to develop a better model for sustainability. When I heard about the chance to work as a member of a multidisciplinary team, focusing on real solutions, I knew I had to take part.
What do you feel are the most important academic or personal skills that you bring to your Mitchell Center multidisciplinary student research team?
One emphasis of our project is focusing on the "triple bottom line" of sustainability: people, planet, and profits. Coming from an economics background, I feel as though I bring a good perspective on the traditional bottom line (profits), which allows me to understand the needs and concerns of the stakeholders we engage with through our work. Ultimately, I think the power of interdisciplinary research comes from the synergy of skills and perspectives that happens when individuals from different backgrounds work together. An issue as complex as food waste cannot be solved by any one person or even one field of research.
What are the most important things that you have learned midway through your participation on this Mitchell Center project?
My experience so far as a member of the team has been both inspiring and daunting. At times I felt overwhelmed by the scale of the problem, but the fact that so many organizations and individuals throughout the state are willing to work together to create solutions gives me confidence that great strides can be made towards sustainability. Perhaps most importantly, I've realized the power that young people have to energize and spur action and that people of all ages and viewpoints are willing to listen to a reasoned call to action.
What are your personal goals with completion of the Mitchell Center Food Waste project this spring? What do you hope to accomplish?
I aim to inspire businesses and policymakers to take action towards reducing food waste and create a clear pathway forward for those who wish to do so.
How do you like to spend your free time/down time?
I like to play music and spend time outdoors hiking, skiing, and rock climbing.