Stephanie Ayotte: Seeking Solutions to Maine's Food Waste Challenges
This senior civil and environmental engineering major is helping businesses find sustainable food waste solutions.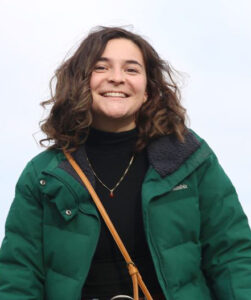 Why were you interested in Food Waste and/or Sustainable Solutions?
I am a senior in Civil and Environmental Engineering at the University of Maine and am expected to graduate in May of 2020. Currently, I am applying to graduate school, where I will study Water Resources Engineering and research biogeochemical processes and how they relate to nutrient cycling and transport in natural and engineered systems. I was excited to join the project to help reduce Maine's food waste as I have always had a desire to mitigate environmental impacts. I am studying environmental engineering as a pathway to help develop ways to prevent chemical pollution and limit human impacts on the environment. This project felt like a step in the right direction.
How did you get involved in the Mitchell Center Food Waste grant project?
I joined the Mitchell Center for Sustainable Solutions in the fall of 2019 as an undergraduate research assistant as per the recommendation from my Environmental Engineering professor, Dr. Jean MacRae.
What do you feel are the most important academic or personal skills that you bring to your Mitchell Center multidisciplinary student research team?
I find that the cross-disciplinary team offers a variety of different perspectives and allows for more comprehensive ideas to be developed. An idea that I might not have come up with on my own can be discussed and developed with the help of various different perspectives and mindsets. I find that my studies in civil and environmental engineering provide a very technical approach to the issue and offer a viewpoint that aims to find practical solutions.
What are the most important things that you have learned midway through your participation on this Mitchell Center project?
Midway through the project, I have found the ability to reach out and get to know businesses across Maine to be a rewarding process. The project has allowed the team to develop potential solutions that both meet the desires of Maine companies and help to feed those in need. The project has developed a true sense of community for me.
What are your personal goals with completion of the Mitchell Center Food Waste project this spring? What do you hope to accomplish?
My goal of the project is to propose solutions that build off of policies that exist in other New England states. Our goal is to propose a way to support the removal of food waste from Maine's landfills and to allow the infrastructure to build with it. I ultimately hope that our team's efforts will help bring Maine one step closer to removing food waste from landfills.
How do you like to spend your free time/down time?
Outside of the realm of academia, I enjoy spending time outdoors. Whether cross country skiing, hiking, or fishing, the more time spent outdoors the better.