Katie Tims: Seeking Solutions to Maine's Food Waste Challenges
This third-year biology major is helping businesses find sustainable food waste solutions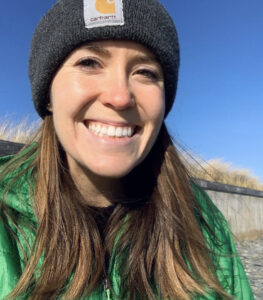 Why were you interested in Food Waste and/or Sustainable Solutions?

My time at the university has been shaped by my major, biology with a pre-med concentration, and my participation in the Honors program, both of which have helped me explore my many interests in a breadth of academic and cultural settings. I had the opportunity to take an Honors Tutorial course focused on Maine's agricultural industry and its surrounding socioeconomic system that really helped foster my interest in food systems and direct my personal goals toward a future career in sustainability in environmental and human health. Born and raised in Maine, I understand how important of a discussion 'food security' can be and this research project posed an opportunity to better understand and help solve the problems our culture faces in relation to food waste.
How did you get involved in the Mitchell Center Food Waste grant project?
After first hearing about this experience when it was posted by an Honors Associate, I immediately applied. I had kept my eye out for a new way to be involved on campus, mostly interested in research, and this opportunity seemed like it was exactly what I had been looking for. After submitting my resume, I had a lovely interview with Susanne and was happy to very quickly become part of the team.
What do you feel are the most important academic or personal skills that you bring to your Mitchell Center multidisciplinary student research team?
I think that each member of the team brings a strong drive to gather as much information as we can and yield a project that has potentially far-reaching impacts for the state, but we all bring different ideas, prior backgrounds, and interpersonal skills to the table. I think I best contribute my passion for sustainability, collaboration skills, and my commitment to the team and the success of our project. I enjoy engaging with all types of people and evoking productive discussion, and have had the chance to do that while learning more about our multifaceted food system and the challenges that people face in the context of food waste.
What are the most important things that you have learned mid-way through your participation on this Mitchell Center project?
I have learned that I love being a part of a team of driven individuals, passionate about the same potential possibilities of all of our hard work. Participation on this project has given me incredible experiences around the process involved in understanding problems such as these and how to engage in new measures to help solve them. I have learned how hard it is to engage in the diverse working world and how important each individual conversation with the players involved can be.
What are your personal goals with completion of the Mitchell Center Food Waste project this spring? What do you hope to accomplish?
I have personal goals of staying involved with sustainability in my future communities in whatever way I can. No matter what we accomplish, I am most excited to see all of the impacts of this project. I am so lucky to have been given the opportunity to work with Susanne, Stephanie, Peter, and all of those who have played a role in our work and I am so appreciative of every experience it has given me so far.
How do you like to spend your free time/down time?
I am happiest when I can spend time in the New England outdoors, whether that might entail winter ski trips to Sugarloaf or hiking in the summertime. I am an avid skier, trail runner, and am on my way to finishing hiking all of the forty-eight peaks over 4,000 feet in the New Hampshire White Mountains.