Helping Maine businesses find food waste solutions
April 2020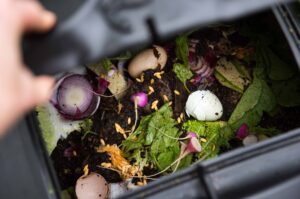 On November 18, 2019, the Maine Food Production Leadership Council held its first work session, led by faculty and students involved in the Mitchell Center project, "Food Waste Management: Empowering Maine Businesses Toward Sustainability."
This project builds on work begun in 2015 by the Mitchell Center's Materials Management Team, which brought together a large, diverse group of stakeholders including solid waste management professionals, farmers and food producers, hunger relief organizations, regulatory agencies, schools, hospitals, legislators, and environmental organizations from across the state. The group explored how to help Maine meet its solid waste management and recycling goals and create a more sustainable system.
Through many iterations of discussion and input, stakeholders identified the reduction of food waste and the diversion of organic wastes from landfills as the highest priorities. They also raised concerns about links between food waste and food insecurity. Across the country roughly one-third of food produced for human consumption is wasted, according to the Harvard Food Law and Policy Clinic. At the same time, data from the United States Department of Agriculture's Economic Research Service show that Maine has the highest level of food insecurity in New England. Food insecurity is defined as "being without reliable access to a sufficient quantity of affordable, nutritious food." In many cases, "wasted" food—from excess production, losses within a system, and food that is nutritious and valuable but not aesthetically perfect—can be routed to feed people in need.
Susanne Lee, Executive-in-Residence at the Maine Business School at UMaine, leads the current project, advising several UMaine undergraduate students and collaborating with other members of the Materials Management Team. They've worked with food manufacturers, retailers, distributors, the hospitality industry, farmers, schools, hospitals, hunger relief organizations, solid waste management professionals, and public policy makers to create the Maine Food Production Leadership Council. With more than thirty members, the Council includes leaders from across Maine's food system.
Lee notes, "Maine is an exciting place to find solutions for global food system challenges like food waste. We have a nationally recognized food scene and yet our relatively small size and resourceful Maine culture means that our food system leaders are more able and willing to work together to find and implement best practice solutions to increase profits, strengthen communities and sustain our natural resources. We truly believe that Maine can be the 'lab' to successfully develop these winning triple-bottom-line solutions and then share with others."
Since the fall meeting, the students involved with the project have researched potential solutions for reducing food waste in Maine, keeping organics out of landfills, and addressing food insecurity. The next step in the process is for the students to present these potential solutions to the Council and garner feedback on how they might work in Maine. Although an upcoming meeting of the Council was recently cancelled due to the coronavirus crisis, the team is currently reviewing various options for Council members to provide feedback.
We talked with Lee and the students midway through the current project about their progress, what they're learning, and their focus for the future.
People, Planet, Profits, Students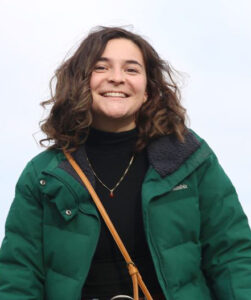 Stephanie Ayotte is a senior studying environmental engineering who joined the Mitchell Center team in fall 2019 as a research assistant with Dr. Jean MacRae, associate professor of Civil and Environmental Engineering and Mitchell Center faculty fellow. Ayotte says, "I have found the ability to reach out and get to know businesses across Maine to be a rewarding process. The project has allowed the team to develop potential solutions that both meet the desires of Maine companies and help to feed those in need."
Ayotte's engineering background gives her a more technical approach to the issue of food waste, as well as a strong focus on finding practical solutions. She notes that the students seek solutions to food waste in Maine that are informed by what's worked—and hasn't worked—in other New England states. "I ultimately hope that our team's efforts will help bring Maine one step closer to removing food waste from landfills," she says.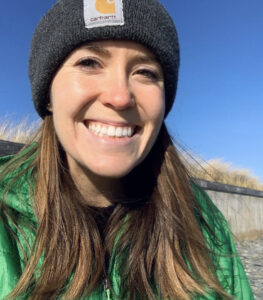 For Katie Tims, a third-year biology major with a minor in sustainable food systems and a pre-med concentration, an Honors College tutorial course on Maine's agricultural industry fostered an interest in food systems and oriented her to a career in "sustainability in environmental and human health." Born and raised in Maine, she knows how important food security can be here and was drawn to the food waste project as an "opportunity to better understand and help solve the problems our culture faces in relation to food waste."
Tims notes that each member of the team brings "a strong drive to gather as much information as we can and generate outcomes that have potentially far-reaching impacts for the state." She says that participation in this project has provided valuable experiences in understanding complex problems such as food waste, as well as how to engage in efforts to help solve them.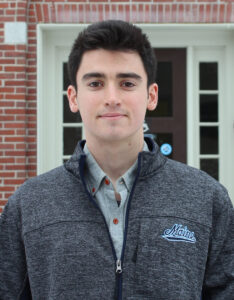 Peter O'Brien first became interested in food waste while working summers as a cook in Maine restaurants and seeing how much food was thrown out. "I realized that our existing attitudes and approaches to food waste management are not sustainable," he says.
The interdisciplinary approach of the food waste project, a hallmark of the Mitchell Center's work, is a big draw for O'Brien. "An issue as complex as food waste cannot be solved by any one person or even one field of research," he notes.
His major in economics brings a valuable perspective to the team and helps him to understand the needs and concerns of the project's business stakeholders, while his minor in sustainable food systems fosters a focus on the "triple bottom line" of sustainability—people, planet, and profits.
"Feeding the world over the next century will require large-scale cooperation, and there's no better way to spur this change than by starting at the local level," he says.