Getting Over the Dam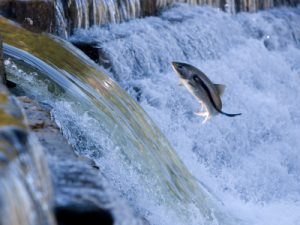 Institution: University of Maine
Sponsor: Senator George J. Mitchell Center for Sustainability Solutions
Overcoming institutional barriers to the recovery of Atlantic salmon by navigating the social-science/policy interface
Atlantic salmon populations in Maine have declined over previous decades and remain critically low. Despite extensive hatchery supplementation and habitat improvement efforts made by management agencies over the last four decades, there has been no clear population response and extinction of the species remains an immediate threat.
As a result, the Gulf of Maine Distinct Population Segment was listed as endangered in 2000 with the Endangered Species Act (ESA) listing authority jointly shared by National Oceanic and Atmospheric Administration (NOAA) and the U.S. Fish and Wildlife Service (FWS). Because regulators and managers working in federal U.S., State of Maine, and Penobscot Nation tribal government contexts operate with independent authority, effective recovery related decisions depend on effective communication and coordination among these entities.
For decades management and regulatory bodies, non-profit organizations, and citizens met as a single group through the Maine Technical Advisory Committee (TAC). In 2005, conflicts within TAC led to dissolution of this body, resulting in several years of reduced management and nearly no coordination across authorities. In recognition of this, the Atlantic Salmon Recovery Framework (ASRF) was formed in 2011 as an alternative structure for coordinating decision making.
Under the ASRF, efforts to innovate in the face of uncertainty are often stifled by an inability to effectively evaluate tradeoffs if entities perceive biological, functional or political risk, and the process by which isolated Action Teams' (sub-committees organized by critical topic areas) recommendations are incorporated is poorly characterized. These social dimensions—that is, the institutional and individual interactions within an evolving coordination structure—that shape the management of Atlantic salmon in Maine have not been examined.
Project Objectives
In this project we contend that an evaluation of the interactions among entities in the face of uncertainty may inform the processes by which recovery policies and actions are made. With partners in NOAA, FWS and others, this project examines the social-science/policy interface of Atlantic salmon recovery decision making in Maine. Key stakeholders have identified the following research and project objectives:
Describe entity interactions with respect to jurisdiction, capacity and mission;
Understand how social and institutional factors shape entity interactions;
Promote effectiveness of current legal and policy frameworks in recovery planning.
Team Leader:
Carly Sponarski, Assistant Professor of Human Dimension of Wildlife and Fisheries Conservation, Dept. of Wildlife, Fisheries, and Conservation Biology, UMaine
Team Members:
Bridie McGreavy, Assistant Professor of Environmental Communication, School of Communications and Journalism, UMaine
Joseph Zydlewski, United States Geological Survey, Professor of Fisheries Science and Assistant-Leader-Fisheries, Maine Cooperative Fish and Wildlife Research Unit
Resources
Feature article: The art of collaboration in natural resource management (June 25, 2020)
News Article: Getting the Whole Picture (12/5/2018)