Career Pathways Through Undergraduate Research
Two UMaine graduates explain how their undergraduate research experiences with the Mitchell Center kick-started their sustainability careers
By Nate Poole
For many students, finding a career in their desired field is a challenge that looms over their entire college experience. In 2018, more than half of adults said that career outcomes were their primary reason for seeking higher education. Instructors and employers tout the importance of hands-on experience through internships and research as the key to putting one's best foot forward on a career path. But how an internship leads to a job can seem vague and uncertain, at best.
Katie Tims, Class of 2021, and Dominique DiSpirito, Class of 2022, are recent University of Maine graduates who found promising footholds in the fields of sustainability and materials management in Maine, in part because of their undergraduate research experiences. As interns, both students worked on the Mitchell Center's Food Waste Management project, advised by Susanne Lee. The project grew from work started in 2019 by the interdisciplinary Materials Management team to find solutions to Maine's solid waste problems. In research done by the team, food waste was ranked by stakeholders as a major area of concern. The food waste team collaborates with partners across Maine to research and pilot solutions to reduce food waste, keep organics out of landfills, and address food insecurity in Maine.
Several years after their internships with the Mitchell Center, Tims and DiSpirito have continued their food waste management efforts with the City of Portland and the Maine Department of Environmental Protection (DEP). Both say they would not have found their current roles without that early research experience.
Katie Tims and the advantage of uncertainty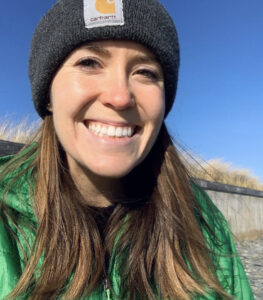 Katie Tims began working as a Sustainability Associate with the City of Portland's Sustainability Office during the Summer of 2022; several months into the job now, she discusses it with a tone of near disbelief and pride.
"I love my job. I get to meet new people all the time and work with the public. I'm just doing things on a daily basis that I would do in my spare time," she said. "I'm getting paid to talk to people about things that I actually care about, and that is where I want to be."
Like many municipal departments, the City of Portland's Sustainability Office is not exactly flush with cash, so Tims and her colleagues write grants for many of their projects and initiatives. In December, the office was fresh off the approval of a $9,000 grant from the Maine DEP to translate signs and communication materials into six languages for the City's composting program, which has eight sites across the city. It is only one project among an array of tasks, initiatives, and committees that she is responsible for supporting, if not facilitating.
"I feel like I'm constantly learning new things," Tims said.
Flexibility was an important skill for Tims during her academic journey at UMaine. On her first day of classes, she walked into Murray Hall and changed her major from Biomedical Engineering to Biology with a Pre-Medical Studies concentration. Halfway through her sophomore year, she was sure that she didn't want to spend the next decade of her life pursuing medicine, but she still wanted to use her education to improve the health of people and communities.
Just before her junior year, Tims began to think about how she might jumpstart her honors thesis process, and she received an email advertising an undergraduate student researcher position with the Mitchell Center on the food waste team. Tims grew up in rural surroundings in Cornish, Maine, and had witnessed food insecurity in her own community. The project seemed the perfect opportunity to discover a new direction that aligned with her values.
"This project really helped me think about what other options there are when you think about human health," Tims said.
Tims and a small cohort of other undergraduate researchers, including students from civil engineering and economics, spent their time creating a master list of different stakeholders, from business owners to food banks to nonprofits. The team then hosted a workshop to collect the thoughts and opinions of their stakeholders on food waste management in Maine and ultimately proposed six solutions to improve the food system that addressed people, environment, and profits. The project was Tims' introduction not only to food waste management, but also to the variety of academic disciplines that can impact the issue. Having found success once, she sought to further hone her interests with more opportunities.
"I really tried to pull everything I could out of my experiences at UMaine… I didn't know what I wanted to do and I think the only way that you can figure that out is by trying new things," she said.
In the summer of 2021, Tims interned with Dr. John Jemison, Extension Professor of Soil and Water Quality. A far cry from her previous internship experience, she assisted with fieldwork, including collecting data on various field crops and managing the local community garden; at the same time, she co-authored a paper with Dr. Mark Haggerty, Rezendes Preceptor for Civic Engagement, on food insecurity among local seniors. After Tims graduated, she interned with the Maine DEP's Bureau of Remediation and Waste Management through the Margaret Chase Smith Public Policy Center's Maine Government Summer Internship Program and witnessed the implementation of sustainability regulations at the state level.
Ultimately, it was this experience, and the connections she made along the way, that earned her a position with the City of Portland. When the Sustainability Associate position was posted, many of Tims' contacts at UMaine, including Lee, sent her enthusiastic messages encouraging her to apply. Although she is just starting out on her career, the robust resume that she developed in her time at UMaine sets her apart from her peers.
Reflecting on her undergraduate education, Tims concluded that, in some ways, it was her uncertainty that made her experience worthwhile. She suggested that new students who are interested in sustainability are better off not narrowing their interests too soon.
"I would tell them, don't make up your mind about one thing [you want to do]. There are so many paths to solving the world's problems," she said.
Dominique DiSpirito and the value of relationships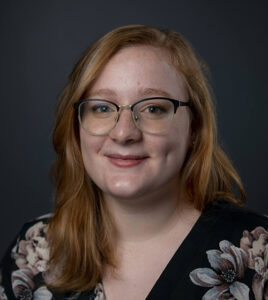 Like Tims, Dominique DiSpirito made the most of her time at UMaine. A Harry S. Truman Scholar, the valedictorian of her class, and a first-generation college graduate, she said that even more than opportunity, it was her relationships with faculty and colleagues that buoyed her success.
"I'm overwhelmed by how much, in Maine and even elsewhere, relationships are so key," DiSpirito said. "If you have a relationship with an advisor or a professor, you can go so far just by having a good relationship with that person."
Fittingly, it is through such a relationship that DiSpirito found a one-year position at the Maine DEP as an Organics Management Support Specialist in conjunction with her fellowship as a Lead for America AmeriCorps Service Member. DiSpirito first met Mark King, the man who heads up DEP composting and materials management efforts, in her junior year as a food waste intern with the Mitchell Center. King worked with DiSpirito and other interns to launch pilot composting programs across Maine. Later, he mentored her through other internships and her honors thesis. When she reached out about working with him through her fellowship, King was thrilled.
"He was just super enthusiastic and a super huge advocate to bring me on board, and he was somebody that I would have never met if I had not interned for the Mitchell Center," she said.
While she'd had an interest in environmental and waste management policy since high school, DiSpirito changed her major from Ecology and Environmental Science (EES) to Political Science at the end of her freshman year, as she became more interested in the social and political dynamics of sustainability issues. However, she retained a minor in EES and stayed on the department's listserv, which is how an email advertising a research opportunity with the Mitchell Center made its way to her inbox her junior year. This was followed by emails from environmental science faculty encouraging her to pursue the opportunity.
During her time as a food waste intern, DiSpirito collaborated with municipalities to launch community-based composting programs and helped train those communities to use the Food Rescue MAINE network, an online resource developed by Lee and her student team to provide stakeholders with steps to implement food waste solutions and connect food donations to those in need around the state. With support from faculty advisor Travis Blackmer in the School of Economics, she also worked with communities to determine how much they could save if they employed food recycling solutions. DiSpirito said that this experience served as invaluable "beta testing" for the work that she now does at a state-wide scale with the DEP.
"The hands-on experience and the connections that the Mitchell Center gave me just completely changed the game; I had other internships and I had great experiences with them, but it wasn't as focused on career readiness," she said. "There's a pretty clear line from my Mitchell Center internship to what I'm doing right now, and that has provided me a lot of security, a lot of flexibility, and a lot of confidence."
In her current role, DiSpirito works with King to develop community programs related to composting and serves as an educator for community members. She is also working on a couple of research projects designed to help policy makers make informed decisions. For example, she is compiling information about how much food waste management infrastructure the state has and where the gaps are in the state's resources. Most importantly to DiSpirito, she isn't always chained to a desk.
"Now, I'm in a truck, talking to farmers and talking to town clerks and town managers, and it's the kind of work that makes my heart happy," she said. "So, I'm looking for opportunities to do more of that."
DiSpirito is not sure that she will work on food waste for her entire career, but it's been useful for her to hone her knowledge of the issue and develop skills that will be applicable wherever her career takes her. For the time being, she is looking to do more work in the field with individuals and communities to make their waste management systems better.
"My fellowship ends in July, but I know I'm going to walk out the door with a job somewhere because of this amazing experience that I'm getting," she said.