'Maine food – Too good to waste': Students lead the way to food waste solutions
Undergraduates from campuses across the state and beyond are working to reduce food waste and food insecurity in Maine.
May 2021
"More than 30% of our domestic food supply never makes it to the table," Congresswoman Chellie Pingree said during the opening of the Maine Food Waste Solutions Summit, held virtually and hosted by the Mitchell Center for Sustainability Solutions on April 9, 2021. That lost food, she said, also represents wasted energy, labor, water and other resources—as well as increased climate change impacts. At the same time, 12% of Mainers are food insecure—a pre-pandemic figure that is likely higher now—including one out of five children.
A team of eight undergraduate students from UMaine, the University of Maine at Farmington (UMF), the University of Southern Maine (USM), Thomas College in Waterville, and New York University (NYU), led by Mitchell Center Faculty Fellow Susanne Lee, are working together to pilot solutions that can reduce both food waste and food insecurity in Maine. The students presented their work at the summit, sharing the progress made across six solution areas. A recording of the summit is now available.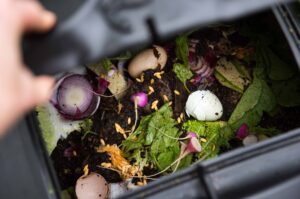 Their interconnected projects seek "triple-bottom-line" solutions with economic, environmental and social benefits, shifting the way we view excess or uneaten food from "waste" to opportunity. These projects grew from the work of the Mitchell Center's Materials Management team, which identified reducing food waste as the highest priority for managing solid waste in Maine, and from an earlier project  led by Susanne that included outreach and collaboration with diverse stakeholders to assess the needs and opportunities for reducing wasted food.
The students work with a diverse group of faculty advisors  including Jesse Minor and Mark Pires from UMF, Jeremy Pare from Thomas College, Dennis Gilbert from USM, and Jason Bolton, Ivan Fernandez and Travis Blackmer from UMaine. They also collaborate closely with stakeholders including towns and cities, schools, hospitals, farmers, food producers and retailers, the hospitality industry, and organizations working to reduce hunger.
Asher Close has "a strong passion for creativity and problem-solving." He created the Food Rescue MAINE website to serve as a hub for sharing information and making connections. Asher is a senior at the University of Southern Maine pursuing a bachelor's degree in communications and media studies. The website will help the team reach a larger audience, which can lead to greater impact.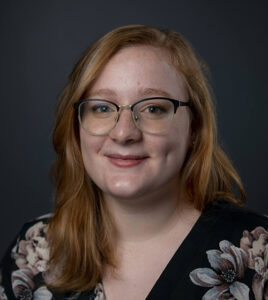 Dominique DiSpirito works with municipalities to divert food waste from landfills and recycle it into compost instead, saving as much as 30% on waste disposal fees. She works with UMaine faculty advisor Travis Blackmer to help communities determine their potential food waste cost savings and identify a community specific food recycling solution. A food waste drop-off and composting site in Winslow, and five sites in Portland, launched on Earth Day, April 22. Dominique is a UMaine junior studying political science with minors in legal studies and ecology and environmental sciences.
This internship really emphasized the importance of good listening skills. When it comes to diverse stakeholders with concerns and interests, you need to be able to listen well to understand their needs and challenges.

Dominique DiSpirito
Dominique is also working with Hannah Crayton to increase food donations from Maine food businesses and then connect those food donations to those in need — to ensure that no Maine food goes to waste. Using the Food Rescue US software system, which has been successfully used in other parts of the country, the students are training community partners to pilot a Food Rescue MAINE statewide network. The Food Rescue MAINE system will connect local Maine community donors, feeding partners, and volunteers based on zip codes.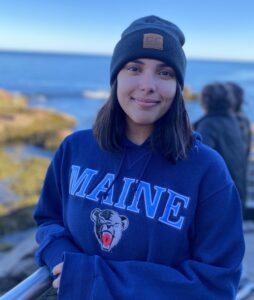 Hannah, a Thomas College student pursuing a bachelor's degree in environmental science and policy with a minor in education, has also been working with three pilot schools—Talbot Community School in Portland, Maranacook Community High School in Readfield, and Winslow Elementary School—to create and implement strategies for reducing food waste. These include creating engaging postcards to go home with students in their lunches, a toolkit for high school students, and a poster competition for kids. Hannah also secured grant funding from the Natural Resources Council of Maine to purchase compost bins for classrooms.
Students have the opportunity to be food rescue heroes—and we want to facilitate that.

Hannah Crayton
Hannah Mathieu recently joined the team and is working on the campaign several students have developed to raise awareness, educate, and inspire action: Maine Food—Too Good to Waste. Hannah is a UMaine sophomore with a double major in ecology and environmental sciences and English.
Riya Mokashi is a junior at New York University studying business and data science who "enjoys getting her hands dirty with data and gaining deeper insights from it." She has been working on a tool to help food businesses and organizations track their food usage and identify ways to reduce waste. The software is easy to use, data can be entered quickly, and the tool includes insights on how to stop food waste before it happens. She's also working on a version for home use.
USM media studies student Sam Shively brings his media experience to the team's work to engage and educate consumers about food waste. He's creating a radio PSA campaign that can be tailored to the area served by each radio station. Radio reaches many different geographic and cultural regions across Maine, he notes, with more than 100,000 listeners.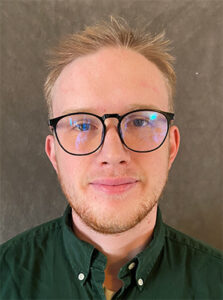 Recognizing that better food processing infrastructure—such as commercial freezer space, refrigerated storage, and transportation networks—is needed to connect excess farm produce with those who can use it, Simon Murphy and Zach Gagne have been exploring what types of infrastructure would work best for Maine.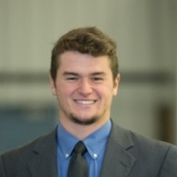 They've homed in on dairy, apples and potatoes—three of Maine's biggest crops—and worked with farmers, food processors, and organizations working to reduce hunger to identify the biggest challenges they face. "Talking with farmers, they want their food to be sold and eaten," Simon says. "Wasting food is not their business and every farmer we have talked to has been excited with what we are trying to accomplish."
Simon will graduate this year from the University of Maine at Farmington with a bachelor's degree in environmental policy and planning. Zach is a Thomas College senior with a double major in small business/entrepreneurship and psychology.
From challenges to opportunities
In addition to the student presentations at the Maine Food Waste Solutions Summit, representatives from several organizations and businesses talked about their efforts and successes in reducing food waste. The summit drew more than 120 participants from around Maine, representing state agencies and policymakers, nonprofit organizations, municipalities, farms and other food producers, schools, hospitals, composting companies, the hospitality industry, and more.
Angel Veza, ReFED senior manager of capital, innovation, and engagement, led off the summit by putting Maine efforts in the context of national work to reduce hunger and food waste. Angel was followed by Sarah Nichols, Sustainable Maine Director with the Natural Resources Council of Maine, who connected ReFED's work at the national level with legislative efforts in Maine to develop solutions for food waste.
The summit also focused on Maine success stories. Amber Lambke, founder and CEO of Maine Grains, outlined some of the creative relationships they have developed to turn traditional milling "waste" streams into valuable revenue generators for themselves and other Maine businesses. Skowhegan Public Works Director Bryan Belliveau spoke about their successful food waste recycling program, which saves the town money and engages residents in the community effort.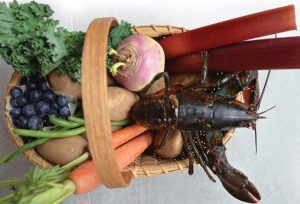 Nancy Perry from Good Shepherd Food Bank described development of their "Mainers Feeding Mainers" program that connects healthy and delicious Maine farm grown "seconds" and surplus with communities in need – a solution to support Maine farmers and to address Maine food insecurity. Olivia Doucette, operations manager for Sodexo at USM, talked about their use of the LeanPath system and working with students to identify where food waste happens and how it can be reduced.
Melanie Loyzim, commissioner of the Maine Department of Environmental Protection (DEP), also attended the summit, along with 'composting guru' and organics management specialist Mark King. The food waste solutions team has been working closely with DEP, and recently received funding from DEP's Solid Waste Diversion Grant Program. Commissioner Loyzim expressed her appreciation for the work done by the students, their faculty advisors, and Susanne, as well as the Mitchell Center's continuing leadership and work in solid waste management.
"Maine is unique because we can see the results of our work in real-time, within our own communities," says Hannah Crayton. "I live in Winslow–one of the pilot towns for the residential food waste recycling program–and I look forward to seeing the positive impacts of this program within my hometown."
---
Support for students is provided by:
Senator George J. Mitchell Center for Sustainability Solutions
Research Reinvestment Fund Award (UMS) to University of Maine Farmington
Thomas College Harold Alfond Institute for Business Innovation
University of Southern Maine Service Learning Course (New Media Studies – Dennis Gibson)
UMaine Service Learning Course (ECO381 – Tim Waring)
UMF Service Learning Course (Jesse Minor)
The Maine Department of Environmental Protection (DEP)