Strengthening Coastal Economies broadens shellfish focus to include oysters, scallops and mussels
On March 5, 2020, Bridie McGreavy and Gabby Hillyer moderated a panel titled "Interdisciplinary Approaches to Shellfish Conservation and Water Quality Improvement" during Shellfish Focus Day at the Maine Fishermen's Forum in Rockland. The panel featured shellfish managers from several coastal communities discussing their efforts to identify and eliminate pollution sources, as well as strategies for diversifying the shellfishing economy.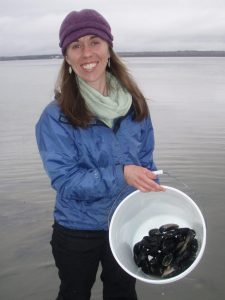 Bridie leads the Strengthening Coastal Economies project, which is generously supported by the Diana Davis Spencer Foundation. She is assistant professor in the UMaine Department of Communication and Journalism and a Mitchell Center faculty fellow. Gabby, a doctoral student in the Ecology and Environmental Sciences Program, is one of several Diana Davis Spencer Scholars working on the project. Her work is also part of the National Research Traineeship in Conservation Science and associated with the Maine Shellfish Learning Network.
Shellfish Focus Day, part of the annual, nationally recognized Maine Fishermen's Forum, has been an important venue for advancing the team's work. The Scholars' prior research had identified the need for enhanced learning and networking opportunities in shellfishing communities across Maine. In 2018, the Scholars facilitated a listening session focused on the needs of stakeholders including fishermen, harvesters, municipalities, and regulatory agencies, to further inform the development of new initiatives.
One of these initiatives was the Maine Shellfish Learning Network (MSLN), a first-of-its-kind partnership that connects stakeholders from more than twenty coastal communities, from Lubec to Yarmouth, to help protect and improve their shellfisheries. The network "supports leadership, learning, and equity throughout the shellfish fishery," says Gabby Hillyer, who also serves as MSLN coordinator, "while fostering collaboration among stakeholders to better understand the problems they face, share knowledge, and work toward sustainable solutions."
While softshell clams remain a priority focus due to their economic, ecological, and cultural value, in 2019 the Strengthening Coastal Economies project broadened its focus to include sea scallops, mussels, and oysters, all of which are high-value fisheries in Maine.
Scholar Sarah Risley is working to assess current and historical trends in shellfish resources in the Damariscotta River and Medomak River estuaries, in collaboration with shellfish harvesters and managers, and coastal community leaders. Sarah is a graduate student in marine biology and policy advised by Heather Leslie, director of the Darling Marine Center and Mitchell Center faculty fellow, and Josh Stoll, assistant professor in the School of Marine Science and Mitchell Center faculty fellow. She notes that the Damariscotta-Newcastle Joint Shellfish Committee and the Bremen Shellfish Committee had expressed concern about their limited knowledge of the resource, and the management challenges created by this data gap. Her work seeks to strengthen partnerships between researchers and coastal communities, and gather local knowledge and scientific data to facilitate responsive and effective shellfishery management practices.
Water quality is a major concern for shellfishing and coastal communities that can impact both wild-harvest and aquaculture fisheries. Sohaib Alahmed, a Scholar working with Lauren Ross, assistant professor in the Department of Civil and Environmental Engineering, has honed in on a project that helps pinpoint sources and movement of pollutants in Frenchman Bay. The bay is important for clam flats, eelgrass, and oyster and mussel farms, but is also vulnerable to frequent shellfish closures caused by polluted run-off. "Studying water circulation patterns can help shellfish farmers select leasing sites that are less susceptible to pollution," Sohaib says.
Jeremy Braun is a Scholar and undergraduate student working with Lauren Ross and Sean Smith, associate professor in the School of Earth and Climate Science and the Mitchell Center. His research is connected with Sohaib's but focuses on a different aspect of water quality–how to measure pollutants such as bacteria flowing into Frenchman Bay. Rainfall has most commonly been used to predict when and where pollution problems will occur in bays and estuaries where shellfish beds are located. But it's actually the flow of water in streams that carries pollutants from land to sea. In the past, data on water flow has been limited, but Braun notes that tools for measuring and predicting these flows are becoming more accessible. By utilizing these data, his research aims to improve the prediction of coastal pollution and develop tools that coastal managers can use to make better-informed decisions about closing shellfish beds to harvesting.
"Many of the leaders I have met within the shellfish industry lead by fostering strong personal connections, taking the time to share and ask for feedback, and being responsive to the needs of the group—all leadership traits I hope to emulate in my own work."

–Sarah Risley
The team added shellfish aquaculture to the project in 2019 through the work of graduate student Struan Coleman, who is focused on sea scallop production and works with Damian Brady, associate professor in the School of Marine Sciences and Mitchell Center faculty fellow. Aquaculture is a growing industry and important driver for Maine's economy that provides opportunities for innovation to bolster the state's marine sector. This addition helps advance the project's goal to enhance economic and community resilience by addressing a range of commercial interests and supporting the diversification of shellfishing activity.
One of the common threads throughout the Strengthening Coastal Economies project is a focus on multi-sector partnerships, which requires respectful communication and—perhaps most importantly—active listening. As Struan notes, "The fishermen and farmers bring a very different set of skills to the table than the research group, but we ultimately need to work together to achieve our larger goals… Often, listening is more important than talking."
For Diana Davis Spencer Scholars, the benefits of their experience extend from immediate learning to the cultivation of skills and capacities that are essential for lifelong development as professionals and leaders. Sarah Risley notes that "…the greatest educational moments occur in conversations with harvesters, researchers, industry and government partners. Many of the leaders I have met within the shellfish industry lead by fostering strong personal connections, taking the time to share and ask for feedback, and being responsive to the needs of the group—all leadership traits I hope to emulate in my own work."