'Disciplinary nomad': Jessica Jansujwicz finds her place as researcher, teacher, mentor, leader
Charting a path from ecology to sustainability science and community-based conservation.
One day as she was teaching a graduate class on what resilience means in different areas of study, it hit Jessica Jansujwicz that she couldn't really name one discipline, or field of study, that defined her work. A colleague used the term "disciplinary nomad" to describe her, and she realized it was true.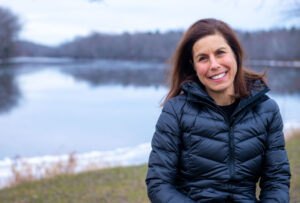 Jansujwicz, an assistant research professor at the University of Maine, had initially followed a traditional academic path, pursuing degrees in zoology and ecology. But her curiosity, and desire to do work that matters to people and communities, inspired her to migrate to sustainability science—bringing science, people and policy together. That shift would eventually lead her to the Mitchell Center for Sustainability Solutions at UMaine and a career focused on community-engaged research, teaching and mentoring undergraduate and graduate students, and a leadership role with Maine Sea Grant.
Connecting dots rather than checking off boxes
Jansujwicz has a lifelong passion for marine science and focused her undergraduate research on salt marshes. "I followed the salt marsh snail around for years," she says. "I loved being outside in my hip waders, that was where I wanted to be at 5 a.m., with the tides."
She published her research, comparing the size and distribution of snails on a marsh that had just been restored with one where the tidal flow was restricted by man-made changes, in Nautilus, a scientific journal focused on the study of snails and other mollusks. 
Then she had an epiphany.
She'd presented data and charts describing her research at a conference, and included four bullet points at the end about the management of marsh restoration. "And I realized that that was just a 'box check,'" she says. "You did your research, you published in your journal, and here are your management points that hopefully will be taken up by somebody out there."
It dawned on her that no matter how passionate she was about salt marshes, and how good her research was, "all my efforts, all the management and planning efforts are going to fail if they don't consider the larger context of people and communities." She started asking questions about how science can be done so it's most useful—connecting knowledge with action. "I finally realized no one's going to read the Nautilus and figure it out."
Learning to listen
She entered a Ph.D. program focused on coastal issues at the University of Massachusetts, Amherst, where she began learning to listen to communities about the problems they faced, such as flooding and sea level rise.
"I got really interested in that process of how we collaborate," she says, "bringing in multiple voices—whether it's scientific experts, local citizens, planners—and this idea of bringing everybody to the table to make decisions."
Early in her Ph.D. she had her first children, twins, and left graduate school, but "there was always this unfinished business of trying to understand collaborative, community-based conservation."
Coming to Maine and connecting with the Mitchell Center
After her family relocated to Maine, she was eager to resume her graduate studies and connected with Mac Hunter, a professor of wildlife ecology at UMaine. Hunter in turn introduced her to Aram Calhoun, a professor of wetland ecology who works on community-based wetlands conservation and would become Jansujwicz's mentor and colleague.
One focus of Calhoun's work is on vernal pools—naturally occurring, ephemeral wetlands found in forested areas that provide crucial habitat for salamanders, wood frogs and other wildlife, including some that are threatened or endangered. Balancing the ecological needs of these vulnerable wetlands with the need for community and economic development is one of the biggest challenges in protecting vernal pools.
"You're going to see eye to eye in more ways than one," Hunter said to Jansujwicz about Calhoun when he introduced them, with a twinkle in his eye. When the two women talked, Jansujwicz understood why—it quickly became apparent that they shared a passion for collaborative conservation. And at about five feet tall, she and Calhoun are close to the same height. 
Minding the 'science-practice gap'
Jansujwicz and Calhoun had similar backgrounds and found they could communicate in terms of their passion for wetland ecology. But that wasn't all. "We also understood that there was this hurdle, a science-practice gap," Jansujwicz says. Calhoun wanted to bring together the ecology and human interests connected to wetlands conservation, but she wasn't trained in the social sciences. "I started thinking about the people-side of her community-based conservation of vernal pools," Jansujwicz says.
Calhoun brought her to meet Mitchell Center Director David Hart, and her connection with the Mitchell Center took root. Given the Center's focus on working with stakeholders, connecting the natural and social sciences, and linking knowledge with action, it was a natural fit for Jansujwicz. She decided to pursue her Ph.D. in community-based vernal pool conservation at UMaine, with support from the Mitchell Center.
Her work helped increase understanding of the crucial role stakeholders play in vernal pool conservation and explored questions such as, "How were landowners engaged, how were municipalities engaged? What were their questions, concerns, and information needs? How could we move conservation planning forward given their diverse interests?"
This project led eventually to creation of the Vernal Pool Special Area Management Plan, or SAMP — "an innovative, locally controlled vernal pool regulatory framework" that balances conservation, economic and community needs. The SAMP was developed over a period of seven years through extensive collaboration between state and federal regulators and resource agencies, vernal pool ecologists, natural resource economists, real estate developers and appraisers, municipal planners and economic development agencies, and local land trusts. 

Jansujwicz also gained experience working on tidal energy as a postdoctoral researcher on another project supported by the Mitchell Center. Her training in social science research continued and she further developed relationships with mentors, colleagues and stakeholders, including Gayle Zydlewski and Teresa Johnson, both Mitchell Center faculty fellows.
Jansujwicz says she can't overstate the value of the working relationships and connections that she's developed through the Mitchell Center. "The Mitchell Center provides both a physical and metaphorical space for faculty, students, and stakeholders to come together and share ideas in a receptive environment."
Commitment to collaboration, mentoring, and leadership
In addition to her role as an assistant research professor in the UMaine Department of Wildlife, Fisheries, and Conservation Biology, Jansujwicz continues to collaborate with Calhoun on the latest phase of their community-based vernal pool conservation work. Now that the SAMP has been created, they are working with Maine towns to put the plan into action. 
She's also involved with training the next generation of interdisciplinary leaders through the National Science Foundation's Research Traineeship (NRT) Program in Conservation Science and Practice at UMaine, in which she teaches and mentors graduate students. Through the NRT, Jansujwicz  has found opportunities to collaborate with colleagues and mentors old and new, including Sandra De Urioste-Stone, an associate professor of nature-based tourism at UMaine and Mitchell Center faculty fellow. 
Linda Silka, a Mitchell Center Senior Fellow who works with Jansujwicz, describes her this way: "Jess is a listener, learner, summarizer and integrator. I have heard many people say that she really helps them understand and move ahead on complex problems with many moving parts. She makes people comfortable with all the complexity."
In September 2021, Jansujwicz stepped into a leadership role with Maine Sea Grant as their new assistant director of research, building on her experience with the Mitchell Center and the NRT program and bringing her back to her coastal and marine roots.
"Sea Grant has a strong history of engagement with coastal towns and cities, working to understand their needs and sharing information in ways that allow stakeholders to make the best decisions for their own communities."
Jansujwicz may be a disciplinary nomad, but there are consistent threads running through her professional path: collaborating with communities and colleagues with diverse expertise, connecting knowledge with action, and making the most of opportunities to work with students as a teacher and mentor.
"Jess is a great example of the kind of scholar we need in higher education," says Linda Silka. "She is an excellent teacher, a mentor who understands the intellectual and growth needs of her students, and a researcher who is working with communities with great success to tackle the complex sustainability problems we need to solve in and beyond Maine."
---