Strengthening Coastal Economies
New grant supports coastal livelihoods and ecosystems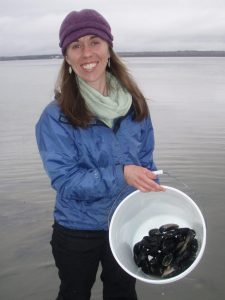 The Mitchell Center has been awarded a generous grant from the Diana Davis Spencer Foundation to launch the Diana Davis Spencer Partnership for a Sustainable Maine. Our first project in this partnership is to strengthen coastal economies by enhancing shellfishing livelihoods along the Maine coast, especially by reducing threats posed by degraded water quality. In addition, the project is helping five Diana Davis Spencer Scholars develop skills in entrepreneurship, teamwork, leadership, and problem-solving.
The project team is led by Mitchell Center Fellow Bridie McGreavy. McGreavy, a researcher on the New England Sustainability Consortium's Safe Beaches and Shellfish project, has more than seven years experience leading teams of students and faculty working to improve Maine's shellfisheries. She is supported by Sara Randall, who has extensive experience working with the Maine Clammers Association. Diana Davis Spencer Scholars involved in the project include Tyler Quiring, Carter Hathaway, Gabby Hillyer, Cassie Page, and Tony Sutton.
Gabby Hillyer is a Master's student who is helping address water quality problems in the valuable shellfishing regions of Frenchman Bay and the Medomak River estuary. Ph.D. student Tyler Quiring is using innovative web-based approaches to help people learn more about the value of clamming in Maine's culture and economy. Undergraduate student Cassie Page is working with the Shellfish Advisory Council to develop the Maine Clam Handbook. Carter Hathaway is a Master's student working with clammers on mini-documentaries that raise awareness about clamming. Tony Sutton, a Ph.D. student and member of the Passamaquoddy Tribe, is focusing his work in far Downeast Maine, a region seeking to enhance its economic future.
Team members are collaborating with shellfishermen, shellfishing industry representatives, marine resource managers, municipal planners, and many others.