A fishery worth investing in
July 2020
Look around at Shellfish Focus Day 2020, and you see a crowd filling all the seats and standing around the edges of the large room — a diverse group clad in jeans and baseball caps to business casual attire and everything in between. The crowd is made up of shellfish harvesters and dealers, scientists, local and state resource managers, educators, and students. There's a lot of chatter, and laughter, as attendees wait for the event to start and at breaks throughout the day.


An annual event that's held in conjunction with the Maine Fishermen's Forum in Rockland, Shellfish Focus Day brings together people from across Maine's shellfish sector to share research and knowledge and learn from and with each other.
Shellfishing is important to the economies of communities all along the Maine coast, and it is deeply embedded in the culture and traditions of these communities. It's also a consistently high-value fishery for Maine that contributes to the state's tourism sector and marine economy. Yet despite this importance, shellfishing hasn't always gotten as much recognition as other fisheries, from media coverage to funding. Bridie McGreavy, an associate professor of environmental communication at UMaine and Mitchell Center faculty fellow, calls it "a fishery worth investing in."
Cultivating support for Maine shellfishing and coastal communities
Bridie and UMaine doctoral student Gabby Hillyer started the day's events by talking about the Maine Shellfish Learning Network (MSLN), a first-of-its-kind effort to connect shellfishing communities across the coast from Yarmouth to Lubec. Funded in part by the Broad Reach Fund at the Maine Community Foundation, the MSLN grew out of input from shellfishing stakeholders, including through listening sessions at previous Shellfish Focus Day events. One thing stakeholders identified was the need for more opportunities to connect, to share resources and help each other tackle problems.
Shellfishing communities also need funding to undertake research projects that support a vibrant and resilient fishery. The Maine Shellfish Restoration and Resilience Fund (MSRRF), another initiative of the Broad Reach Fund, has supported 29 community research projects along the coast over the past two years.
The idea for the Maine Shellfish Restoration and Resilience Fund came from Andrea Perry, a program officer for the Broad Reach Fund who was looking for opportunities to support small-scale fisheries in Maine. She connected with Bridie, and others, to help shape and launch the fund. By this time, Bridie had been involved with Maine shellfishing for nearly 10 years, making connections and building relationships with harvesters, resource managers, town shellfish committees and the Department of Marine Resources (DMR). She saw a clear need to help communities advance projects to improve the management and conservation of clam flats and mussel beds.


One project funded by the MSRRF is a collaboration between shellfishermen and shellfish farmers in Brunswick to supplement the population of wild quahogs (hardshell clams) in the town's mudflats and shellfish growing areas. As softshell clams have dwindled, likely due to predation by invasive green crabs and the effects of ocean acidification, quahogs have become a promising fishery for the area.
Dan Devereaux, Coastal Resource Manager in Brunswick, says that funding for research is key to building resilience in the fishery. Couple that with support provided throughout the project by the MSLN and Bridie, and he's optimistic about the future of shellfishing in his community.
"When you allow funding to flow and towns to become more active, it opens up possibilities," he says, "including pursuing projects that clammers have come up with in addition to those proposed by scientists—things that scientists may not know about because they're not out on the flats every day, working and observing."
At the beginning of Shellfish Focus Day 2020, Bridie acknowledged the complex challenges involved in shellfishing, such as water quality issues, invasive species, fluctuating market prices, the effects of ocean acidification and related climate change impacts. But she also noted that "over the past five years, a number of different partnerships have come together to address these problems," made possible in part through the innovative work of the MSLN and MSRRF. These collaborations include the Downeast Fisheries Partnership, Casco Bay Regional Shellfish Working Group, and community science initiatives involving Schoodic Institute, Manomet, Downeast Institute, and towns and schools along the coast. "Solutions are happening," she said.
Making connections, building capacity
Before Shellfish Focus Day there was Clam Day, also held in conjunction with the Fishermen's Forum and organized by the Maine Clammers Association. After 2010 the focus of the event was broadened and expanded to include a wider range of bivalve shellfish species, and both wild-harvested and farmed shellfish.
In the early years of Shellfish Focus Day, the Maine DMR organized the event. More recently, DMR's Shellfish Advisory Council (ShAC) began to take a more active role, in collaboration with Kohl Kanwit, director of the DMR Bureau of Public Health. The ShAC, formed by the Maine Legislature in 2007, acts as a bridge between DMR and the shellfishing sector, sharing information and facilitating communication. The committee includes harvesters, dealers, aquaculture lease holders and representatives with expertise in water quality and shellfish health.
Bridie served on the ShAC when Shellfish Focus Day was getting started, and Kohl notes that she's played a pivotal role in making the event more inclusive, diverse, and useful for people across the industry. The ShAC's increased involvement has been done "in a thoughtful, structured way, which has everything to do with Bridie's leadership," Kohl says.


Bridie and Jessica Joyce, a ShAC public member-at-large who has also been central to organizing SFD, wanted to find out more about what shellfishing research was being done across the state and who was doing it, to try to engage a more diverse group of participants. They reached out across the sector, casting a wide net to learn about research projects and needs and this turned up a larger number and greater variety of projects than had been previously known. In connection with this effort, UMaine undergraduate Cassie Page created a compendium of shellfish research, as part of the Mitchell Center's Strengthening Coastal Economies project, funded by the Diana Davis Spencer Foundation and led by Bridie. The compendium was widely shared across the shellfishing community including with participants at the 2018 SFD.
"Long-term engagement and commitment in projects like the MSLN and Shellfish Focus Day can be hard to come by … but the Mitchell Center actively supports this ongoing focus and commitment, which allows us to keep building trust and relationships, and to keep improving."

–Kohl Kanwit
A wide variety of research topics were discussed at the 2020 SFD, including methods for tracking down pollution sources; growing quahogs and American oysters together; investigating the effectiveness of "brushing," a traditional technique that aims to enhance the settlement of clams; harmful algal blooms and shellfish diseases; and community outreach and education to support shellfish management.


Water quality is a major issue for shellfishing communities, as the presence of pathogens such as E. coli can cause the closure of shellfish beds to harvesting due to public health risks. Two town shellfish managers, George Powell of Deer Isle-Stonington and David Taylor of Georges River, presented their research efforts to find and fix water quality problems so that shellfish beds in their towns could be re-opened. Both projects were funded by the MSRRF. Sharing their research findings and experiences at Shellfish Focus Day, and through the MSLN, can help others in shellfishing communities identify and resolve water quality problems and safely open shellfish growing areas.
Shellfish Focus Day organizers have changed the event format to include more panel presentations, as well as additional time for questions after each panel to encourage discussion and audience participation. They heard from participants that people wanted more informal time to talk, and this led to the addition of a session for networking and poster presentations at the end of the day.
The diversity of participants was evident in the poster session at this year's event: high school students from Islesboro discussed their research on how clams survive overwintering; researchers from Bigelow Laboratory for Ocean Sciences and Island Institute talked about the potential for kelp aquaculture to offset some of the damaging effects of ocean acidification on shellfish; and UMaine students Gabby Hillyer and Sarah Risley presented posters on their research, on the MSLN and on assessing shellfish resources with two midcoast Maine communities, respectively.
'Best so far'
Both Bridie and Kohl have said the 2020 SFD was the best so far—the most diverse in presenters and participants, the most engaged attendees, and the best energy, focused on working together more than on conflicts or tensions.
Dan Devereaux, who started going to Clam Day in the late 1990s, also appreciates the growth and new ideas he's seen in recent years. "It's really exciting to be around long enough to see the progression of Shellfish Focus Day," he says, "it's where it's happening."
Not that tensions have disappeared, or are likely to—tension and conflict will be present in any human endeavor. But the trend with Shellfish Focus Day seems to be less conflict, and more engagement, over time.
Changes in the structure and organization of the event have likely contributed to this trend. These changes support a focus on collaboration and working together through conflict, which takes time, commitment, skillful communication, and willingness to engage from all involved.
"This is one of the places where collaborating with the Mitchell Center makes a huge difference in the work we do," notes Kohl Kanwit. "Long-term engagement and commitment in projects like the MSLN and Shellfish Focus Day can be hard to come by, as staffing and funding priorities change. But the Mitchell Center actively supports this ongoing focus and commitment, which allows us to keep building trust and relationships, and to keep improving."
---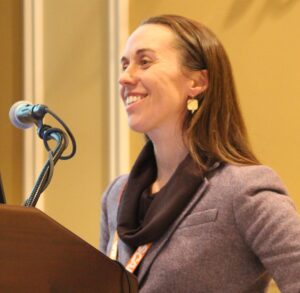 Bridie McGreavy's work focuses on the relationships between people and ecosystems, and how communication shapes efforts to increase sustainability and social justice in coastal shellfishing communities.
Her involvement with shellfish started when she was a graduate student working on the Mitchell Center's Sustainability Solutions Initiative. She is from Brownfield, Maine, but before coming to UMaine had never been on a clam flat. Now she is the proud holder of a clamming license.
As part of her Ph.D. research, Bridie worked with Frenchman Bay Partners (FBC) on developing a conservation action plan for the bay, including shellfishing. The Partners wanted to increase resilience for both the ecosystem and the communities around the bay, which aligned well with Bridie's focus.
The FBC invited shellfish harvesters to their meetings, which sometimes were held during low tides when clammers would be out on the flats. Seeing that a different approach was needed, Bridie started going to clammers' meetings. She saw a "world that I hadn't known existed" and began to act as a bridge between the FBC and clammers. She saw "clammers talking about clamming on their own terms, and coming to shared decisions in their own ways," and started to form relationships with clammers that continue to this day.
Kohl Kanwit of Maine DMR describes Bridie as a "force multiplier," whose communication expertise and practices, and leadership, have been essential in making projects on which they've collaborated more effective. "You may have ideas or intention," Kohl says, "and she helps makes things happen."
---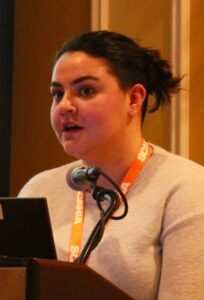 Gabby Hillyer began a doctoral program at UMaine in January 2020 as part of the National Science Foundation's Research Traineeship (NRT) Program in Conservation Science and Practice. The program is designed to help develop the next generation of conservation leaders. Gabby is one of nine UMaine NRT graduate students, which allows her to continue working with the Maine Shellfish Learning Network (MSLN) and shellfishing communities.
She's found a passion for working with coastal communities, and hopes to continue this work long term. Shellfishing is "complicated, has lots of personality, and keeps me on my toes," she says. And she "gets to be in the mud!"
Gabby began her shellfishing research while pursuing a master's in oceanography and marine policy at UMaine. As part of the Strengthening Coastal Economies project she worked on water quality issues in the Medomak River estuary around Waldoboro, where "shellfishing provides a deep historical and cultural foundation," as it does in many coastal communities.
But she says that despite the importance of Maine's shellfishery for coastal communities and the state as a whole, both culturally and economically, shellfishing often doesn't get the recognition it deserves. She wants to improve the sustainability, and the image, of shellfishing, and help to cultivate that recognition.
---