Diana Davis Spencer Scholar Cassie Page
In January 2017, the Mitchell Center launched the Strengthening Coastal Economies project as part of the Diana Davis Spencer Partnership for a Sustainable Maine. The ultimate goal of this partnership is to inspire and equip a new generation of engaged, entrepreneurial leaders by providing students with transformative, hands-on experiences in the power of innovative partnerships to create a brighter future.
The team is led by assistant professor Bridie McGreavy of the Department of Communication and Journalism with assistance from assistant professor Damian Brady of the School of Marine Sciences, and assistant professor Keith Evans of the School of Economics.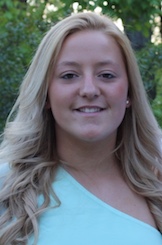 Six students were recruited for the project—Tyler Quiring, Carter Hathaway, Gabby Hillyer, Tony Sutton, Shuling Chen, and Cassie Page. As Diana Davis Spencer Scholars, the students are learning new skills in entrepreneurship, teamwork, leadership and problem-solving. Five of the Scholars will continue their training this summer.
Scholar Cassie Page, who graduates in May with a Bachelor's degree in Communications, focused her work on aspects of the Maine shellfishing industry. Working with her mentor, McGreavy, Page began by creating annotated bibliographies on a large number of research articles about shellfishing involving governance, management, regulation, conservation, and more. "This was a good starting point for understanding the issues surrounding shellfishing on a state, country, and global level," she says.
Page also worked with other Scholars on the 2017 Maine Fishermen's Forum Shellfish Focus Day technical report to synthesize feedback and information from the annual event where dozens of stakeholders interact with university researchers, government representatives, and fishermen about the shellfishing industry.
Page's most important contribution to the project was her work on the Maine Bivalve Shellfish Research Compendium that was distributed to participants at the 2018 Maine Fishermen Forum Shellfish Focus Day in Rockport. The Compendium provides the shellfishing community with a snapshot of recent and ongoing research projects in Maine and other New England states. It was Page's job to condense the research into concise, lay-friendly summaries that were then combined into a useful and informative tool for the diverse group of stakeholders.
"…the experience really helped me build on both my research and communication skills and definitely helped build skills for my future career options as well." —Cassie Page
"I went through a spreadsheet of over 50 different research projects to synthesize and interpret the abstracts that were posted by the researchers," Page says. "It was very challenging to go through someone else's research and figure out what they would consider the most important details to include," she adds. But through that challenge, working independently as well as in collaboration with other Scholars, she gained valuable experience in the partnership's intended goals.
The Compendium has now been widely circulated to the shellfishing community and beyond and there are plans to turn it into a living document, thereby making it an ongoing resource for stakeholders. A longer report from the listening session that followed the Shellfish Focus Day will be distributed to the Maine Department of Marine Resources and other stakeholders. This report, along with a shorter technical memo to be distributed to all coastal municipalities with shellfish and marine resource commissions, will include information and a direct link to the Compendium.
'I'm very grateful to have had the opportunity to be a Diana Davis Spencer Scholar," says Page. "Without that funding, I wouldn't have been able to work alongside Dr. McGreavy, and the experience really helped me build on both my research and communication skills and definitely helped build skills for my future career options as well."
—David Sims