Strengthening Coastal Economies
Institution: University of Maine
Sponsor: The Diana Davis Spencer Foundation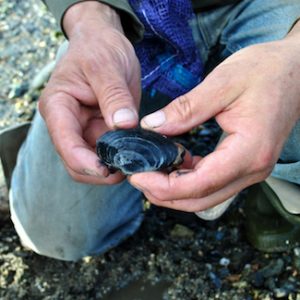 In January 2017, the Mitchell Center launched the Strengthening Coastal Economies project as part of the Diana Davis Spencer Partnership for a Sustainable Maine. The ultimate goal of this partnership is to develop, implement and evaluate solutions to complex problems requiring a careful balance between economic development and environmental preservation. The central element of the project's solutions strategy is to inspire and equip a new generation of engaged, entrepreneurial citizens by providing students with transformative, hands-on experiences in the power of innovative partnerships to create a brighter future.  
Strengthening coastal economies is an urgent sustainability challenge in Maine. Shellfishing is Maine's second largest fishery with 1,700 licensed commercial harvesters and approximately $22 million in annual landings in 2015 according to the Maine Dept. of Marine Resources (DMR). Clam harvesting is an important source of income in coastal communities, especially in the economically disadvantaged midcoast and Downeast regions where jobs are limited.
The well-being of both clammers and clam flats is threatened by multiple factors, including effects of increased precipitation and associated polluted runoff, watershed development, failing wastewater infrastructure, and work-related pain and injury. Closure of clam flats due to poor water quality conditions puts severe pressure on struggling local economies, with frequent closures increasing the economic uncertainty already plaguing this fishery. This uncertainty is threatening the future of a way of life that has persisted on Maine's coast for many decades.
Project Progress

The first step of the project was to assemble an outstanding team to conduct the work. The team is led by Bridie McGreavy, a Mitchell Center Fellow and professor in UMaine's Department of Communication and Journalism. McGreavy has more than seven years of experience leading teams of students and faculty who are working to improve Maine's shellfishery and she is also a member of the Maine Shellfish Advisory Council. The Council serves in an advisory role to DMR and brings together key partners from across Maine's shellfishery.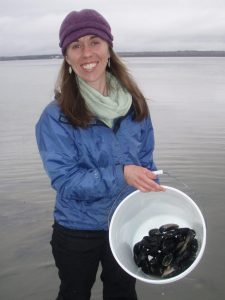 McGreavy is supported by Sara Randall, who has extensive experience working with the Maine Clammers Association. Sara helped initiate the project and provides connections with shellfishermen across the state. The project is also supported by Keith Evans, a professor in the School of Economics, and Damian Brady, a professor in the School of Marine Sciences, as faculty collaborators and student mentors.
Six students were recruited as Diana Davis Spencer Scholars and they are currently working together to gain skills in entrepreneurship, teamwork, leadership, and problem-solving. Through their hard work and dedication, they have already achieved multiple project objectives, and have great momentum for continuing and expanding their work in the coming months. The student team includes:
Tyler Quiring, a Ph.D. student in Communication and Journalism, is using innovative web-based approaches to tell the stories of clammers and help people learn more about the value of clamming in Maine's culture and economy. The Clam Cam website he helped to create launched in May and helps people learn about and celebrate the culture of clamming.
Gabby Hillyer, a Masters student in Marine Policy and Oceanography, is focusing her work in Frenchman Bay and the Medomak River estuary near Waldoboro. She is helping address water quality problems in both these valuable shellfishing regions.
Cassie Page, an undergraduate in Communication and Journalism, is working with the Maine Shellfish Advisory Council to identify and share best practices for science communication in the industry.
Carter Hathaway, a Master's student in Communication and Journalism, is working directly with clammers to do mini-documentaries that raise awareness about clamming.
Tony Sutton, a Ph.D. student in Ecology and Environmental Sciences and member of the Passamaquoddy Tribe, is focusing his work in far Downeast Maine, a region in desperate need of economic development. He started his ethnographic research this summer.
Shuling Chen, a Master's student in the School of Economics, is focusing her work in Frenchman Bay and four other Downeast towns. She is interested in understanding how clammers are adapting to water quality closures and how these closures impact market dynamics. She is especially interested in helping clammers identify innovative ways to reduce the economic uncertainty of shellfishing as a livelihood.
The team is making steady progress on meeting its key objectives including assembling an interdisciplinary team of undergraduate and graduate students, training and mentoring students in leadership and social entrepreneurship skills, and helping students practice and hone these skills through applied projects to support Maine's shellfishing economy.
Resources:
News Article: Drifting with the Tides – Master's student Gabby Hillyer's schedule is driven by tidal flow