Be Involved
---
Why be Energy Wise
1. Save Money
Buying energy-efficient appliances, making energy-efficient home improvements, and taking energy-efficient actions every day can save hundreds of dollars on your energy bills. 
2. Improve your quality of life
Making energy efficiency upgrades can make your home more comfortable, your business more productive, and our cities more accessible.
3. Improve the economy
Energy efficiency saves businesses and governments billions of dollars in energy costs. It also promotes job creation and spurs innovation.
4. Protect the environment
Energy efficiency decreases pollution and conserves limited energy resources.
---
Ways to Be Involved
Volunteers participating in a window insert build for low income residents.

Join an efficiency-focused student group such as UMaine Green Team or the Terrell House residential community.
Work with the Green Campus Initiative to help educate other students about energy efficiency in campus housing and dining facilities.
---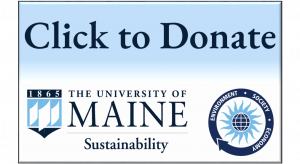 Office of Sustainability
312-314 Corbett Hall
Orono, Maine 04469-5774
Tel: 207.581.1571
sustainability@maine.edu
---