Research Labs
---
Energy
Labs use TONS of energy:
Labs use more energy per square foot than any other energy sector except data centers. This is due to their energy-intensive equipment, around-the-clock operations, 100% outside air requirements, and high airflow rates.
Ultra-low temperature freezers can use as much energy as an average household every day.
How to save energy:
Close the fume hood when not in use to significantly decrease energy consumption.
Make sure to turn off lights and small equipment when not in use.
Consider purchasing an energy efficient Ultra Low Temperature (ULT) freezer.
Turn off computers at the end of each day.
---
Water
Labs use a lot of water:
It takes 3 gallons of water to make 1 gallon of deionized water
Autoclaves typically use about 60 gallons of water per cycle.
Decrease water use:
Use tap water rather than deionized water whenever possible.
Try to consolidate autoclave loads.
---
Waste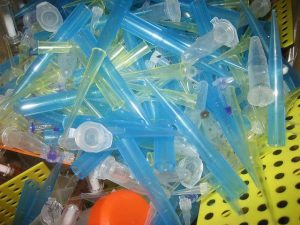 Labs generate significant waste:
How to Reduce Waste:
Reduce use of consumable materials.

Consider using glassware instead of plastics.
Purchase from vendors that have reduced their packaging.
Reuse equipment whenever possible to reduce waste and save money.
Recycle non-hazardous lab waste.

Recycle all gloves, pipet tip boxes, Styrofoam containers, and cardboard.
Ask your EH&S or Facility Management representative about recycling conical tubes, centrifuge and microcentrifuge tubes, pipet tips, reagent and chemical containers, and glass bottles.
Maintain proper signage and lab recycling procedures to encourage recycling.
---
Chemicals
Many labs use hazardous chemicals:
Lab chemicals can be difficult to store and dispose.
Reduce hazardous chemical waste:
Employ the Green Chemistry principles. Green Chemistry is the design of chemical products and processes that reduce or eliminate the use or generation of hazardous substances.
Use green cleaning products.
Try to share and reuse chemicals between multiple labs.
---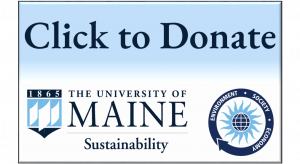 Office of Sustainability
312-314 Corbett Hall
Orono, Maine 04469-5774
Tel: 207.581.1571
sustainability@maine.edu
---