Green Computing and E-Waste
---
Green Computing
When Buying:
Reduce energy costs by purchasing an energy efficient computer or office equipment. It can save up to 75% on energy costs. Look for the ENERGY STAR label.
Consider purchasing a laptop instead of a desktop, which is less energy efficient.
Limit your purchase of electronic devises. By extending the life of your current devices for as long as possible, you can reduce the environmental cost of your electronics use.
Tips for Use:
Use sleep mode and power management features on your computer to save money on your energy bill.
Unplug electronics, or use a power strip and use the switch on the power strip to cut all power to the appliance, to avoid "vampire" loads when products are off.
Note that screen savers are not energy savers. Using a screen saver may in fact use more energy than not using one. Power down your computer or use sleep mode instead.
---
E-Waste
What it is:
E-waste is a popular name for electronic products nearing the end of their "useful life."
Examples of e-waste are: computers, televisions, VCRs, stereos, copiers, and fax machines.
Products may contain hazardous substances such as lead, mercury, cadmium, lithium, brominated flame retardants, phosphorous coatings, and PVC plastics that create dioxins when burned.
Reduce, Reuse, Recycle:
Reduce your generation of e-waste through smart procurement and good maintenance.
Reuse still functioning electronic equipment by donating or selling it to someone who can still use it.
Recycle those products that cannot be repaired. In Maine, municipalities must ensure that their residents have a collection site or event that will take "covered electronic devices" for recycling. Check with your local municipality. Dell Reconnect is a partnership with Goodwill® that provides free and responsible computer recycling − of any brand and in any condition − at over 2,000 Goodwill locations throughout the United States. You can also recycle used electronics and appliances at any Best Buy.
---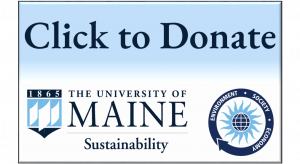 Office of Sustainability
312-314 Corbett Hall
Orono, Maine 04469-5774
Tel: 207.581.1571
sustainability@maine.edu
---