Batteries
---
Types of Batteries
Single Use:
Alkaline and Zinc-Carbon Batteries are the everyday household batteries (AAA, AA, C, D, and 9v) used in flashlights, remote controls, and other appliances.
Button-Cell Batteries are the small, round "button-cell" type batteries found in items such as watches and hearing aids.
Rechargeable Batteries
This is a type of electrical battery which can be charged, discharged into a load, and recharged many times.
These can be found in your cell phone, computer, other electronics, power tools, and car.
---
Recycling Batteries
Why recycle:
Batteries in the trash produce toxic heavy metals such as lead, arsenic, zinc, cadmium, copper and mercury. They can leach into the ground water and make their way into the food chain.
Recycling saves resources because recovered plastic and metals can be used to make new batteries.
Where to recycle:
Single Use Batteries:

Alkaline and Zine-Carbide: Currently, there is not a free recycling program available in Maine for these batteries. HelloCycle in Biddeford, ME offers a subscription recycling service that includes alkaline batteries. Small quantities may be safely and legally (except in California) disposed of in normal household trash. Or try to reduce your use of single use batteries and invest in rechargeable batteries instead!
Button-Cell Batteries: These should NOT go in the trash. They can be recycled or taken to a local hazardous waste facility, such as Casella's Hamden, ME Transfer Station.
Rechargeable batteries

Call2Recycle offers a free recycling program for rechargeable batteries (Ni-Cd,  lithium, and metal hydride). The program also accepts cell phones, and small sealed lead acid batteries. Call2Recycle has collection boxes at more than 600 retail and municipal locations in Maine.
At UMaine: Rechargeable battery collection buckets can be found in the main offices of most campus buildings. There is also a cell phone collection bin in the Union.
---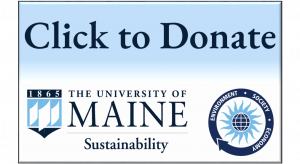 Office of Sustainability
312-314 Corbett Hall
Orono, Maine 04469-5774
Tel: 207.581.1571
sustainability@maine.edu
---