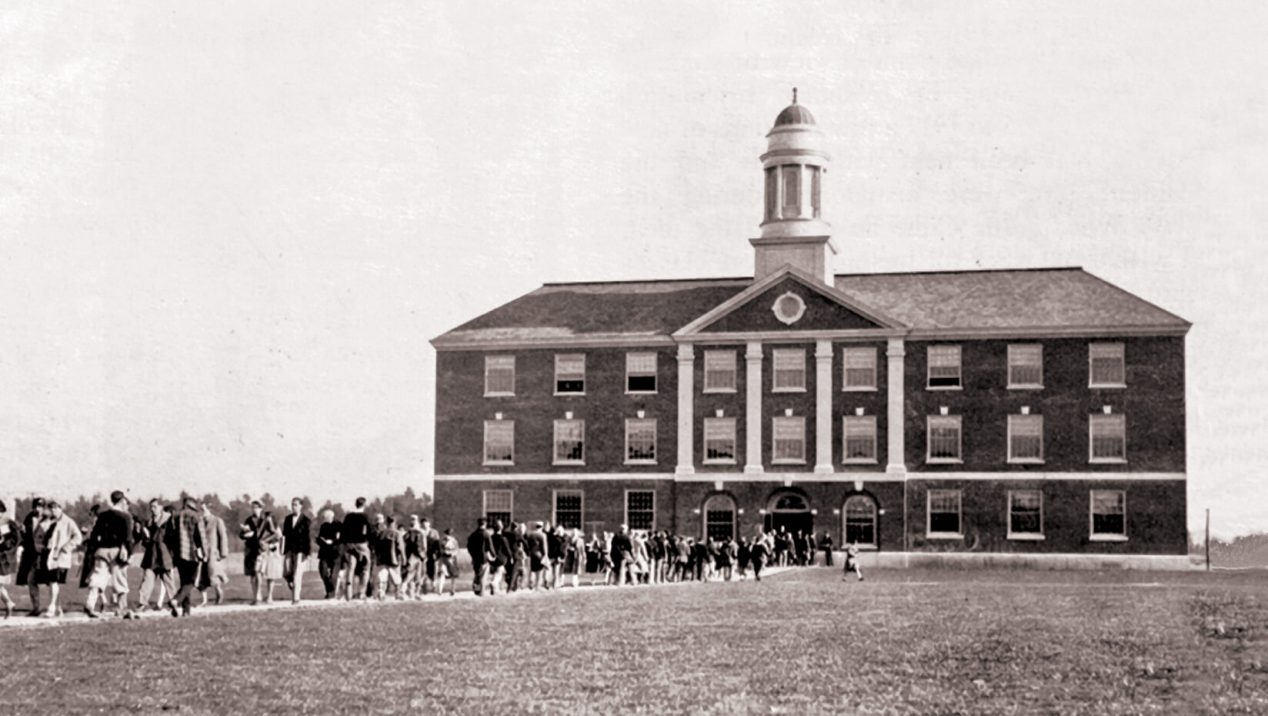 1915–1924
In 1915, the men's cross country team, coached by Arthur Smith, won the national championship — the Intercollegiate Amateur Athletic Association of America (IC4A) title — in New York City. Frank Preti placed second and Roger Bell third.
President Aley earned $6,000 a year.
Female students were assigned to North Hall in 1915.
In 1915–16, the Legislature appropriated approximately $333,000 for UMaine.
In 1916, broad jumper Frank "Pat" French and hammer thrower Harold Bailey made the 1916 U.S. Olympic Track and Field Team intended to compete in Berlin, Germany. The games were canceled though, due to World War I. French held UMaine's outdoor long jump record for 80 years. In 1916, Bailey nailed the national hammer throw championship (IC4A).
In 1917, to save money during World War I, two faculty members were terminated and telephones, except those of administrators, were disconnected. The journalism instructor was placed on leave without pay. Summer courses in first aid, home gardening and military drill were taught and faculty members were allowed to cut wood for fuel from the college forest.
In 1917, 913 students registered for fall classes; in 1918, 211 registered.  A total of 726 men were on campus with the Students' Army Training Corps. Campus essentially became a military barrack. Fraternity activities were suspended and the military commandeered the houses.
World War I ended Nov. 11, 1918.
In 1919, William Allen was the national shot put champion (IC4A).
In 1920, 48 years after women were first admitted to UMaine, basketball became the first varsity women's sport.
Money appropriated during the first peacetime Legislature ran out in December 1920. Staff members weren't paid their March 15, 1921 checks.
Tuition was increased from $125 to $195 for the 1921–22 academic year.
In fall 1922, 1,608 students enrolled at UMaine.
Trustees chose Clarence Cook Little as president; the geneticist arrived on campus in 1922.
The first Winter Carnival was celebrated in 1922. A skating exhibition, skiing contest, Maine Masque play, coronation of a queen and fraternity parties were some of the feature events.
In 1923, the graduate program became a separate school.
In 1923, Caroline Colvin, chair of the history department, was appointed dean of women. She was the first woman in the nation to head a major university department. Colvin Hall is named in her honor.
The central portion of Stevens Hall was built by 1924.