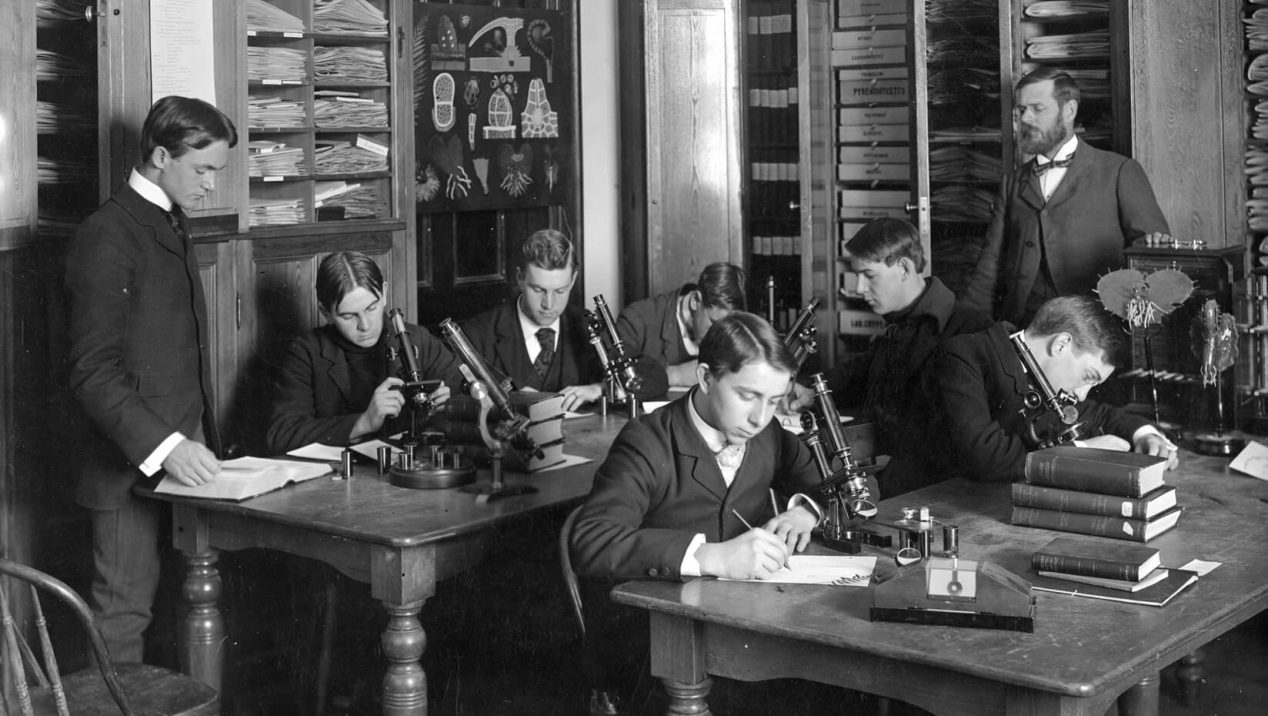 1895–1904
G.G. Atwood, a student from 1891–95, spent $678 to attend for four years. Board was the largest expense, at $255. Books cost $90, travel cost $77 and clothing totaled $75. Other expenses included $55 for fuel, $33 for laundry and mending, $18 for military items, $14 for room furniture and $11 for stationary.
In 1895, the Bangor, Orono and Old Town Electric Road (trolley) ran to campus, connecting the college with area communities. While women had been admitted to the college for 13 years, there were no dorms for females. The electric road, said President Harris, "has done much to make the law (admitting women) effective, and the present year shows a noteworthy increase in the number of women."
In 1895, nearly 2,500 trees and shrubs were planted on campus and the first session of Summer School was held with 23 students.
The Class of 1895 established the Prism yearbook.
In 1896, Pi Gamma was the first sorority on campus; in 1908, it became Alpha Omicron Pi.
In 1897, the name of the college was changed to the University of Maine. Also in 1897–98, the Legislature again imposed tuition.
Phi Kappa Phi, the country's oldest and most selective collegiate honor society for all academic disciplines, was founded in 1897 at UMaine to "recognize and promote academic excellence in all fields of higher education and to engage the community of scholars in service to others." Chapters now exist on more than 300 campuses in the U.S. and Philippines.
In the late 1890s, the College of Law was founded, headquartered in Bangor.
In 1898, Mount Vernon House opened. It was the first campus housing for female students. It was destroyed by fire in the early 1930s.
In 1899, the Maine Campus replaced the Cadet as a newspaper. Originally, it was published bimonthly.
In 1900–01, net university expenses totaled $91,247.12.
In 1901, 382 students attended the university — 366 men and 16 women. Also that year, Alumni Hall was built. It was named in honor of graduates who donated money to fund its construction.
Dec. 23, 1901, trustees elected George Emory Fellows president.
In 1902, student Adelbert Sprague composed the "Stein Song"melody based on the German march "Opie." Sprague gave the music to his roommate, Lincoln Colcord, who later wrote the words to the song. Former UMaine student Rudy Vallee, a singer, bandleader and entertainer, made the song a hit in 1929.
In 1903, Edith Patch was hired by Charles D. Woods of the Maine Agricultural Experiment Station to organize a Department of Entomology at UMaine — for no salary. To earn a living, she also taught English. Patch did organize the department, eventually received a salary for her entomological work and became a sought-after agricultural, entomological, forestry and horticultural expert.
Due to smallpox, in 1903, a small hospital was built on campus. Also in 1903, a forestry course was added.
In 1904, Holmes and Lord halls were dedicated.