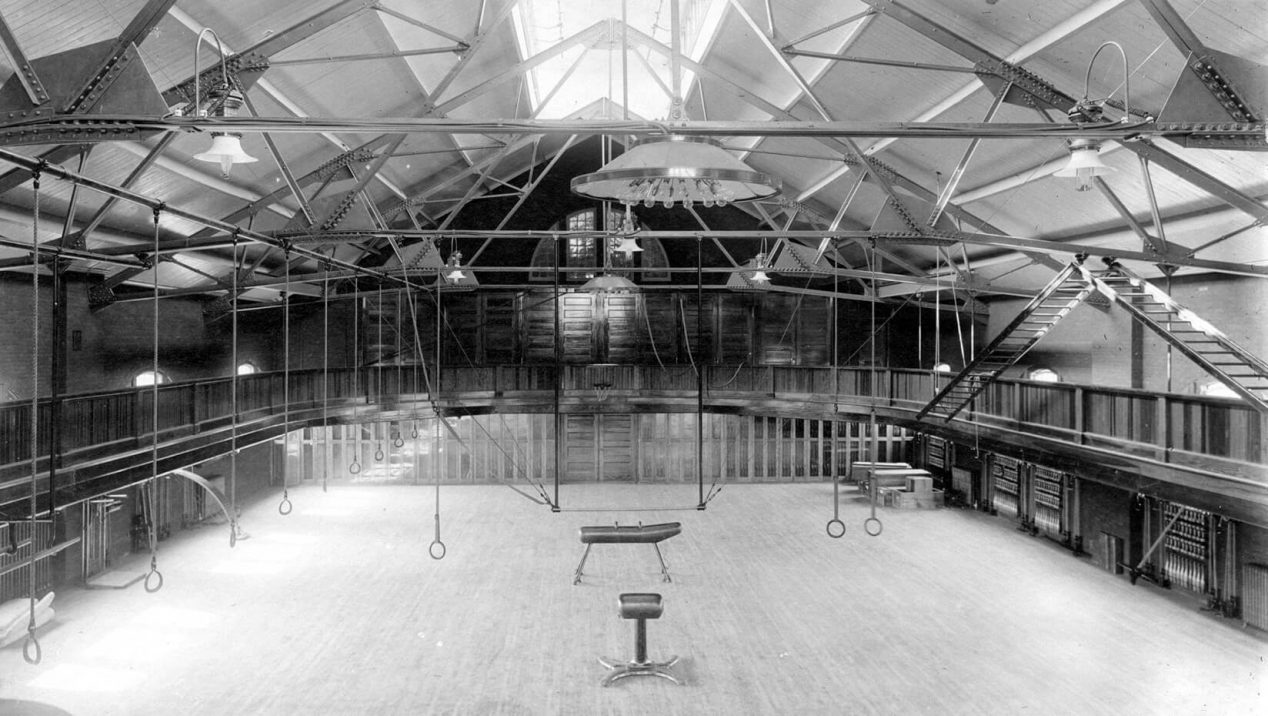 Alumni Hall Gym, circa 1910
1905–1914
In February 1905, Andrew Carnegie gifted $50,000 to the university to build a library; the cornerstone was laid in 1906. Granite for the structure came from Hallowell Granite Works.
Also in 1905, the university's water system was connected with Orono Water Works.
In a 1905 edition of the Maine Campus, the Class of 1907 proclaimed that first-year males must not smoke on campus, carry canes or pipes, wear a derby hat, accompany women or walk on the grass.
In 1906, the Department of Education was added.
In 1906, the Senior Skulls Society formed to "publicly recognize, formally reward, and continually promote outstanding leadership and scholarship, and exemplary citizenship."
In 1908, Ballard Freeze Keith of Old Town became the first Rhodes Scholar from the university. In September, he set sail for Oxford with other students from the United States.
Also in 1908, Winslow Hall was built and the Alumni Advisory Council formed.
Beginning in 1908, leaders of seven religious denominations occasionally delivered services in University Chapel.
Harvard University Professor Bliss Perry, a pioneer teacher of American literature, was the 1909 commencement speaker. (Prior to 1909, commencement speakers were chosen from the graduating class.)
The Department of Domestic Science was organized in 1909.
In 1910, Robert J. Aley became president, the number of teaching faculty totaled 100 and construction began on Hannibal Hamlin Hall.
In 1909–10, the cost of maintaining the university, not including the Experiment Station, was $196,453.89.
Student enrollment in 1912–13 was 1,011 students; 804 were from Maine.
The Maples was remodeled in 1913 for the Home Economics Department.
In 1914, Aubert Hall was completed. It was named in honor of Alfred Bellamy Aubert, a physics and chemistry professor.
In 1914, one section of Balentine Hall, which provided housing for female students, was finished. The hall was named in honor of Elizabeth Abbott Balentine, who served the university in several capacities, including secretary to the president, secretary of the university and registrar.
The Smith-Lever Act of 1914 charged UMaine with extending its services to citizens beyond campus through farm extension, home demonstration, publication, lectures and radio and television programs. County agents provided residents with beneficial information. Leon Merrill was University of Maine Cooperative Extension's first leader.