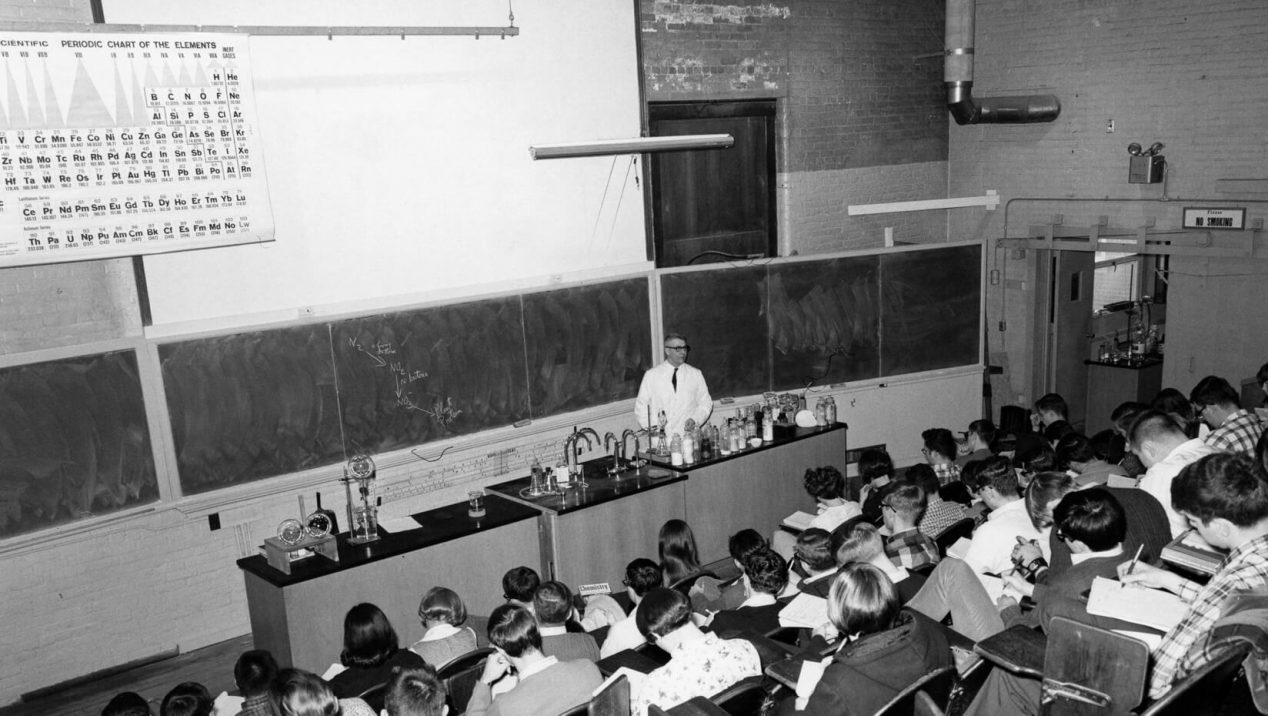 Lecture in Aubert Hall, circa 1968
1965–1974
A Centennial Convocation and Exercises were held in February 1965. Gov. John Reed delivered the main address at the Centennial Founders' Day Luncheon. University President Lloyd Elliott remarked: "A university is the work of many hands. It is a task never complete. It is a dream never quite fulfilled."
Dean Emeritus Weston Evans wrote of the 100th anniversary: "The educational needs of the State are as different today from the needs of 1865 as the jet plane is different from the wood-burning steam locomotive of the Civil War era…The future of the University rests with the State; so also, the future of the State may well rest with the university."
Enrollment in 1965 hit 6,800, a 1,300-student increase from 1964.
The Black Bear football team played East Carolina in the 1965 Tangerine Bowl in Orlando, Florida.
In 1965, Ira Darling donated his 148-acre seaside estate in Walpole to the university. In 1968, he formed a trust that helped launch UMaine's first oceanography program.
Edwin Young became president in 1965.
In 1968, the Maine State Legislature created the University of Maine System. The name of the University of Maine was changed, over the objection of faculty, to the University of Maine at Orono (UMO).
In 1968, Eugene McCarthy, William Hathaway and Barry Goldwater spoke on campus.
Winthrop Libby became president in 1969.
In fall 1970, there were 2,976 students in arts and sciences, 1,635 in education, 1,359 in life sciences and agriculture, 799 in technology and 561 in business administration.
Title IX, which protects people from discrimination based on gender in education programs or activities that receive federal financial assistance, became law in 1972. In ensuing years, UMaine re-instituted and added women's intercollegiate sports programs, including volleyball, skiing, gymnastics, tennis, swimming and diving, basketball, softball, cross-country and track.
In 1973, Howard Neville became president of the only land grant university in the nation located on an island— Marsh Island.
Also in 1973, the UMaine Institute for Quaternary Studies was founded; now its name is the Climate Change Institute.