FAQs
Browse our list of UMaine Housing Frequently Asked Questions to find answers to common questions that we receive.
If you cannot find the answers here, please don't hesitate to Contact Us and we can assist you!
Looking for information on DTAV and Patch? Find DTAV/Patch FAQs here.
Looking for information on Summer Housing? Find Summer Housing FAQs here.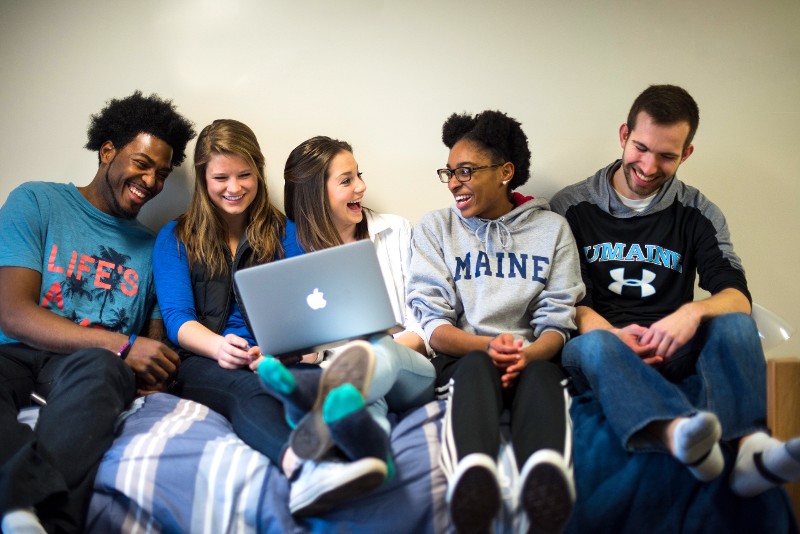 General Housing Questions
Room Assignment Questions
Living On Campus Questions
---
Who is eligible for on-campus housing?
Undergraduate students at least 17 years of age, matriculated in a degree program, and enrolled for a minimum of nine credit hours during the current semester
Undergraduate students enrolled in fewer than nine credit hours may be eligible for an academic exception or disability accommodation
Graduate students enrolled in University of Maine coursework
Back to top of page
---
When can I move in for the Spring 2024 semester?
Students may move into the residence halls on Sunday, January 14, 2024.
Back to top of page
---
Is housing guaranteed?
First-year students and transfer students transferring in as first-year students: If you are applying for the fall semester, we will offer housing as long as space is available.
Back to top of page
---
How safe are the residence halls?
Residence halls are locked at all times, and may only be entered by students and staff whose MaineCards are encoded to allow entry. This typically includes residents, including
Residence Life staff
for that building, and custodial staff. Additional safety information is available from the University of Maine Police Department.
Back to top of page
---
Do the residence halls close during University breaks?
All residence halls are open for October Break and Thanksgiving Break. DTAV/Patch, Hancock, Hart, Knox, Stodder and York Hall are the 2023-2024 Break Housing Halls and are open for the 2023 Winter Break and 2024 Spring Break for the academic year. All other residence halls close for Winter and Spring Breaks. They open back up the Sunday before classes resume. If you are an International Student, please contact the
Office of International Programs
for information. Spring 2024:
Non-break residence halls open on Sunday, January 14.
Non-break residence halls close for Spring Break at 5:00pm Friday, March 8 and open again on Sunday, March 17.
Non-break residence halls close for the academic year at 7:00pm, Friday, May 3, 2024. Students participating in Commencement may remain in the residence hall until after the Commencement ceremony but need to be on an authorized list of students compiled by the Housing Services Office allowed to stay past closing time.
Back to top of page
---
Do residence halls have gender-inclusive bathrooms?
We have many single-use bathrooms in our residence halls, and we are working to increase that number. The
Prism+ community
bathrooms on the third and fourth floor of Aroostook Hall are gender-neutral. View a detailed list from the Rainbow Resource Center, which gets updated frequently.
Back to top of page
---
I have a disability. Who should I contact about living on campus?
Students with physical or psychological disabilities may request specific housing/dining accommodations. Disabilities require documentation by a qualified medical provider. Student Accessibility Services provides adaptations including testing accommodations, note takers, ordering alternate format texts, classroom relocation, advisement on disability issues, and housing related accommodations. To request accommodations please contact
Student Accessibility Services
.
Back to top of page
---
How are room assignments made?
Incoming first-year students: You may select up to three themed housing or living/learning preferences on your housing application. You may be assigned to any one of the three you select. Or, you may select General First-Year Housing. Incoming transfer students:
If you'd like, request the Transfer Living Community (fourth floor of York Hall) – Space is limited.
First-year transfer students will be assigned to first-year housing, as long as space is available.
Upperclass transfer students will be assigned to the appropriate upperclass housing, as long as space is available.
Back to top of page
---
May I choose my roommate?
You may request a roommate on the housing application. If you find a roommate after submitting your housing application, please email us with the name of your requested roommate. All roommate requests must be mutual. We will accommodate requests if at all possible. If you matched with a roommate through
My College Roomie
, you do not need to contact our office with your roommate request.
Back to top of page
---
When do I find out who my roommate is and where I'm living?
Fall room assignments will be available to students who have been assigned on July 15 in myHousing for the fall semester. If you do not see the "Check my Assignment" button on July 15, it means you have not yet been assigned. We will assign you as soon as possible. Spring room assignments will be available at the beginning of January.
Back to top of page
---
Can I switch rooms or roommates?
Once we let the dust settle and are certain of who has arrived and who hasn't, students may request a room change through their
Community Coordinator in the Residence Life Department
. If you have a MicroChill Combo through College Products and are changing rooms, contact College Products at 712.226.3250.
Back to top of page
---
If my roommate moves out, do I get the room to myself?
This option is only available when all requests for campus housing have been accommodated. Students without roommates who wish to guarantee they will not be assigned one must pay a higher room rate (see next FAQ).
Back to top of page
---
Are single rooms available?
We house students in singles from a waiting list. Students with a documented medical need for a single room assignment are given priority for available single rooms, as approved by
Student Accessibility Services
. Once these students have been accommodated, any remaining singles will be assigned to students on the waiting list. Please contact us if you wish to be placed on the singles waiting list.
Room rates are higher for single room occupancy.
Knox, Oxford and Somerset do not have any single rooms
See all room rates
Back to top of page
---
Where are transfer students assigned?
Transfer students will be assigned in either first year or upperclass housing, depending on class standing and space availability. Transfer students may request the
Transfer Living Community
, located in York Hall. Space is limited.
Back to top of page
---
Which halls are designated as First Year Experience residence halls as of Fall 2023?
Please see
Residence Life's Residence Hall Communities page
for more details.
Back to top of page
---
Can I cancel my room assignment before moving in, or move out of my residence hall prior to the end of the academic year?
Please log into the myHousing portal and click on the cancellation button. Housing Services will respond to the student with an email. If a student withdraws, transfers, studies abroad, or cancels their enrollment at UMaine, there are no cancellation fees.
Returning students who remain enrolled for classes and cancel their room assignment after March 6 and prior to June 1 are subject to a room cancellation fee of $250.00 Between June 1 and August 25 the room cancellation fee is $375.00. If a student moves out of the residence hall after opening, the student account account will be charged at the per diem rate for room and board, a room cancellation fee of $500.00, and additional fees for board. For more information, visit Room and Board Cancellation Fees.
The Room and Board License is for the entire academic year, or the remainder of the academic year if assigned after opening in the fall or spring semesters.
Back to top of page
---
What should I bring to campus?
Take a look at
our list of what to bring
to campus!
Back to top of page
---
What are the dimensions of my room?
Rooms in many of our Residence Halls are different. For more information on each residence hall, please visit the
Residence Halls page
.
Back to top of page
---
Can I have a car on campus?
Yes, students may have cars on campus, although a car is not necessary. A parking decal is required for all cars on campus. Decals are available at the Parking Office at the DTAV Community Center. All lots are designated either for residents, commuters, and faculty/staff. Parking is not available for all decals in all lots. The Community Connector is free with your MaineCard and offers service between Orono, Old Town, Brewer, Bangor, and Hampden. Black Bear Orono Express provides free transportation from campus to downtown Orono.
Back to top of page
---
Can I have a pet?
No, except fish in 10-gallon or smaller fish tanks or a service/emotional support animal that has been approved by
Student Accessibility Services
. See our list of what to bring to campus.
Back to top of page
---
Should I bring my bicycle to campus?
Definitely! There are some great bike paths on campus grounds. Make sure that you do the following:
Register your bike with the University Police Department. More information can be found on their website
Bring and use a bike lock
Store your bicycle in bike racks available around campus
Most residence halls have winter bicycle storage within the buildings
Back to top of page
---
Where can I do my laundry?
Laundry facilities
are located in the basement or first floor of each residence hall, and in the DTAV Community Center for those who live in DTAV or Patch. Laundry is free for residents living in the residence halls during the academic year. Learn more about
laundry
and other
amenities
.
Back to top of page
---
How's the WiFi?
UMaine residence halls are complete with MyResNet, which allows for lag-free internet signal. Learn more about our
connectivity options
.
Back to top of page
---
Do I need a TV?
Streaming services come with your housing! You can choose to bring your smart TV or simply use your computer to watch your favorite shows live or via DVR on Stream2! Each residence hall has a large TV in the community TV lounge. Learn more about
Stream2 and devices
.
Back to top of page
---
What is my mailing address?
Use the following format to send mail to residence hall students: First and Last name University of Maine Student Hall, Rm # Orono, ME 04469 Package Pickup for Resident Students All packages mailed to resident students by the USPS or shipped by a private carrier (ex. FedEx, UPS, DHL, etc.) will be picked up at the Package & Postal Center, the US Postal Substation at the Memorial Union. Students will receive an email on their maine.edu account to pick up their package once it has been processed. The student will need their MaineCard ID or driver's license to receive their package at the <a href="https://umaine.edu/packagepostal/".Package & Postal Center.
---
Back to top of page
Do I need property insurance?
Students are strongly encouraged to have property insurance for their personal belongings. The University does not insure student belongings while they live on campus. Comprehensive, affordable property insurance is available through
CSI College Student Insurance
.
Back to top of page
---
Are there banking services on campus?
Yes, there is a full-service Credit Union with a 24-hour ATM at University Credit Union on the north side of campus on Rangeley Road, and an additional ATM in the
Memorial Union
. You may want to check with your financial institution to see if they participate in shared branching, have surcharge-free ATM policies, or have a branch in the Orono area.
Back to top of page