Themed Communities are residential areas of campus where students are housed based on a shared interest, academic focus, or lifestyle.  In some cases, enrollment in a particular college or academic program is a prerequisite for assignment in a specific community.  These requirements are detailed in the housing application.
When you complete your housing application, you will have the the option to select up to three themed or Living Learning Communities in which you might like to live.  This does not guarantee your placement in any specific community.  When housing assignments become available on July 15th, you will receive an email via your university email account if you are accepted into one of our Themed Communities or Living Learning Communities.
Any questions about these special interest communities can be directed to Shane Smith, Assistant Director of Residence Life at 207.581.1404 or by emailing shane.p.smith@maine.edu.
Any questions about the housing application can be directed to Housing Services at 581.4580 or by emailing um.housing@maine.edu.
---
Themed Communities – Special Interest
Substance Free Housing Aroostook Hall 1st and 2nd Floor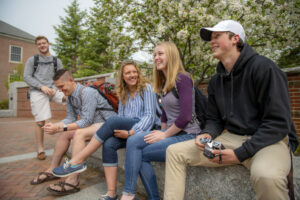 The Substance Free community is comprised of first-year and upper-class students who are intentionally seeking a living environment where they will be free from the pressures or effects of drug, alcohol, and tobacco use. Students choosing to live in this community sign a contract with Residence Life staff committing to a substance-free lifestyle while they live in the community. The Residence Life staff partners with resources around campus to provide, fun, educational, and engaging programming that is geared towards this community's commitment to a healthy, substance-free experience.
Focus Floor Cumberland Hall 3rd Floor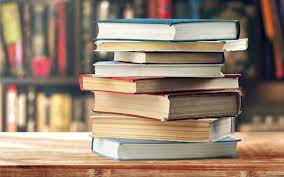 Do you consider yourself academically focused? Ready to put your nose to the grindstone and ace that next exam? This community might just be for you! The Focus Floor is a themed community in first-year general housing that is centered around individuals who prioritize their academic endeavors above all else. Members of the Focus Floor community can be enrolled in any college and major but must be first-year students.
Prism+ Aroostook Hall 3rd and 4th Floors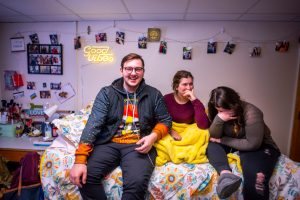 The Prism+ community is comprised of first-year and upper-class students, and is designed to create a supportive environment for students who identify as or are allies to the LGBTQ community. Programming will focus on issues of gender identity and sexual orientation as students living in this community will be encouraged to explore their own identities in a safe, open, and welcoming living environment. This program will partner with the Rainbow Resource Center to provide exposure to a variety of educational and social opportunities centered around the diverse needs of the LGBTQ and ally populations.
Outdoor Adventure Kennebec Hall 3rd and 4th Floors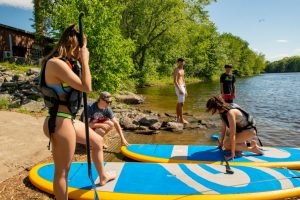 The Outdoor Adventure (OA) Community is dedicated to first and second-year students who share a deep appreciation for outdoor recreation. Residence Life staff partners with Maine Bound, UMaine's adventure center, to curate specific opportunities that develop leadership skills through team-based initiatives for community members. This experience is an exceptional opportunity to make lasting friendships with other outdoor enthusiasts that will accelerate your sense of belonging while participating in the magnificent outdoor recreation opportunities Maine has to offer.
Green Living Androscoggin Hall 4th Floor
The Green Living community is exclusively reserved for first-year students and is designed for those who believe that it is valuable to live a low-impact life. Residence Life partners with the Green Campus Initiative to promote sustainable living practices and to provide opportunities to learn about various aspects of sustainability. This includes engaging programming on Zero Sort recycling, the campus composting facility, greenhouse tours, lectures on topics surrounding sustainability and environmental sciences, volunteer opportunities at UMaine, nearby community sustainability initiatives, gardening, developing sustainable programs for the university and more. To learn more about the Green Campus Initiative (GCI), visit their webpage by clicking here!
The Global Neighborhood Knox Hall 4th Floor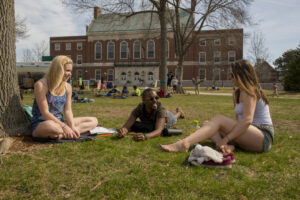 The Global Neighborhood is a community exclusively reserved for first-year students and is designed to create a supportive environment for international students and domestic students who are interested in experiencing other cultures. This program will focus on issues of diversity and multiculturalism, will encourage students to push themselves beyond their comfort levels, and will give confidence to students as they share their culture – whether they are from Aroostook County or the other side of the globe. This program will offer students the opportunity to think globally by participating in community service, through the discussion of world affairs events, and through exposure to opportunities provided by the Office of International Programs.
The Transfer Living Community York Hall 4th Floor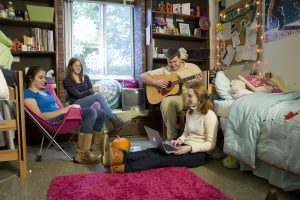 The Transfer Living Community is designed for students who have transferred to the University of Maine from a different institution. These students are typically those who are familiar with the concept of college, but are still new to UMaine, and benefit from a blend of programming that supports their development as upper-class students while also introducing resources that are unique to our campus.
Intramurals Community Androscoggin Hall 3rd Floor
The Intramurals Community is designed for students who are interested in participating in intramural sports. Residence Life will occasionally partner with Campus Recreation to provide opportunities for students to be part of intramural teams and other activities. For more information on Campus Recreation, feel free to check out their website by clicking here.
Mosaic Kennebec Hall 2nd Floor
The Mosaic community is an opportunity for first-year and upper-class students who identify as Black, Indigenous, students of color, or allied peoples. This community will focus on supporting BIPOC students during their enrollment at UMaine through partnerships with the Office for Diversity and Inclusion and other campus resources to tackle structural and interpersonal racism at the University. The community will facilitate mentoring opportunities, racial and ethnic identity development, and leadership skills for students through active anti-racism community initiatives. Staff selected for this residential community are committed to equity, social justice, and inclusion work in order to support students' identities and programmatic needs.
Gamers Community Androscoggin Hall 2nd Floor
Get your keyboards and headphones ready! The Gamers Community is designed for students who are interested in all types of games, including table-top games, video games, computer games, and role-playing games. From Minecraft to Call of Duty, Residence Life members will work to provide resources and space for a variety of gaming activities within the floor.