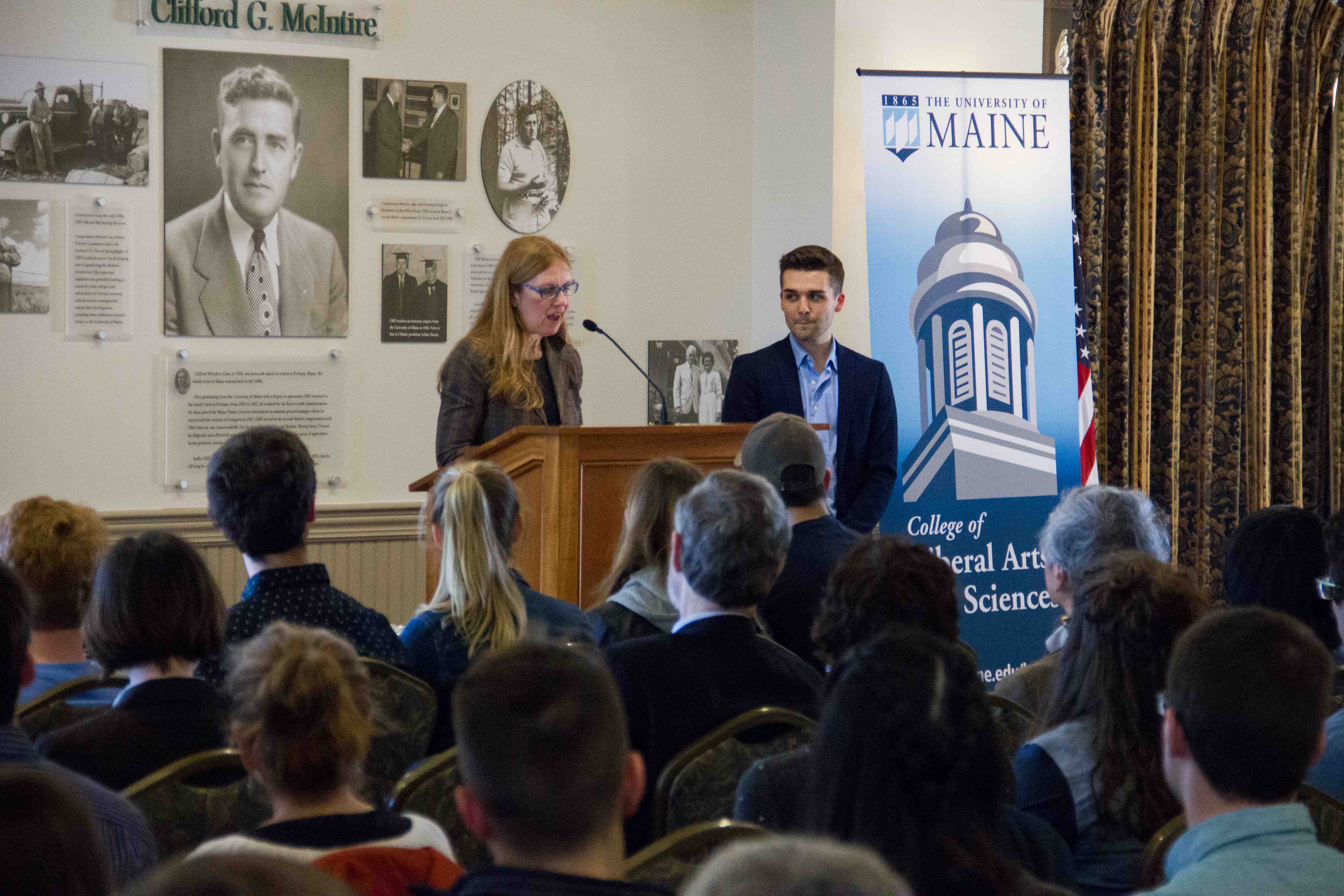 2019 CLAS Student and Faculty Awards
On Monday, April 28, the College of Liberal Arts and Sciences celebrated their annual student and faculty awards recipients at a ceremony in the Buchanan Alumni House. Awards were presented to outstanding faculty and students, both undergraduate and graduate, in a number of categories.
Special recognition was given to UMaine's 2019 valedictorian, Drew Brooks, a double-major in music and microbiology. Brooks, of Lyman, Maine, will begin his first year of medical school in August. Check out this profile on Brooks and his experience at UMaine.
Thilee Yost of Damariscotta, Maine was recognized as the 2019 CLAS Outstanding Graduating Student. A double-major in political science and philosophy, with minors in legal studies, and political philosophy and ethics, Yost's numerous honors include the John Mitchell Nickerson University of Maine Memorial Scholarship, a UMaine Center for Undergraduate Research Fellowship and U.S.-Singapore Exchange Scholarship, as well as being a student in the Honors College. Read this profile to learn more about Yost and her many accomplishments.
Also recognized at the awards ceremony was Madison Riley, an undergraduate student in history and women's, gender, and sexuality studies, who was selected as one of the recipients of the George J. Mitchell Peace Scholarship. Riley will spend Fall 2019 at the University College Cork in Ireland.
Six graduate students were presented with awards for accomplishments in research, teaching, and scholarship. The 2019 CLAS graduate award recipients are:
Outstanding Graduating Student: Anna McGinn, Global Policy
Research and Creative Activity: Brieanne Berry, Anthropology & Environmental Policy, and Matthew Parent, Physics
Teaching: Sarah Ebel, Anthropology & Environmental Policy, and Jaqulin Wallace, Physics
Interdisciplinary: Ani St. Amand, Quaternary & Climate Studies
Awards were also presented to four faculty members in several categories. The 2019 CLAS faculty award recipients are:
A list of past faculty award recipients can be found here.
A record number of promoted and tenured faulty were also recognized during the ceremony. CLAS faculty promoted to full professor:
Faculty promoted to associate professor with tenure:
Outstanding seniors from each CLAS department were presented with awards recognizing their achievements at UMaine. Recipients of the 2019 CLAS Senior Recognition Awards are:
Skye Siladi, Anthropology
Lindsay M. Taylor, Art
Angus Koller, Chemistry
Keely Gonyea, Communication & Journalism
Stanley Small, Computing & Information Science
Kimberly Crowley, English
Dakota Gramour, History
Tiffany Tanner, International Affairs
Isaac Vaccaro, Mathematics & Statistics
Evan Marshall, Modern Languages & Classics
Ian Donnelly, New Media
Kayla Gayton, Music
Mackenzie Peacock, Theatre/Dance
Thilee Yost, Philosophy
Benjamin Waterman, Physics & Astronomy
Sophie Cohen, Political Science
Amanda Laverdiere, Psychology
Jonah Paris, Sociology
Juliet Williams, Women's, Gender, & Sexuality Studies
Along with the outstanding graduating seniors, a number of rising seniors were recognized. Recipients of the 2019 James S. Stevens Outstanding Junior Award are:
Emilie Andersen, Psychology
Delaney Burns, Studio Art
Brooke Curtis, English
Abigail Despres, Political Science
Mitchell Fossier, New Media
Arianna Giguere, Physics
Melodie Godin, Psychology
Aidan Greenlee, Engineering Physics and Mathematics
Liam Greenlee, Mathematics
Jens Hansen, Computer Science and Mathematics
David Howe, Chemistry
Lindsey Lagerstrom, Psychology and Sociology
Connor Langlois, Computer Science
Emma Lueders, Chemistry
Libby Masse, Theatre
Tim Mcinnes, Political Science
Kale McLaughlin, Psychology
Drake Perkins, New Media
Aidan Regan, Mathematics
Caitlyn Rooms, International Affairs
Katie Skvorak, English
Isabelle Stevens, Psychology
Liz Theriault, Journalism and Political Science
Tanner Towle, Political Science
Julie Watson, Spanish
Jarod Webb, English
Patrick White, Political Science
Taylor Williams, Psychology
Brittany Woods, Anthropology and Spanish
Max Worgull, English
Tate Yoder, New Media
Thanks to Provost Jeffrey E. Hecker for opening remarks and presentation of student awards during the ceremony. Special thanks also go to the members of the 2018-19 CLAS awards committee — Daniel Barrett, David Batuski, Emily Haigh, Margaret Lukens, Jessica Miller, Michael Robbins, Judith Rosenbaum, and Natasha Speer.
Provost Hecker presenting Thilee Yost with the CLAS Outstanding Student award, with Dean Emily Haddad (far left) and Associate Dean Jessica Miller (far right)
Christine Beitl introducing Sara Ebel, recipient of the graduate student award for teaching
John Thompson, chair of the physics and astronomy department, with Jaqulin Wallace, recipient of the graduate student award for teaching
Cindy Isenhour, associate professor of anthropology, introducing Brieanne Berry, recipient of the graduate student award for research and creative activity
Jim Settele, director of SPIA, with Anna McGinn, recipient of the outstanding graduate student award
Sam Hess, professor of physics, introducing Matthew Parent, recipient of the graduate student award for research and creativity
Dan Sandweiss, professor of anthropology and quaternary studies, with Ani St. Amand, recipient of the interdisciplinary graduate student award.
Alice Bruce, chair of the chemistry department, introducing Matthew Brichacek, recipient of the faculty teaching and advising award
Amy Fried, chair of the political science department, with Mark Brewer, recipient of the faculty award for service and outreach
Nathan Godfried, professor of history, introducing Ngo Vinh Long, recipient of the faculty award for research and creative activity
Theatre students Reed Davis and Alan Estes introducing MJ Sedlock, recipient of the faculty lecturer award.
Provost Hecker with Jessica Miller and Daniel Bilodeau
CLAS faculty promoted to associate professor with tenure, with Provost Hecker (far right). Pictured from left to right: Emily Haigh, Christine Beitl, Andrew Knightly, Elizabeth Neiman and assistant, Judith Rosenbaum, Carlos Villacorta Gonzáles
Recipients of the James S. Stevens Outstanding Junior Awards
Recipients of the CLAS Senior Recognition Awards with Associate Dean Mike Robbins (far left)