Carlos Villacorta Gonzales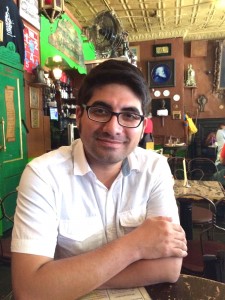 Assistant Professor of Spanish
214 Little Hall
University of Maine
Orono, Maine 04469
Ph: 207-581-2095
Email: carlos.villacorta@maine.edu
Education
Ph.D. Hispanic Language and Literature. Boston University, Boston
B.A., Pontificia Universidad Católica del Perú, Lima
Research and Teaching Interests
20th and 21st Century Latin American Literature and Culture; Contemporary Peruvian Poetry; Post-modernism in Latin American, Urban Studies.
Publications
Books
Poéticas de la ciudad: Lima en la poesía de los setenta. Buenos Aires: El corregidor, 2017.
Antología Binacional de Cuento / Poesía Perú-Ecuador 1998-2008. (Co-editor). Lima: Editorial Sic, 2009 (Perú).
Los relojes se han roto. Antología de poesía peruana de los noventa. (Co-editor). Guadalajara: Arlequín Editores, 2005 (México).
Articles
"1970-2000: De la hegemonía de lo conversacional a la diversidad de registros poéticos". (forthcoming).
"80M84RD3R0 o la última imagen vanguardista". Un renovado asombro. Vanguardias contemporáneas en América Latina. Edited by Matthew Bush, Luis Hernán Castañeda. Madrid: Iberoamericana, p.197-220.
"Lima después del Conflicto: la escritura urbana de Daniel Alarcón". Lima en la producción cultural nacional: Imágenes de una tensión. Ed. Eduardo Huarag, Félix Terrones.  Lima: Pontificia Universidad Católica del Perú, Instituto Riva-Agüero, Lima: p. 161-180.
"Rodrigo Machado o La construcción del revolucionario en la poesía de Javier Heraud". Revista de Crítica Literaria Latinoamericana, N° 80, 2015, p. 251-264.
"Retrato del artista como un roedor: De Josefina la cantora o El pueblo de los ratones de Franz Kafka a El Policía de las ratas de Roberto Bolaño". In The Korean Journal of Hispanic Studies, 6(2), p. 139-162, 2014.
"En los extramuros del mundo: muro y encierro en un poemario de Enrique Verástegui". In The Korean Journal of Hispanic Studies, 4, p. 185-215, 2011
"La reconstrucción de la memoria: la poesía peruana después de la violencia política 2000-2010". In Actas of XXXVIII Congreso del Instituto Internacional de Literatura Iberoamericana. Independencias: memoria y futuro, 2010.
Fiction
Alicia, esto es el capitalismo. A novel. Lima: Intermezzo Tropical Editores, 2014 (Lima, Perú)
"Lo que dijo el fuego" (Short story). Crítica. Revista de Cultura de la Universidad Autónoma de Puebla. Enero-Febrero 2014. N° 157, p. 90-99 (Puebla, México)
Poetry
Materia Oscura. Lima: Intermezzo Tropical Editores, 2017
Ciudad Satélite. Lima: Mundo Ajeno Editores, 2007.  (Lima, Perú).
Triptico. Lima: Chataro Editores, 2003. (Lima, Perú).
el grito. Lima: La cueva Editores, 2001. (Lima, Perú).
Courses taught at The University of Maine
SPA 305: Applied Spanish
SPA 308: Readings in Spanish American Literature
SPA 390: Topics in Spanish: Latin America Through Visual Representation
SPA 409: Contemporary Latin America Short Story
SPA 410 – SPA 597: Latin American Novel
SPA 420 – SPA 520: Hispanic Film
SPA 444 – SPA 544: Theory and Techniques of Translation
SPA 490 – SPA 515: Advanced Grammar
SPA 490 – SPA 597: Culture and Identity in Latin America
SPA 495 – SPA 598: Projects in Spanish II: Key Figures in Latin America