Matthew Brichacek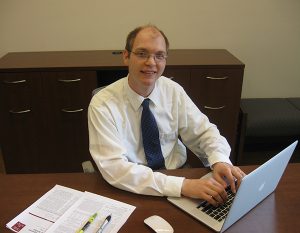 Associate Professor
Department of Chemistry
University of Maine
263 ESRB/Barrows Hall & 173 Aubert
Orono, ME 04469
207.581.1243
mbrich@maine.edu
Appointment(s):
Associate Professor

Graduate Program Coordinator
Education:
NIH Postdoctoral Fellow:  University of Illinois at Urbana-Champaign

Ph.D. Chemistry:  Cornell University, 2010

B.S. Chemistry:  University of Minnesota Duluth, 2005

B.S. Biochemistry and Molecular Biology:  University of Minnesota Duluth, 2005
Courses Taught:
Majoring in Chemistry (CHY 105)

Organic Chemistry II (CHY 252)

Structure and Mechanism in Biological Chemistry (CHY 431 and CHY 531)

Intermediate Organic Chemistry (CHY 555)

Theoretical Organic Chemistry (CHY 556)
Research Interests: 
The group utilizes synthetic organic chemistry to better understand complex biological phenomena. When limitations in existing synthetic methodologies are encountered, new methods are developed to obtain the bio-molecules of interest. An improved understanding of biological processes and diseases at the molecular level enables the discovery of new, efficacious therapeutic treatments. This approach strives to make important contributions to the fields of chemistry and chemical biology.