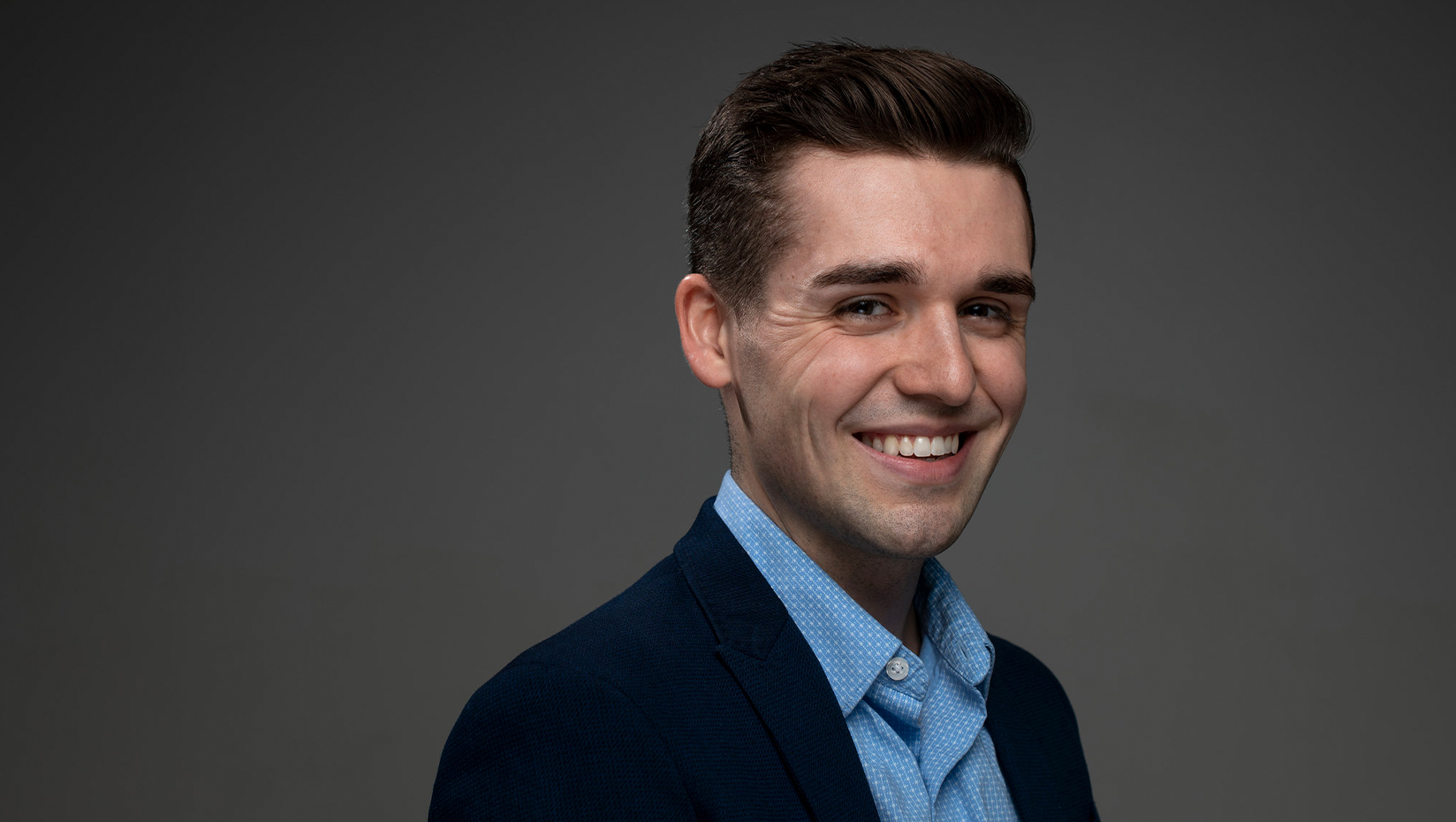 Drew Brooks: Microbiology, music double major named 2019 valedictorian
Drew Brooks of Lyman, Maine is the 2019 University of Maine valedictorian. He is a double major in microbiology and music, with a minor in molecular biology. He will receive two bachelor's degrees — one in microbiology, and one in music.
Brooks' many academic honors include multiple scholarships and Frederick Radke Undergraduate Research Fellowships. A 2018–19 UMaine Center for Undergraduate Research Fellowship helped fund his research, "The role of MyD88 in macrophage recruitment to Candida albicans infection in the zebrafish swim bladder," in the lab of associate professor of microbiology Robert Wheeler.
Since his sophomore year, Brooks has been a student researcher in the Wheeler Lab studying the fungus Candida albicans, which can cause life-threatening infections in immunocompromised individuals. He has been modeling fungal infections in the swim bladders of zebrafish to gain insights into how fungal pathogenesis occurs in humans, and how to better prevent or treat these infections. In particular, he has been looking at the importance of a protein, myeloid differentiation factor 88 (MyD88), in C. albicans infections, and whether it plays a role in recruiting immune cells that help clear the infection.
"I have thoroughly enjoyed working in the Wheeler Lab over the past three years," Brooks says. "I am so grateful for the opportunity to conduct research that may one day help to save someone's life."
Beyond the classroom and lab, Brooks has participated in five UMaine music ensembles — University Singers, Black Bear Men's Chorus, Oratorio Society, Euphony Chamber Choir and Opera Workshop. His vocal training has been primarily geared to operatic vocal performance, which has led to his extensive involvement as a baritone in Opera Workshop productions. He hopes to continue his vocal training when he moves to Boston this summer.
As a sophomore, Brooks was accepted to Tufts University School of Medicine through the Maine Track Early Assurance program. In August, he will start his first year of medical school.
What difference has UMaine made in your life and in helping you reach your goals?
My mentors, advisers and professors have made the most significant difference in helping me attain my goals. When applying to medical school, I received indispensable advice and guidance from the Career Center's staff, who walked me through the application and interview process step by step. In addition to the help I received there, I believe the recommendations from my mentors and professors were essential to my acceptance at Tufts. I know that I would not be where I am today had it not been for these individuals, and I am truly grateful for each and every one of them.
Have you had an experience at UMaine that has changed or shaped the way you see the world?
There has not been a singular defining experience that has changed the way I view the world. However, over the course of my four years at UMaine, my views have gradually changed and matured. I think it is rather difficult not to be changed because we learn new things in our classes every day that influence the way we interpret the world around us. Above all, I think that the things I learned in class often challenged me to question the legitimacy of some of my firmly held ideas and tenets. My education at UMaine has helped me to become more open toward opinions and viewpoints that differ from my own. I think this is an important skill to have, especially at a time when the nation seems to be so divided, politically and otherwise. I think having an open mind, willing to change, is important in lessening the division that exists between those with differing viewpoints.
Why UMaine?
When I began applying for college four years ago, I knew that I wanted to become a doctor. When I learned that Tufts' Early Assurance Maine Track Program was reserved for students from select colleges in Maine, I knew that UMaine was the obvious choice. Additionally, I had also heard great things about UMaine's Department of Molecular and Biomedical Sciences, where I am currently working toward a degree in microbiology. Students from my department have had great success in getting into medical school, so I knew that UMaine was going to be the right choice.
How would you define the opportunities for student success at UMaine? Is there any particular initiative, program or set of resources that helped you succeed?
The Career Center was extremely helpful when I was applying for medical school. The staff there was always very knowledgeable and did everything possible to make sure my application and interview went smoothly. If I had not had the help of the Career Center's staff, I am fairly certain I would not be going to medical school at the end of this summer. Whether you are applying to graduate school or trying to make a good impression at an interview, I think the Career Center is an essential resource.
Have you worked closely with a professor or mentor who made your UMaine experience better?
I have worked closely with several different professors who have made my educational experience truly fulfilling and enjoyable. Most notably, my voice instructors have been rooting for me every step of the way and have always been supportive of my medical aspirations. One of them wrote me a fantastic recommendation letter for medical school, and the other contributed immensely to my nomination for valedictorian. Beyond supporting me in this way, they also have challenged me to become a better singer and be more involved in the opera productions here at UMaine. I have grown considerably as a singer and performer under their instruction, and I hope to continue developing my voice as a student in Boston.
What advice do you have for incoming students to help them get off to the best start academically?
My advice for incoming students is to get involved. There are a lot of clubs and extracurricular activities on campus that provide a great opportunity to make friends who will stay with you throughout your college years and even beyond. Having friends that support you in tough times is really important for your mental health and well-being. In my experience, if you are happy and healthy, you tend to perform better in your classes, and learning new material becomes easier.