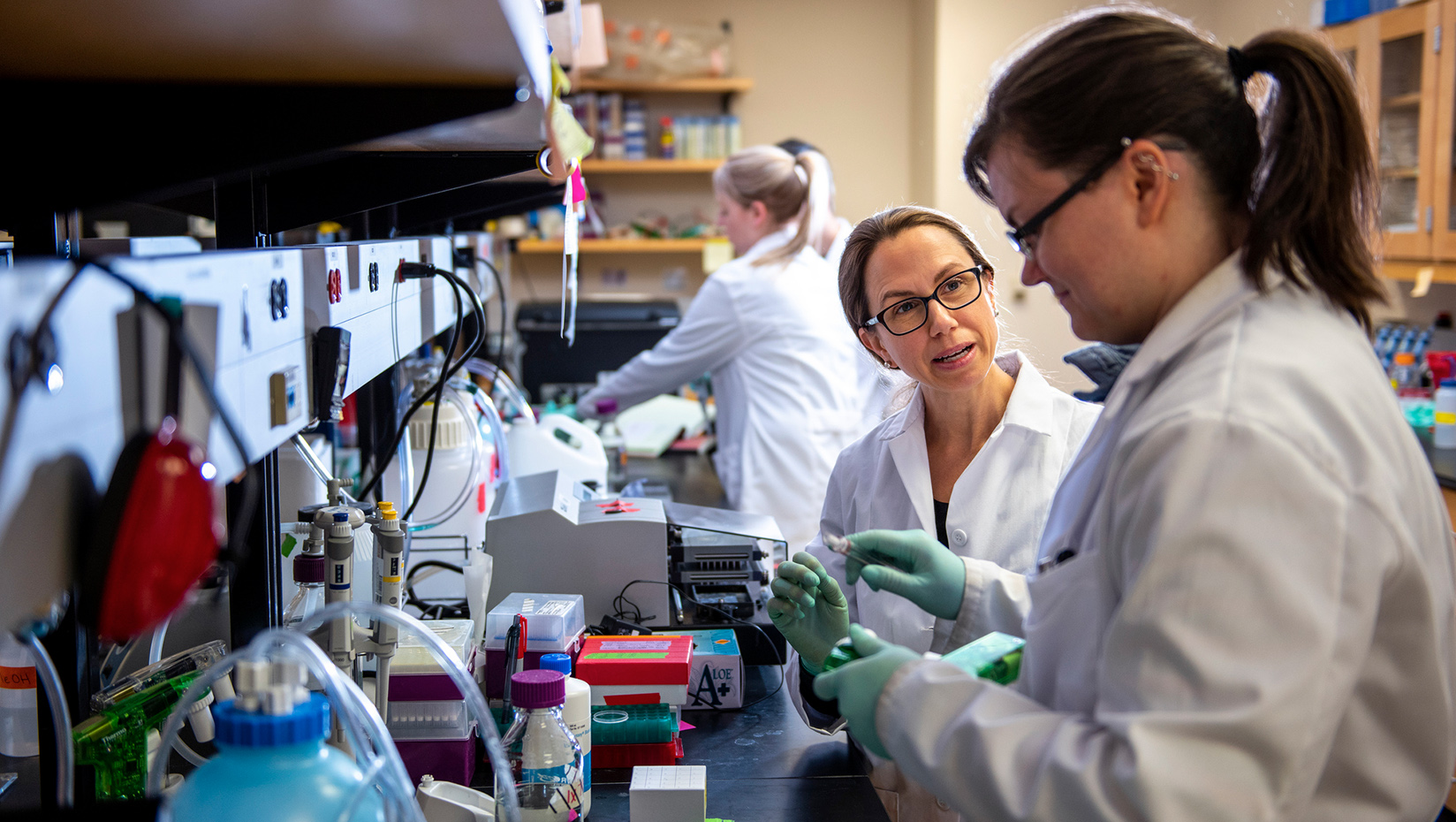 If you missed these achievements the first time, here's a recap
During the first six months of 2019, University of Maine faculty and students have contributed to knowledge and solutions — locally and worldwide. Here's a review of some highlights, including dog biscuits made of green crabs and a comprehensive scientific expedition on Mount Everest.
January
Food science majors to engage in active learning to prepare for industry demands
Boosting students' math knowledge and problem-solving skills will benefit them in careers in which it's important to understand safety relating to food recalls and traceability issues due to globalization.
Pathogen research could aid prediction, response to anthrax and other epidemic diseases
Anthrax, a naturally occurring pathogen that people have weaponized, has existed worldwide for a long time. Because it's deadly among wildlife and can be transferred to humans, understanding its transmission and evolution is key.
February
Botanists, with help from Thoreau, find climate change puts spring wildflowers in the shade
Trees track changing temperatures and leaf out earlier. Understory wildflowers, though, aren't keeping up — which could mean less energy to produce flowers and seeds and result in declining wildflower populations.
Improving health care focus of partnerships with St. Joseph, UMF, UMM, Dartmouth
Sensor technology could help physicians detect biomarkers associated with pancreatic cancer and help aging people avoid falls.
In Sweden, Waller shares in-depth knowledge of cold-water corals
Understanding whether corals under climate stress can fertilize and whether larvae can migrate through the water column could buoy effective marine management and conservation.
Sandra Caron selected 2019 Distinguished Maine Professor
The professor of family relations and human sexuality says "the belief that every human being must be genuinely respected and valued for what he or she is — a worthy person, who is in the process of becoming" is fundamental to her teaching.

March
UMaine-led team discovers protein, lipid connection that could help lead to new influenza therapies
Sam Hess' breakthrough could result in fighting the flu — which causes tens of thousands of deaths annually in the U.S. — even if the virus mutates and changes each year.
Role of food in politics, public life focus of research collaborative inspired by Margaret Chase Smith
The senator known for her Declaration of Conscience speech collected recipes with Maine ingredients to promote the state's agricultural products. Researchers are exploring connections between her recipes and her private and political life, Maine food traditions, and the connection between food and politics.
Google award-winner Ghanavati seeks to better protect personal information of Android app users
Many apps dealing with personal information lack privacy policies or have inconsistencies. Sepideh Ghanavati's first-of-its-kind approach leverages deep learning techniques to generate short privacy statements from code.
As climate continues to warm, study finds several barriers to northward tree migration
Extensive land development, invasive species and too many deer may make it difficult for tree migration to keep pace with climate change in the Northeast.
Maginnis awarded NIH grant to examine virus fatal in people with weakened immune systems
More than half the human population has an undetected virus in their kidneys. When a carrier of the human JC polyomavirus, or JCPyV, has a weakened immune system, the virus can migrate to the brain, where it becomes fatal.

April
Townsend finds mice fed foods rich in omega-3 polyunsaturated fats sustain tissue damage
Since fish oil supplements (and tinned fish) in the study contained high levels of potentially harmful peroxidized lipids, a UMaine neurobiologist says health benefits gained by taking the supplements may be outweighed by risks.
Dog biscuits made with invasive green crabs pass the taste — and sniff — test
If business entrepreneurs make natural, nutritious green crab treats for dogs, people who earn their living on the sea and mudflats might be incentivized to harvest green crabs as bycatch to earn money.
Dimmel receives grant to study students' perceptions of geometric diagrams in virtual reality environments
Geometry diagrams used to be small images on textbook pages. Virtual reality allows teachers and students to examine them at larger scales and in additional dimensions.
Gillon explores issues of race in the history of fraternity, sorority life
In the early 20th century, students of color at some colleges and universities formed their own fraternity and sorority groups in response to housing and academic discrimination.
Browntail moth outbreaks expected statewide this year
The pest, which defoliates trees, also is a serious public health nuisance. Eleanor Groden studies dynamics of the outbreak and potential management strategies. Her newest research focuses on the structure of the moth's winter webs.
Science Channel showcases Gill's pursuit of 'Lost Beasts of the Ice Age'
Inside a permafrost cave in Siberia, woolly mammoth tusks protrude through glistening walls. A lion cub, dead for 30,000 or more years, looks like it's napping. This window into the past could provide lessons about managing Earth's largest animals.
Study finds changing dissolved organic carbon in Maine lakes key to maintaining drinking water quality
Frequent and extreme rainstorms contribute to short-term abrupt changes in the quantity and quality of lakes' dissolved organic carbon — which contribute to higher levels of heavy metals and pollutants. Forty-five of Maine's 6,000 lakes are sources of drinking water.
During abrupt warming, lobsters in acidic water have reduced heart function, fewer infection-fighting cells
The scientists' findings are likened to people who are exposed to ocean acidification falling off a treadmill from exhaustion much sooner than those not exposed.
Patent issued to device with potential to detect early symptoms of Alzheimer's, cognitive impairment
The fitted mattress sheet, to be used at home, has more than a dozen sensors that gather information about a person's sleep-wake and respiratory patterns.
May
New $20 million additive manufacturing initiative connects local economies with national lab, UMaine resources
Habib Dagher says the enterprise is like "putting together the NBA All-Star team" for massive 3D printing with wood, to include boat hull molds, shelters and wind blades.
UMaine earns STARS Silver sustainability rating
UMaine earned the rating, in part, for recycling and composting nearly half of its waste, having a Green Living and Learning dorm floor, and reducing water consumption by 20 percent per campus user.
Cammen: History can inform ecologically and socially conscious conservation management
Ecologically and socially conscious ocean conservation management must take historical context into account, utilize expertise from diverse disciplines, and adapt when unanticipated challenges arise.
Genevieve McDonald — a lobster boat captain and legislator — to graduate with highest distinction
The 36-year-old Democratic legislator, lobster boat captain and mother of 1-year-old twins graduated summa cum laude with a Bachelor of University Studies and Maine Studies minor.
McDonough MacKenzie documents dramatic loss of native plants on MDI
Sixteen percent of plants documented in the late 1800s on Mount Desert Island are now extinct. Habitat loss, climate change, damage from deer, and pollution are likely culprits.
From coast to coast, companies team up to fund UMaine lobster research
Two seafood companies gave $75,000 to fund Rick Wahle's 2019 deepwater lobster settlement monitoring program. The data provides information about population dynamics of the vital fishery and insight into possible future trends.
June
Two UMaine students, one alumna chosen as Fulbright Finalists
Emily Craig '18, Eric Miller and Jesse Walters have been offered grants for their research projects in Sri Lanka, Laos and Germany, respectively. The Fulbright program promotes international goodwill through the exchange of students in education, culture and science.
Coral detectives: Steneck, student team study reef health in Dominican Republic
Bob Steneck's unique course teaches students about marine science while helping the Dominican Republic monitor and manage its coral reefs.
For Schreiber, humor's a topic worthy of serious consideration
In the "Humor and Diversity in the U.S." course, students listen to Dave Chappelle 's comedy routines and examine minstrel shows of the 1830s. Humor can highlight and reinforce differences of gender, race, sexuality, nationality, religion and physical ability.
UMaine researchers take part in National Geographic, Rolex Expedition to Mt. Everest
Six Climate Change Institute explorers participated in what's believed to be the most comprehensive single scientific expedition on Everest. Paul Mayewski directed the excursion, during which scientists installed the two highest weather stations on the planet and Ph.D. candidate Mario Potocki collected the world's highest ice core on South Col.
UMaine students participate in seventh season of coastal archaeological fieldwork
In the field school, students preserve irreplaceable data from a Down East site — an important cultural space to Passamaquoddy people — threatened by erosion.