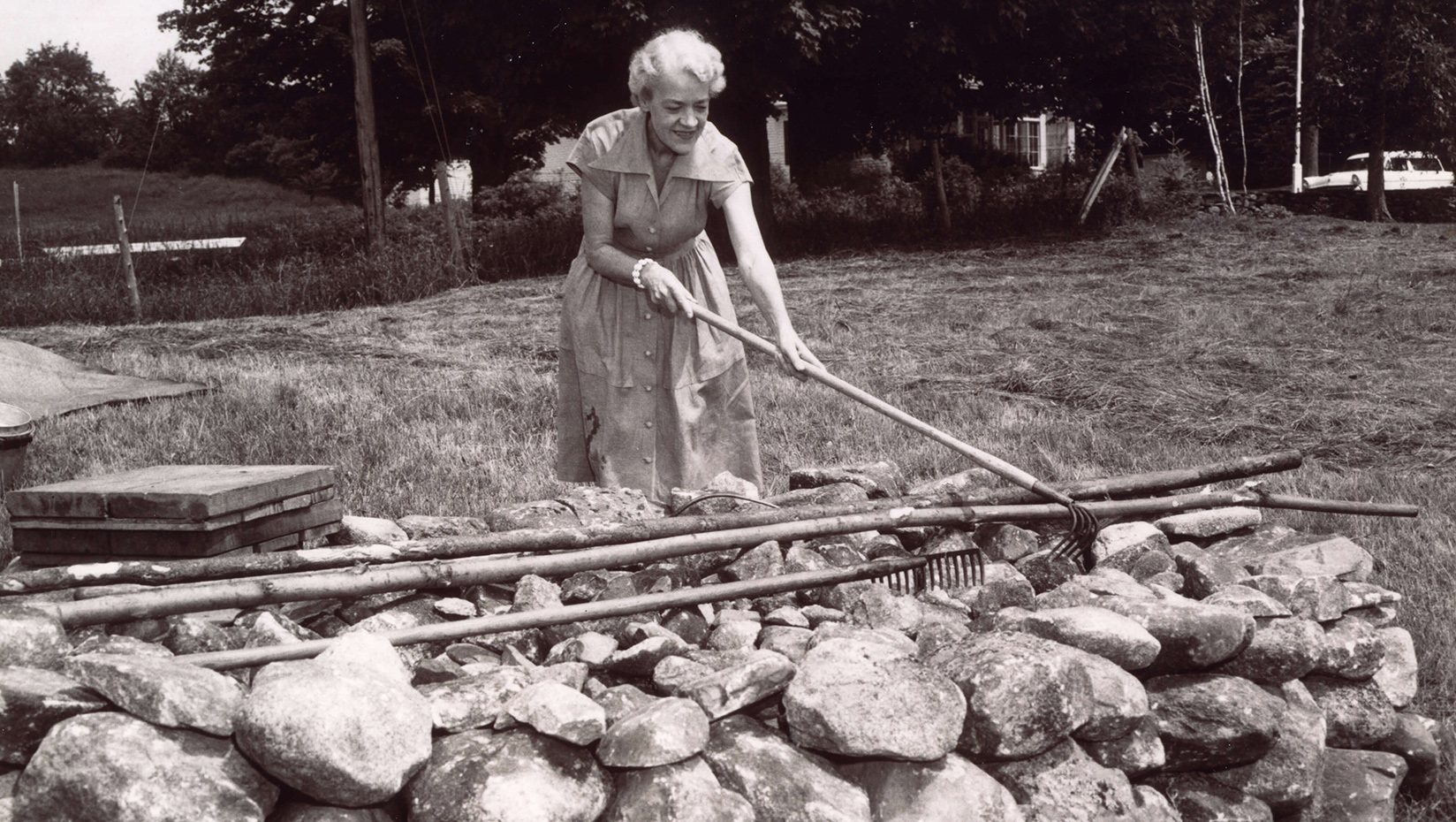 Role of food in politics, public life focus of research collaborative inspired by Margaret Chase Smith
Exploring the intersections of food and politics is the focus of a new University of Maine research collaborative inspired by the recipe collection of Margaret Chase Smith.
The Margaret Chase Smith Recipe Research Collaborative formed in fall 2018 to support an interdisciplinary group of students and faculty who are passionate about food and interested in studying the role of recipes and cooking in politics and public life, as well as issues related to history, gender and the environment.
The group was started by Rachel Snell, a lecturer in the Honors College, and Amy Blackstone, a professor in the Department of Sociology and Margaret Chase Smith Policy Center, after they recognized food as a common area of research within their respective fields.
In material and symbolic ways, women have used food as a tool of self-expression, community building, political persuasion and resistance, as well as to negotiate the complicated terrain of femininity and domesticity within the public sphere, according to the researchers.
The group, which is led by the Margaret Chase Smith Policy Center and Honors College, has six faculty and six student members from fields of study including food science, sociology, history, political science, folklore, business management and ecology and environmental sciences.
Research by faculty and students examines the ways women have used food to communicate, leverage influence, and challenge perceptions and expectations.
"Margaret Chase Smith is one of the most well-recognized and well-studied female figures in Maine history, but few of us would identify her as a homemaker," Snell says of the late politician who was the first woman to serve in both houses of the United States Congress.
"Most research on Smith and recognition of her role focuses on her life in the public sphere as a congresswoman, senator and public figure. She also was a wife, cook and homemaker, and she frequently relied on these roles in her campaigns. Her recipes suggest how she combined her public and private personas and how the balance of the two contributed to her success as a political leader."
A major goal of the group is to catalog, test and update Smith's recipes, creating a database for future research projects and a published collection.
The group plans to publish Smith's original recipes along with updated versions. The collection also will include vignettes that explore the connections between the recipes and Smith's private and political life, Maine food traditions, mid-20th century American food systems, the role of the environment in food choices, and the connection between food and politics, according to Snell and Blackstone.
"The published collection will help support Maine NEW Leadership, a nonpartisan, six-day residential institute that hosts 28 Maine undergraduate students each year and trains them to become Maine's next generation of political and civic leaders. The institute, run by the Margaret Chase Smith Policy Center, carries on Smith's legacy as a strong woman leader, committed to bipartisanship and civil dialogue," Blackstone says.
The collaborative also aims to create community engagement with campus stakeholders and partner institutions, including the Margaret Chase Smith Museum and Library.
Early research into Smith's recipes and related correspondence reveals she received frequent recipe requests and developed a collection of recipes featuring Maine ingredients that she could use to promote the state's agricultural products and seafood, according to the group.
"Our research provides a new perspective on Margaret Chase Smith," Snell says. "One exciting aspect of exploring Smith's recipes is that her food traditions make her more relatable."
Snell adds that many Maine residents also have food memories connected to family recipes, the recipes of a particular period, or regional foods such as lobster, blueberries and baked beans.
In addition to the collection, the group organizes public events relevant to the collaborative's interests, while faculty and students engage in independent research or related projects.
The group mentors undergraduate researchers and offers support for presentations and theses related to the collaborative's focus on food and politics.
Two projects related to the collaborative, "Dishing out History: Recipes as a Pedagogical Tool in the Classroom" and "Recipes of Resistance: Food and the Negotiation of Women's Political Roles," will be presented at the 2019 annual meeting of the Association for the Study of Food and Society in Alaska this June. Student members of the group also will present projects April 10 at the UMaine Student Symposium at the Cross Insurance Center in Bangor.
On March 7, the collaborative will host a public talk by food folklorist and scholar Diane Tye in Estabrooke Hall. Tye will present "Baking as Autobiography: Lessons from a Contemporary Recipe Collection" at 4:30 p.m.
More about Tye's talk and the collaborative is online.
Contact: Elyse Catalina, 207.581.3747