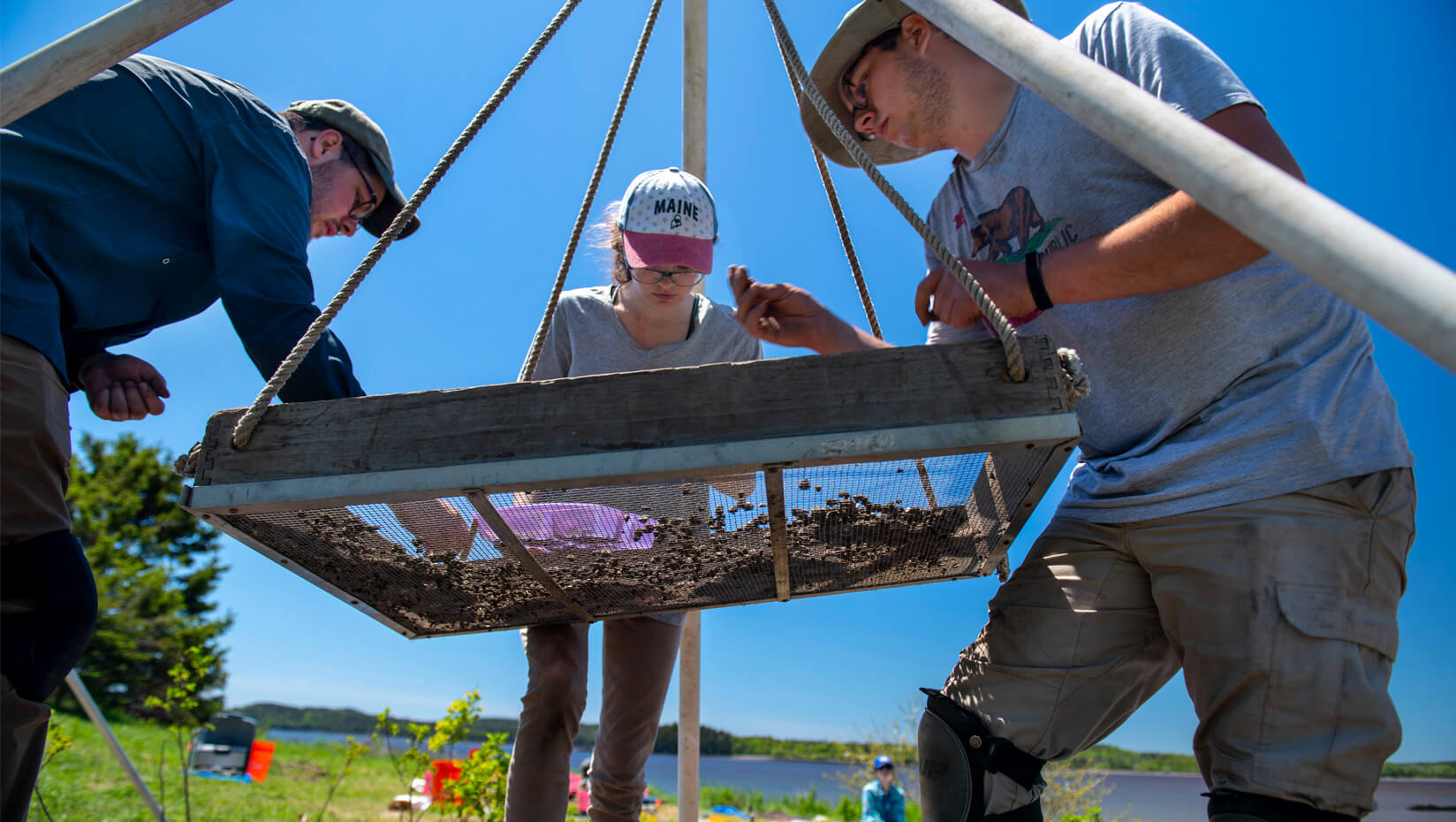 UMaine students participate in seventh season of coastal archaeological fieldwork
University of Maine anthropology students are spending four weeks in an archaeology field school in the Machias Bay area, directed by assistant professor of anthropology Bonnie Newsom. This is UMaine's seventh season of coastal archaeological fieldwork in the region.
In the field school, funded by the Maine Academic Prominence Initiative (MAPI) grant, students are immersed in experiential learning that blends archaeological fieldwork with cross-cultural community engagement. Students learn archaeological science techniques centered on systematic data collection from a site that spans roughly 3,000 years of Maine's pre-and post-contact history.
The fieldwork centers on one of Maine's most fragile shell midden sites — an area of discarded shells that also contains both material remains of past peoples and long-term paleoenvironmental data. The shells act to preserve existing organic materials (animal bone, textiles, wood, plants, seeds, etc.), which otherwise would not be preserved due to the acidic nature of Maine's soil. These organics help archaeologists examine the cultural context and the environmental aspects to learn what they can tell us about humans and climate change, including whether the climate was different throughout the occupation of the site.
Students are actively contributing to the preservation of irreplaceable data from the site that is threatened by severe erosion. The site is an important cultural space to the Passamaquoddy people.
Since its inception, the UMaine field school has been conducted in cooperation with the Passamaquoddy Tribal Historic Preservation Office. Professor Newsom directs the excavation through an Indigenous Archaeologies perspective, seeking to engage and empower the Passamaquoddy People in the preservation of their heritage.
As part of this summer's field school, the students are working on a community service project with Passamaquoddy Tribal members to assist with their language preservation efforts.
Contact: Margaret Nagle, 207.581.3745