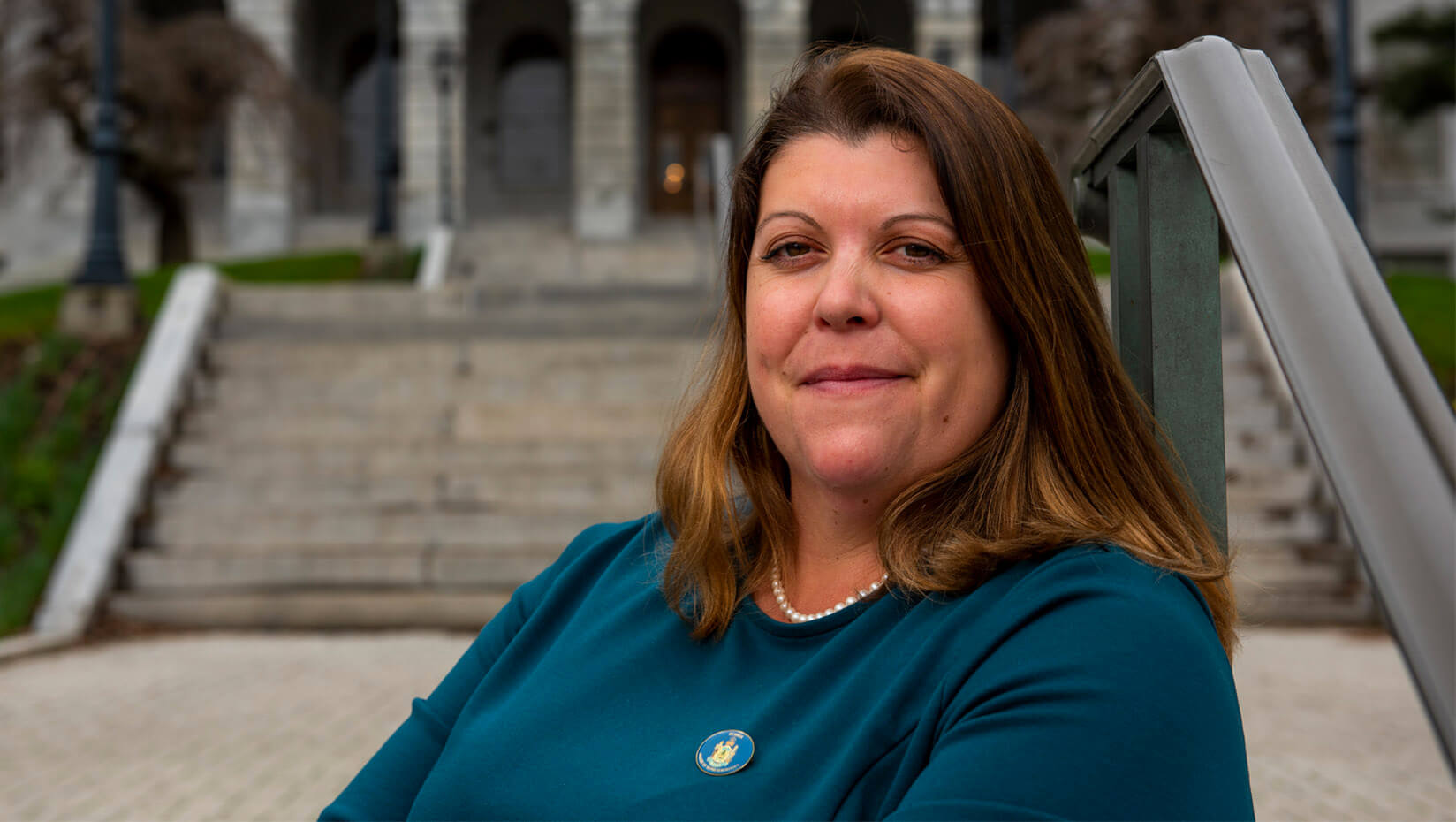 Genevieve McDonald — a lobster boat captain and legislator — to graduate with highest distinction
Some people call Genevieve McDonald, Captain. Five months a year, she fishes for lobsters in Western Penobscot Bay.
Others know her as Rep. McDonald. The Democratic legislator represents 8,000-plus people living on island communities around Stonington, Maine. In 2018, 67 percent of House District 134 voters elected to send her to Augusta.
Students at Deer Isle-Stonington Elementary School, where she's worked as a long-term substitute, call her Mrs. McDonald.
To Evalina and Elise, the 1-year-old twins she parents with husband Cory, she's Mom.
And May 11 at Commencement at the University of Maine, she'll be a college graduate, summa cum laude.
The 36-year-old who was born in Bar Harbor, grew up in Blue Hill and lives in Stonington earned a Bachelor of University Studies with a Maine Studies minor online through the Division of Lifelong Learning.
McDonald earned a GED after leaving high school to work when she became an emancipated minor at 16. In 2010, after completing a two-year apprentice program, she got her commercial lobster license.
She enrolled at UMaine at age 30. McDonald says she returned to school to gain skills necessary to facilitate communication between people earning a living on the ocean and the scientific community. Sea-level rise, shifting species, pollution — they're all topics in her wheelhouse.
And multiple publications, including National Geographic, The New York Times, Chicago Tribune, National Fisherman, Portland Press Herald and Down East magazine have asked McDonald for her perspectives.
She credits her UMaine education with strengthening her research skills and abilities to persuasively speak and write — all of which have been valuable in Augusta.
McDonald says she was inspired to run for the House after taking the Washington, D.C. Travel Course through the William S. Cohen Institute for Leadership & Public Service at UMaine.
She's not sure if her twins will attend Commencement. They're still accustomed to a morning nap, she laughs.
Sleep isn't something McDonald has gotten a lot of the last few years, but the rapid-fire doer and talker says, "I feel awake and alive when I have a full plate."
Then she must feel energized.
McDonald also is the Downeast Region representative on the state's Lobster Advisory Council and sits on Gulf of Maine Research Institute's Lobster Forecast Advisory Panel.
She plans to run for re-election to the House in 2020, and she'd like to be on the Maine Climate Council.
Six years ago, frustrated that fishermen's gear didn't fit well, McDonald waged an online social media campaign about the issue. Grundéns USA listened and started making oil gear — foul-weather fishing apparel — for women.
"It's imperative we have gear that allows us to do our jobs safely and efficiently," says McDonald, adding that she keeps in touch with, and supports, other women who fish.
"Women should lift each other up," she says.
After the Legislature adjourns this spring, McDonald will don her better-fitting gear for another lobster season aboard Hello Darlings II.
In her 14 years on the water, first as a sternman and then as captain, she's seen a lot of changes. They include record-setting lobster landings, explosion of green crabs, decline of mussel beds, and movement of species — including black sea bass, triggerfish and squid — into the Gulf of Maine.
Weekends this summer, McDonald looks forward to relaxing and taking a break from lobster traps, books, computers and the State House. She and Cory — who she describes as an amazing father and supportive partner — will camp in Western Maine or the Allagash Wilderness Waterway.
Contact: Beth Staples, 207.581.3777, beth.staples@maine.edu