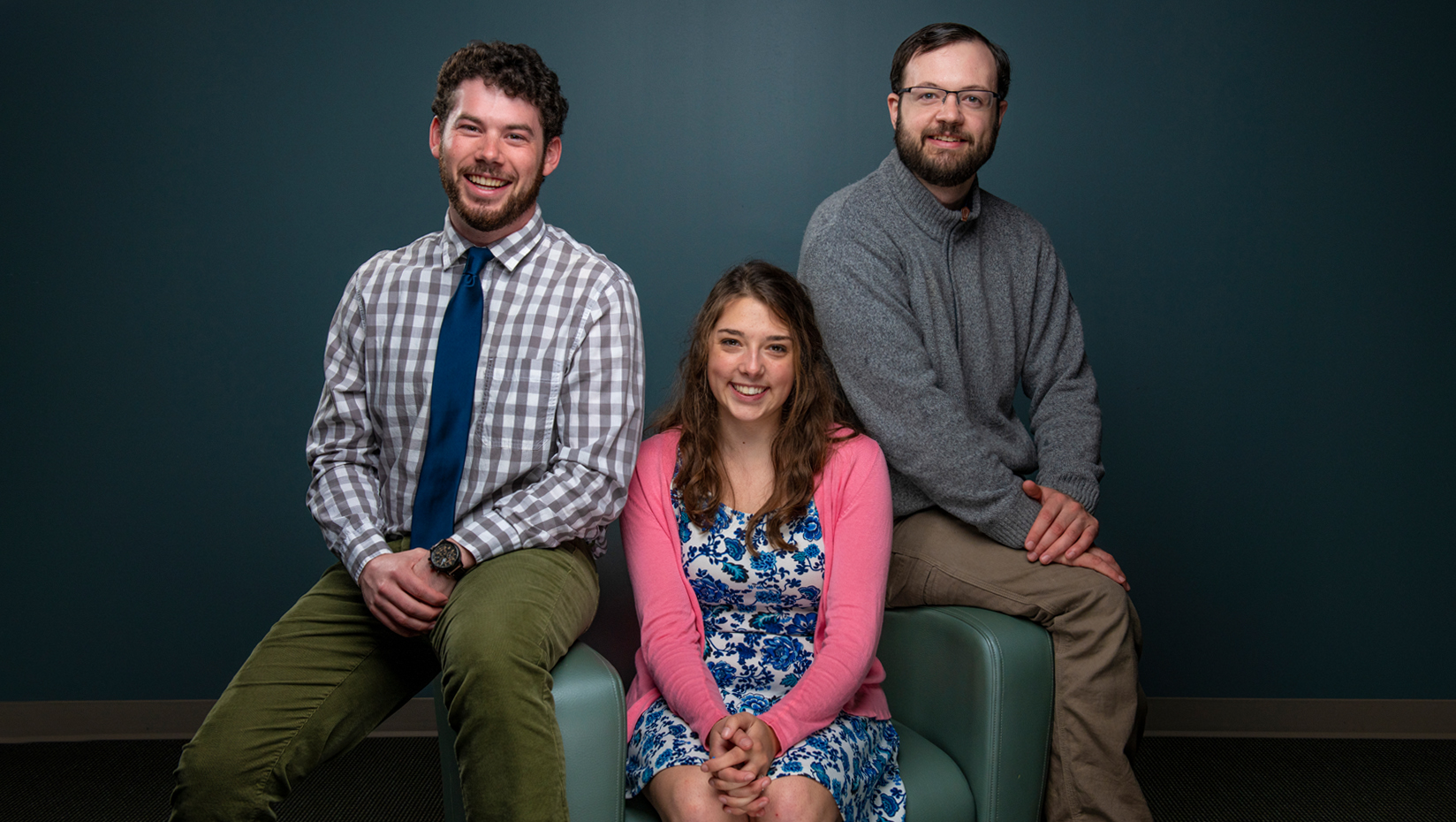 Two UMaine students, one alumna chosen as Fulbright Finalists
Two University of Maine students and one alumna are 2019–20 Fulbright Finalists with the Fulbright U.S. Student Program.
Emily Craig '18, Eric Miller and Jesse Walters have been offered grants for their individually designed research projects.
The Fulbright U.S. Student Program is named for Sen. J. William Fulbright, who introduced a bill in Congress in 1945 that called for the use of surplus war property to fund "promotion of international goodwill through the exchange of students in the fields of education, culture and science."
The program operates in more than 140 countries. Recipients of Fulbright grants are selected on the basis of academic achievement and demonstrated leadership potential in their fields.
Craig, of Stonington, Connecticut, expects to do her research in Sri Lanka. She plans to explore environmental origins of chronic kidney disease of unknown etiology (CKDu) — one of the country's leading causes of death.
Miller, of Wausau, Wisconsin, will conduct research on payments for environmental services (PES) to promote conservation and resource management in Lao People's Democratic Republic, or Laos.
And Walters, from Klickitat, Washington, will be based in Frankfurt, Germany. He'll examine how sulfur — an element critical to life, climate and the economy — is exchanged between the Earth's surface and interior.
Craig plans to examine environmental sources of CKDu with P. Mangala C.S. De Silva, a professor at the University of Ruhuna in Matara. They also anticipate working to develop a screening assay that quickly tests for well water contamination.
In 2018, the member of the Honors College earned a bachelor's in marine science with a concentration in marine biology and a minor in chemistry. After graduating, she worked as an associate with the Honors College.
Craig feels fortunate to have grown up in a beautiful coastal town, where she developed an early and lasting appreciation of the ocean and marine life. She has studied how people's devastation of the natural environment affects human health and well-being. At UMaine, environmental toxicology was a focus of her research with assistant professor Nishad Jayasundara, a native of Sri Lanka.
She looks forward to continuing that study in the island country south of India.
"I knew that I wanted to travel but I am a tad neurotic about my carbon footprint, so I knew that if I did travel I wanted to be in a place for a long time, and I wanted to be there for a reason," says Craig, who enjoys snorkeling, painting, yoga, walks and being around delightful people.
Being immersed in a culture and having opportunities to spread peace and goodwill also appeal to her.
"It is through shared experiences, empathy, compassion and understanding that relationships are made, and I'm excited to go to Sri Lanka and develop relationships with other people, fostering a sense of home in a new country."
She credits the independent research she conducted in the Honors College with advancing her as an academic. She calls the university's marine sciences program an exemplary learning environment.
"All of a sudden, school wasn't just reciting information from a textbook but realizing that there is a lot left to be researched and learned about," says Craig, who is interested in a career as a professor of marine toxicology.
Miller's PES project in Laos will bring together ecology, economics and global environmental policy, an ideal fit for his academic interests.
The Eagle Scout is pursuing two master's degrees, an M.S. in resource economics and policy and an M.A. in global policy, with a concentration in environmental policy.
He describes payments for environmental services as market-based incentives — similar to subsidies — offered to forest owners, farmers and other landowners to encourage conservation of natural resources that provide essential broader ecological services.
"It's a flexible tool, as it can be applied to communicate the value of a resource that is difficult to quantify through traditional valuation techniques," says Miller, who enjoys snowboarding, camping, canoeing, cycling, playing card games and making bread.
"I'm excited and grateful for the opportunity to connect with so many different perspectives as well as finding out how I'll grow as an individual from this experience," he says.
At UMaine, Miller says he's learned technical skills, refined his experience working with groups, and gained wisdom beyond course material from mentors who helped him define his research interests and address modern environmental problems.
Possible careers include being a policy analyst at an environmental policy think tank, a water resource economist for a federal agency, or a position at the U.S. Department of State.
Walters, an Earth science doctoral student, will examine subduction zones — where two pieces of Earth's crust collide — with Horst Marschall, a professor at Goethe Universität in Frankfurt.
When seafloor rock sinks into the inner Earth, Walters wants to determine whether sulfur remains in it or if it's transferred to volcanoes that overlie subduction zones, then is returned to the surface.
As a youngster in the small logging town of Klickitat, Walters hiked, camped, rafted and developed an interest in solving mysteries of the natural world. His high school graduating class totaled seven students.
"When I was growing up, my father became interested in gold prospecting and we would travel around the country mining in remote areas," says Walters, who once fronted a heavy metal band and now plays guitar in the cover band Jesse and the Geodes.
"I became drawn to how Earth's rock formations develop and the chemical processes that drive our planet."
After earning three associate degrees at Portland Community College, Walters received a bachelor's in geology, magna cum laude, at Central Washington University, and a master's in geosciences at Boise State University.
The 2019 Chase Distinguished Research Assistant says he has become a more capable researcher at UMaine. He's gained expertise on the university's world-class laboratory instrumentation and has become a more proficient scientific writer and presenter.
Walters says he's interested in continuing his career in academia. He's passionate about research and says it's rewarding to share his knowledge and excitement for science.
Fulbright Student Program adviser Christine Beitl, a Campus Review Committee, and the Office of Major Scholarships have supported the Fulbright Finalists during the application process.
UMaine students and alums interested in the Fulbright Program, or other nationally competitive scholarships, are encouraged to visit the Office of Major Scholarships in Fogler Library, visit the website or email nives.dalbowheeler@maine.edu.
Contact: Beth Staples, 207.581.3777, beth.staples@maine.edu