Spring 2022 Arrival and Orientation info
All new International Students should plan to arrive on January 10 -11, 2022.
International Student Orientation dates – January 11-14, 2022  Click here for full details on the Orientation program.
Arrival Form Spring 2022 –  We ask all students to submit the arrival form, even if you do not require a pick up at the airport, bus station or local hotel, and even if you plan to live off-campus.
Arrival and Orientation Information
---
Video Tutorials
Financial Terms and Conditions
Placement Tests
Selecting classes
Enrolling in Courses
Transfer Credits
Terminology and Handouts
COVID-19 health and safety guidance
IMPORTANT UPDATE – October 29, 2021
COVID-19 health and safety guidance
As of November 8, 2021, the U.S. government will require all air passengers to be fully vaccinated before boarding a plane to the U.S.  A person is considered fully vaccinated 2 weeks after receiving all doses of the FDA approved vaccines (Pfizer, Moderna or Johnson & Johnson) or WHO approved for emergency use vaccines (AstraZeneca, Covishield, BIBP/Sinopharm, and Sinovac).  You can view the official announcement here.
The University of Maine also requires all students attending in-person classes and activities to be fully vaccinated with one of the above listed vaccines.  Please record verification of your vaccination on our secure campus portal. You will need your MaineStreet username and password to log in. Detailed instructions can be found online. 
---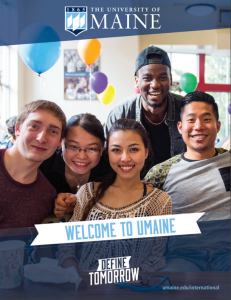 The Office of International Programs (OIP) eagerly awaits your arrival!
Welcome to UMaine, a diverse campus that we hope you're excited to call home for your upcoming semester(s). Our international students have always played an active role in both the intellectual and cultural life of our campus, so we're always excited to welcome more! Between our clubs, intramural activities, and campus events you'll have no shortage of things to do. Also, be sure to check out our bucket list: 50 Things to Do. You can find the link here.
Of course, we know that coming to a new country to study can be daunting, but OIP is here to help you prepare for your arrival to UMaine, and to navigate life on campus.
We've created this brochure to help you prepare for your move to Maine. Read it carefully and if you have any questions, do not hesitate to contact our office.
Welcome to the Black Bear family!
Best regards,
Office of International Programs staff
Top