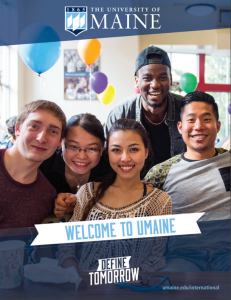 The Office of International Programs (OIP) extends a warm welcome and looks forward to your arrival!
We are very happy that you decided to join our diverse university. Approximately 500 of the University of Maine's more than 11,000 students come from abroad, representing more than 70 different nations. International students play an active role in both the intellectual and cultural life of our campus.
OIP is here to help you prepare for your arrival at UMaine, and navigate life on campus.
This brochure is designed to help you prepare for your move to Maine. Read it carefully and if you have any questions, do not hesitate to contact our office.
Best regards,
Office of International Programs staff
Arrival and Orientation Information
Video Tutorials
Financial Terms and Conditions
Accept your Financial Terms and Conditions (FTC) in your MaineStreet To Do list before class registration. 
Placement Tests
Placement tests – complete for math, English composition, foreign languages and music before course registration
Selecting classes
Enrolling
Transfer Credits
Abbreviations
Admitted Students Quick Links