COVID-19 health and safety guidance
IMPORTANT UPDATE
COVID-19 health and safety guidance
As of November 8, 2021, the U.S. government will require all non-citizen and non-immigrant visitors to be fully vaccinated before entering the U.S.  A person is considered fully vaccinated 2 weeks after receiving all doses of the FDA approved vaccines (Pfizer, Moderna or Johnson & Johnson) or WHO approved for emergency use vaccines (AstraZeneca, Covishield, BIBP/Sinopharm, and Sinovac).  You can view the requirement here, which explains available exceptions.
The University of Maine also requires all students attending in-person classes and activities to be fully vaccinated with one of the above listed vaccines.  Please record verification of your vaccination on our secure campus portal. You will need your MaineStreet username and password to log in. Detailed instructions can be found online. 
Students, who are allowed to enter the U.S. without a vaccine or with a document showing they have recently recovered from Covid-19, will receive help from the UMaine Office of International Programs in accessing two free Covid-10 vaccinations and a free vaccine booster.
---
---
Arrival and Orientation Information
---
Course Registration for Newly Admitted International Students
Begin Here
Video Tutorials
These videos are helpful to learn the basics of your Mainestreet account
Financial Terms and Conditions – Important!
Placement Tests
Terminology and Handouts
Conditionally Admitted Students
Selecting classes
Enrolling in Courses – Quick 'How To' Videos
Transfer Credits
---
Class Registration For Current UMaine International Students
1.) Browse Mainestreet for Classes
Log into your Mainestreet account with your @maine.edu student email to browse available courses for your semester. Find the ones that interest you the most and contribute to your degree. As a student at UMaine, you need a minimum of 12 credits to be registered as a full-time student.

Generally, 1 course will equate to 3 credits (12 credits = 4 courses)
*Undergraduate Students: Must be enrolled in a minimum of 12 credits.
* Graduate Students: Must be enrolled in a minimum of 6 credits.
* Intensive English Students: Must be enrolled in 5 classes per session
2.) Student Center
Once you've found enough courses that equal out to a full-time student (minimum of 12 credits) you can add these classes to your "cart." As an International student please avoid requesting online classes because these are compatible with your visa.
You'll find courses in your student center which you access through Mainestreet. Refer to video here: Adding a Class to Cart.
Once in your student center, you'll click on "Class Information."
3.) Finding Classes & Adding to Cart
Once you'd clicked on class Search, you'll be brought to a blank page with a search bar. Make sure on here, before you hit "Search," you select the correct year and semester for the term and click the check box for "Show Open Classes Only." This assures that you're looking at the upcoming semester and only classes with open availability.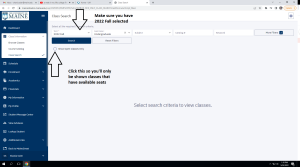 When you complete this and hit "Search," you'll get a list of courses. When you click on one, it'll drop down and give you more information.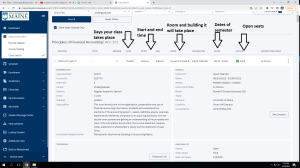 On this drop down, you'll find a place to add the course to cart. Click on this button and then you're class will be added. And that's it!
4.) Email Advisor
With your wish list created, email your advisor which you can find on your Mainestreet. They'll review your wish list and register you for lover-level classes or request special permission for higher-level classes.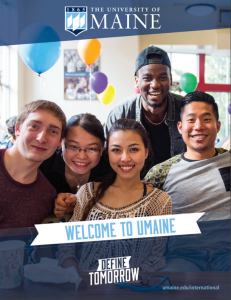 The Office of International Programs (OIP) eagerly awaits your arrival!
Welcome to UMaine, a diverse campus that we hope you're excited to call home for your upcoming semester(s). Our international students have always played an active role in both the intellectual and cultural life of our campus, so we're always excited to welcome more! Between our clubs, intramural activities, and campus events you'll have no shortage of things to do. Also, be sure to check out our bucket list: 50 Things to Do. You can find the link here.
Of course, we know that coming to a new country to study can be daunting, but OIP is here to help you prepare for your arrival to UMaine, and to navigate life on campus.
We've created this brochure to help you prepare for your move to Maine. Read it carefully and if you have any questions, do not hesitate to contact our office.
Welcome to the Black Bear family!
Best regards,
Office of International Programs staff