Mariculture Labs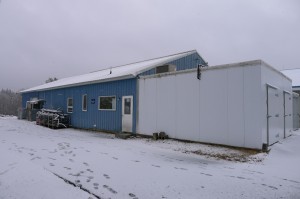 Originally built as a fish processing plant, the 2,800 SF building housing the Mariculture Lab serves multiple functions.   Before our marine hatchery was constructed in 2005 we used the former processing room (1,300 SF)  to rear cod and halibut juveniles.  In 2006 we reared over 30,000 juvenile sea urchins there, and in 2013 the Mariculture Lab was used for a study on integrated multi-trophic aquaculture IMTA.  In 2015 the tank culture systems were removed and the main room is now used as wet lab space for researchers studying macroalgae or invertebrates.  We also manufacture fish diets in the room, using a  feed mixer and sausage extruder to make custom sausages for our brood stock fish. The space is presently open enough to be used as a classroom laboratory, and in March 2016 we hosted the annual Maine Hatchery Roundtable with over 40 attendees.
In addition to the main processing room, the building has four attached environmental chambers, where we grow microalgae, macroalgae, and sea urchins.  A small office serves as a microscope lab, and in a separate room at one end of the building is the facility's work shop.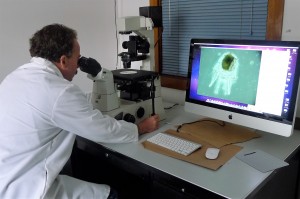 Microscope lab.  A  Nikon inverted microscope equipped with image capture allows for high resolution images of cells and micro-organisms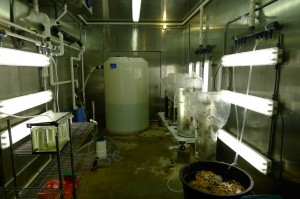 One of four environmental chambers.  In the chamber pictured above, macro algae such as edible kelp, dulse and porphyra are seeded onto nets and lines before transplanting to ocean sites, where they are grown to market as sea vegetables.