Maine Aquaculture Technology Laboratory

The Maine Aquaculture Technology Laboratory (MATL) was constructed in 2013-14 to house two very large in-ground tanks that were once a distinctive feature of the original salmon hatchery.  At over 300,000 gallons (1,100 m3) capacity each, these are the largest aquaculture tanks in Maine and among the largest in New England.  Installed in 1990-91, the tanks had deteriorated beyond function, until we were awarded $2.6 million in 2008 from the Maine Technology Asset Fund (MTAF), a voter approved bond administered through the Maine Technology Institute.  The award allowed us to erect an 18,500 SF building over the two tanks, separated by an interior wall.  Major and costly RAS equipment components were also purchased with the award, such as a 1.6 m diameter Faivre drum filter, in-line UV disinfection, oxygen cones, and circulating pumps.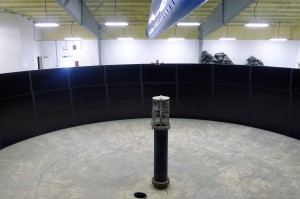 Final completion of the life support systems for the two tanks awaits an industry or research partner and additional funding to become a reality.  Each tank will have its own dedicated RAS designed to treat 7500 gpm. At a stocking density of 50 kg/m3 we could support up to 121,000 lbs (55 MT) of fish per tank. The RAS design concept is centered around  moving bed biofilter technology, the key to low head, energy efficient systems.
The tanks are suitable for a range of projects including:
Pelagic fish broodstock holding for species such as bluefin tuna
Salmon broodstock for industry or conservation
Growout for yellowtail amberjack, Atlantic cod, black sea bass
Offshore cage equipment testing
Integrated aquaculture trials
Mescosm studies