Oxford County Mountains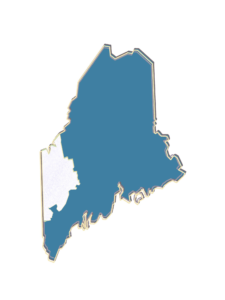 Oxford County has been described as the hilly region of Maine with more "lofty peaks" than any other equal area in New England according to an 1886 edition of the Gazetteer- State of Maine. Their description is lovely, with words that we do not hear much anymore: "Lofty and snowclad peaks, with almost impassable glens between, have their peculiar and thrilling attraction; but the peaceful verdure of great woods, grassy valleys, rich meadows, hillsides enlivened with flocks and herds, shining streams, and sky-repeating ponds, with occasional breeze-swept eminences, affording wide views of the surrounding beauties, hold the regard of the lover of nature for a longer time, and are more restorative in their influences." (1)
Nowadays this area is known for its beautiful hiking trails for all ability levels, including part of the Appalachian Trail, and many beautiful waterfalls, streams, and rivers. This area is also home to several of Maine's ski areas and resorts. The town of Bethel has become a local center for food, culture, and outdoor activities– including skiing at the nearby Sunday River Resort– and the historical grandeur of Rumford's past as a thriving mill town remains visible today.
Fun Facts:
Oxford County was created in 1805 and was originally an Abenaki Indian settlement known as Pequawket.
Popular spots are Grafton Notch State Park and the White Mountain National Forest.
(1) History of Oxford County, Maine, From A Gazetteer of the State of Maine, By Geo. J. Varney, Published by B. B. Russell, 57 Cornhill,
Boston 1886