Western Maine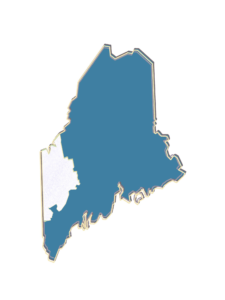 Western Maine, also known as the Lakes and Mountains region, offers beautiful and charming towns. This region is great for adventure seekers, retirees, families, and businesses. The area has much to offer with its incredible mountain ranges, hundreds of glacial lakes, watering holes, and history-infused communities.
Map of Western Maine
Here is a map with places to eat, shop, and lodge in the Western Maine Lakes and Mountains Region:
The region includes Franklin, Oxford, and Somerset Counties, and is split into five distinct areas:
Northeastern Franklin County: The Kennebec River Valley in Somerset County, gateway to the Maine woods, including towns like Jackman and The Forks.
Northern Franklin County: Home to the pristine natural playgrounds of the Rangeley Lake and Sugarloaf Ski Resort areas, including towns like Rangeley, Stratton-Eustis, and Kingfield-Carrabassett Valley.

Southern Franklin County

: Home to Farmington and Weld, and a hot-spot for mountains, farming, and local culture.

Oxford County Lakes

: This area is composed of a seemingly endless sprawl of gorgeous lakes and hills, making a for great vacation destination all year round! Home to the towns of Fryeburg, Norway, Paris, and many other lakeside camping and resort areas.
Oxford County Mountains: This area is dominated by the foothills of the White Mountains, including many sizeable peaks over 4,000ft tall! The resort town of Bethel is the gateway into these mountains, including Sunday River Resort in nearby Newry, while Rumford stands as a testament to the region's history as a center for mill production.
Facts About the Western Maine Region:
The Northern Forest Canoe Trail is a phenomenal paddling route spanning 740 miles and covering 4 New England states, including western Maine.

Olympia Snow
Woman, Bethel, Maine

In winter 2008, the Bethel Area Chamber of Commerce built the "Olympia Snow Woman," which made the Guinness Book of World Records as the world's tallest snow-woman at 11 stories high. Before that, Bethel held the world record for the largest snowman in 1999, known as the "Angus, King of the Mountain.
The "High Peaks" is a large region located in Franklin County that holds 8 out of 14 of Maine's 4,000-foot high mountains. The Appalachian Trail passes through this area for about 32 miles.
If you have any suggestions, please email us at undiscoveredmaine@gmail.com
The content and information provided within this website is general in nature.  It is not intended as an endorsement.  Although every effort has been made to verify the accuracy of the information, Undiscovered Maine disclaims all liability for any error, inaccuracy, or omission therein.  Rely upon any information contained herein at your own risk.