Southern Franklin County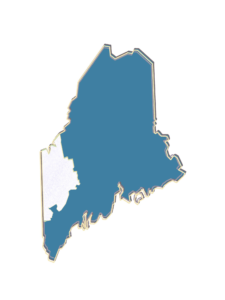 Southern Franklin County encompasses areas of Western Maine including Farmington, mountainous Weld, and the historic mill town of Jay. This is a phenomenal area for anyone who loves the outdoors with activities including hiking, paddling, fishing, skiing, and more. The area is also rich in agriculture, including vegetable and animal farming, orchards, and more!
Fun Facts:
The historic town of Farmington, the most populous in the area, is home to a University of Maine campus, a thriving agricultural community, and a burgeoning food and arts scene.

Downtown Farmington

The opening of the Sandy River Railroad in 1879 made Farmington the gateway to the Sugarloaf and Rangeley Lake areas in Northern Franklin County. Tourists from Boston, Hartford, New York, and Philadelphia started to come, and in the early 1900s, Rangeley became a summer resort area with camps, cabins, summer homes, and hotels.

Piere Paul, also known by his nickname Pierepole, was a Native American settler who moved to the Town of Strong in the late 1700s, which was known as Middletown. According to this source, he was the first "indigenous person to greet European settlers to the Sandy River." He and his wife, Hannah Susup, had six children. It is unclear from what tribe Pierepole came, but many historians believe that he came from the Norridgewock tribe. He is remembered not only as one of the few Indigenous people who were trusted to determine the boundaries of specific lands around the Androscoggin River but also for his help and kindness. Today, the Town of Strong celebrates "Pierpole Days" every summer, which recognizes the heritage of the town. More information can be found at the Vance and Dorothy Hammond Museum in Strong.