Southern Franklin County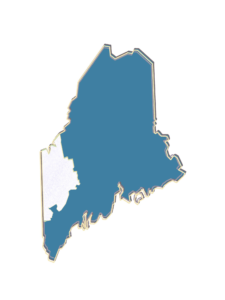 Southern Franklin County encompasses areas of Western Maine including Farmington, mountainous Weld, and the historic mill town of Jay. This is a phenomenal area for anyone who loves the outdoors with activities including hiking, paddling, fishing, skiing, and more. The area is also rich in agriculture, including vegetable and animal farming, orchards, and more!
Fun Facts:
The historic town of Farmington, the most populous in the area, is home to a University of Maine campus, a thriving agricultural community, and a burgeoning food and arts scene.

Downtown Farmington

The opening of the Sandy River Railroad in 1879 made Farmington the gateway to the Sugarloaf and Rangeley Lake areas in Northern Franklin County. Tourists from Boston, Hartford, New York, and Philadelphia started to come, and in the early 1900s, Rangeley became a summer resort area with camps, cabins, summer homes, and hotels.